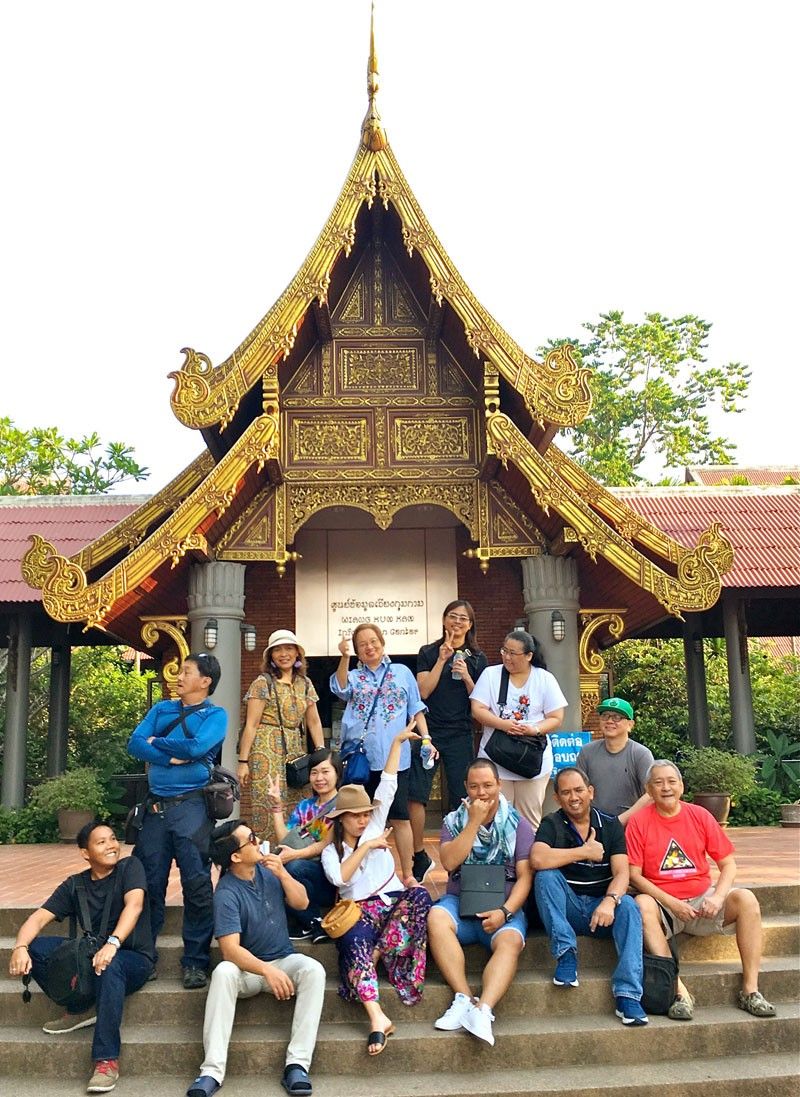 The Bright Leaf group before touring Wlang Kum Kam resort
Food, temples and market treats in Chiang Mai
The winners of the 12th Bright Leaf Agricultural Journalism Awards had their customary tour of a Southeast Asian City as an additional prize from PMFTC Inc. from March 18 to 23, with Chiang Mai in northern Thailand as this year's destination.
The four grand prize winners were Henrylito Tacio, who won the Agri Story of the Year with "The Grass that Feeds Filipinos" that appeared in Edge Davao; Wilfredo Lomibao, who won the Agri Photo of the Year that appeared in PDI; Ian Ocampo Flora, who won the Tobacco Story of the Year with "Is Tobacco the Next 'Miracle Crop'" that appeared in SunStar Pampanga; and Erwin Beleo, who won the Tobacco Photo of the Year that appeared in The Star Northern Luzon.
They were joined by six of the other eight winners: Karen Montero of ABS-CBN, who won for her TV feature of the "Biotechnology Series" in Agri Tayo Dito: Jasper Emmanuel Arcalas, who won the Feature National category with his "Fowl Farmers' Fears Persist 1 Year After Bird Flu Flare-up" that appeared in Business Mirror; Karlston Lapniten, who won the News Regional category with "Brewing Enough Coffee for the Filipino Cup" that appeared in Baguio Chronicle; Jasper Arcalas and Cal Ordinario, who won the News National category for "Snapshot of Rice Consumption Data Remains Grainy as Pinoys Grapple with Supply Prices" that appeared in Business Mirror; and Hannah Lacsamana, who won the Feature Regional category with "Making Argiculture Viable for Millennials" that appeared in Baguio Midland Courier.
Chaperones for the trip were judges Rina Jimenez David, Albert Gamboa and this writer, as well as ringmaster Didet Dangilan of PMFTC Inc.
Our first day was spent travelling, as there's no direct flight to Chiang Mai from Manila. We arrived at the second largest city in Thailand in time for buffet dinner at the restaurant of the Movenpick Suriwongse Hotel. On nearby streets was a night market, which some of us immediately explored.
After early breakfast on Day One, an hour's drive in two vans took us to the Bhubing Royal Palace, the winter residence of the Thai royal family on Doi Buak Ha mountain. Now unused, only its well-maintained gardens were open to visitors.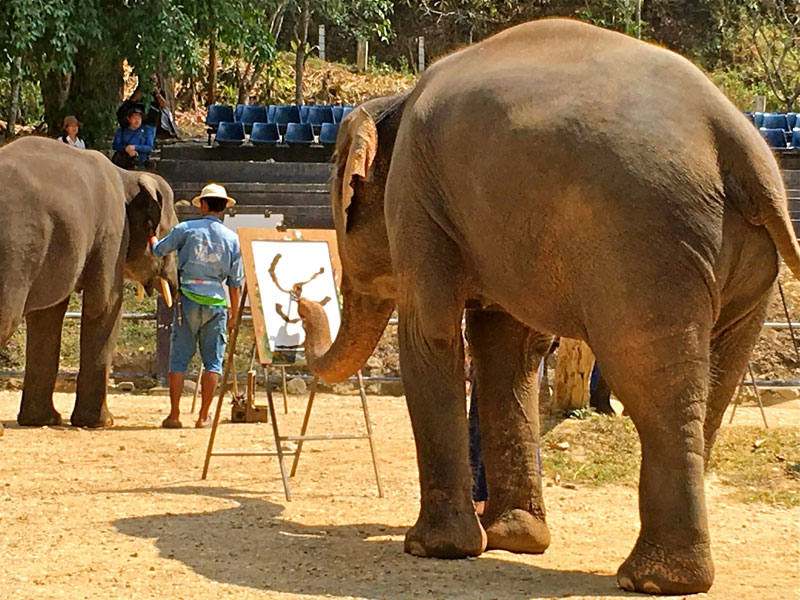 The Mae Sa Elephant Camp features trained artists painting flora on canvases with their snouts.
Since it was already mid-March, the summer season had deprived Chiang Mai of its usual cool temperature the rest of the year. But up on that mountain was an exception, though we were still given facemasks for protection against the high level of air particles caused by seasonal haze from forest fires in neighboring Laos and Myanmar. It was a good place to savor highland Arabica coffee, at the Bhubing coffee shop beside a row of stalls selling traditional crafts and wear.
Next stop was at the Wat Phra That Doi Suthep, a Theravada Buddhist temple often referred to simply as "Doi Suthep," the name of the mountain where it's perched. We took a funicular instead of climbing up 330 steps to the highest level where the main structures were bunched up.
Lunch break was at Passionate Chiang Mai Asian Fusion restaurant back in the city. It was run by a genial Australian who said he's tempted to open a branch in Subic where he's visited a few times. We had our first good feast that included steamed sea bass, red crab with egg, squid with tofu, tom yum soup with fish chunks, sautéed shrimps and fried rice.
The afternoon was devoted to a tour of the Old City, which lay centrally with its brick walls showing up in most parts of downtown, a moat running around it. Now occupied by residences, it still featured several temples, led by the Wat Chedu Luang or Chedi Royal because of its location near the Royal Palace. Constructed circa 1391, it was where the kings of the Lanna Kingdom often took refuge.
The Wat Chiang Man was the eldest temple in the city, dating back to its founding in 1296. The Wat Phra Shing had in turn been bestowed the status of royal temple of the first grade in 1935, by the older brother of the late King Bhumibol Aduldayej. Wat Loke Molee had a 14th-century chedi, manicured garden area, and a prayer hall. Its entrance just outside the Old City moat area is guarded by two stone elephants.
Dinner was at the roadside Sa-Pao-Kum seafood resto that stood alone among empty fields, where a couple of fishermen were plying a small pond, with a mountain range in the distant background. The pastoral scene was complemented by another excellent meal, again with sea bass done two ways with different sauces, tom yum soup with river shrimp, soft-shell crabs, seafood salad, pad thai, and "Morning Glory," a variant of our kangkong. Durian ice cream was served for dessert.
The morning of Day 2 took us to the Wlang Kum Kam resort along the Ping River, wrapped around the remains, not quite ruins, of an ancient city dating back to the 8th-century Haripunchai Kingdom. Catching my eye were a cannonball tree with its strange-looking round nuts and lovely blossoms and cherry tree in full bloom by a traditional village.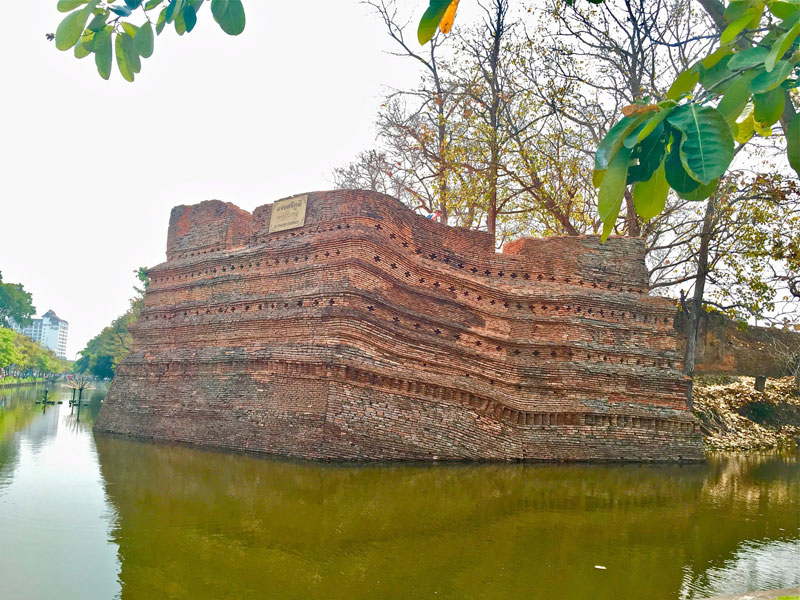 An extended moat runs through the central part of Chiang Mai, alongside brick wall fortifications of the 14th-century Old City
Next stop was San Kum Pang Hot Spring set in a wooded area amid picturesque flower gardens, with a mineral swimming pool and traditional mineral baths. But we barely had time to enjoy the place, so that most of us settled for half-hour foot massage — all in a row in a cabana. Only Albert Gamboa tried out the hot pool for a few minutes.
We cruised back to the city center for an excellent dim sum lunch at China Kitchen in Shangri-La Hotel, where special dumplings among the assortment of familiar ones featured a spicy lobster concoction and salted egg bursting into one's mouth.
For our most enjoyable treat, we weathered the hot and humid afternoon for an hour at the Mae Sa Elephant Camp, where trained pachyderms delighted the crowd by playing football, challenging a guest to a darts competition with balloons as targets, and painting flora on canvases with their snouts. The paintings were then held up for sale at an average of 2,000 baht.
Dinner was at the Night Bazaar near our hotel, where we selected a particular hawker's stall for a long table soon laden with the local Leo beer and unending plates of what had become familiar fare: sea bass, pad thai, tom yum, Morning Glory, but this time with pork and chicken dishes.
The full moon concelebrated our last meal together, as Day Three was Free Day, with everyone going every which way, though most found themselves at the popular daytime Warorong Market for cheaper buys. I passed up on that, as I had already packed my Muay Thai shorts and stock of delicacies.