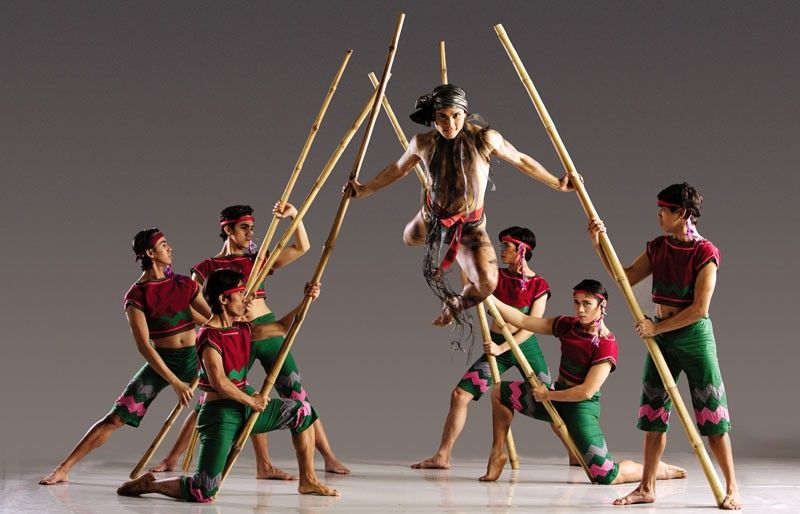 EJ Arisola as Ogassi with Busaw in Ballet Philippines' Tales of the Manuvu.
Photos by Jojo Mamangun
Legends rock the stage in 'Tales of the Manuvu'
That rock and ballet could have a long, lingering affair was a premise too interesting to resist in 1977. A star production of that decade, Ballet Philippines' Tales of the Manuvu, played host to unlikely pairings: ballet dancers and rock bands; verse peppered with '70s slang and an ethnic group's origin myth. "That first time, it was groundbreaking because nobody had done it," says Ballet Philippines founder and National Artist for Dance Alice Reyes. "The challenge (now) is to make it as fun and as relevant as when it was (first staged)."
The '70s, in local theater, was the era of Jesus Christ Superstar. Boy Camara played its lead role in the 1971 CCP production and returned onstage for Tales of the Manuvu six years later. Reyes recalls lines and lines of eager audiences gradually filling the theater up to the farthest aisles, waiting for a taste of good ol' storytelling done in a brave blend of dance, rock opera and everything in between.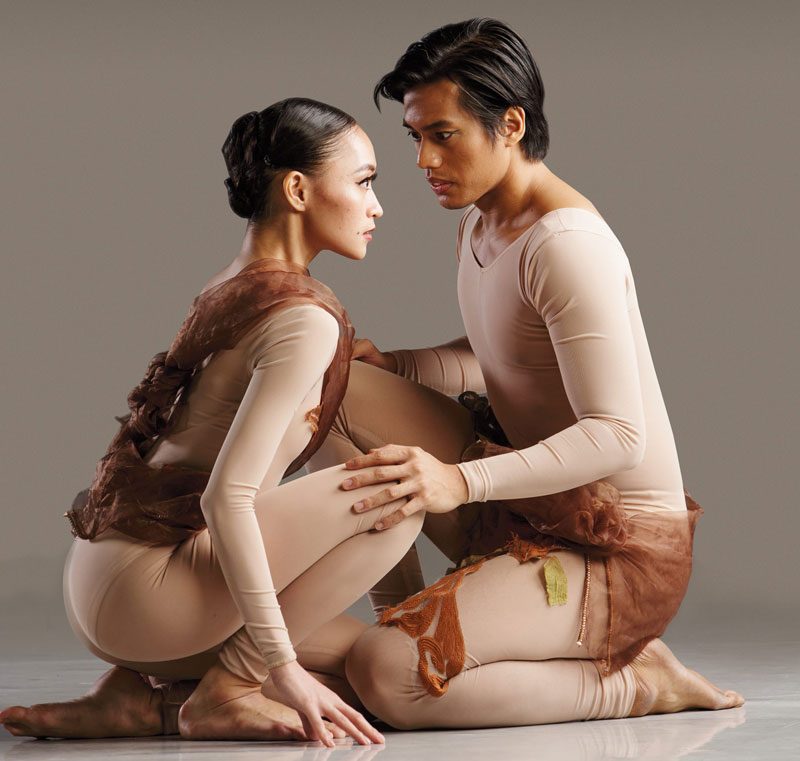 Katrene San Miguel as First Woman and Ronelson Yadao as First Man in Tales of the Manuvu
Reyes' production comes back to us four decades after the curtains were first raised. Having opened last March 22 — with the original singers Celeste Legaspi and Boy Camara reprising their roles along with Ding Mercado — Tales of the Manuvu runs until March 31, the last hurrah of BP's 49th season. For those of us who caught the different productions showcasing the versatility of the company dancers, the season was a thrilling ride, going from the charged medieval highs of Carmina Burana to the delicate world of fair Verona. This time, Tales of the Manuvu refreshingly returns us to familiar ground. Like listeners of old gathered around a glowing fire, we witness a retelling of the Manobo tribe's creation story: how gods brawled, how man took shape, how worlds transformed. Every culture has its myths, but to hear them told through rock is a real feast.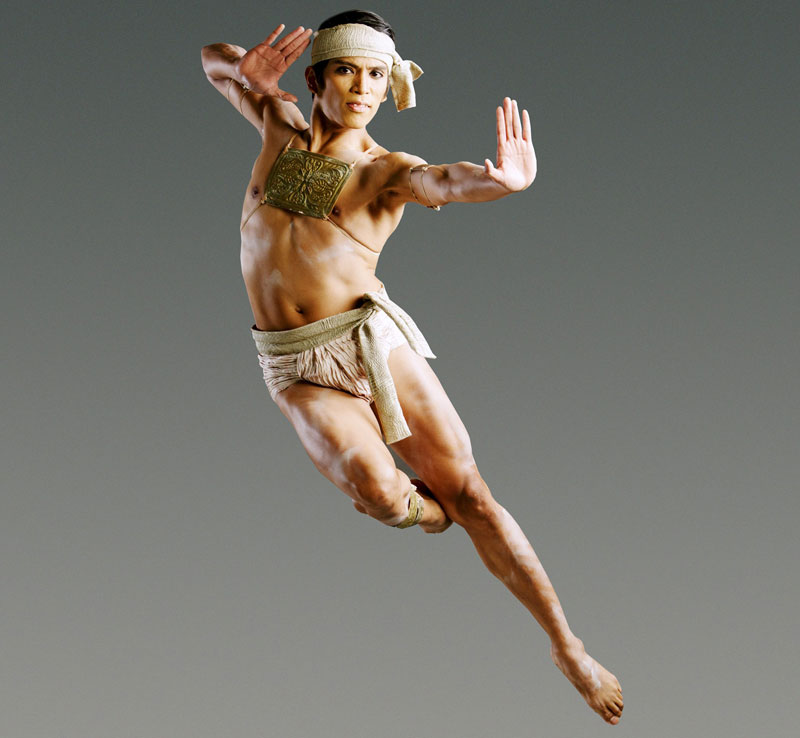 Lester Reguindin as Manama
"I was doing a lot of Filipino stories," says Reyes. "Most of them were very heavy drama, like somebody's always going to get killed or castrated." When she finally decided to do something light but with an equally local character, the result was Tales of the Manuvu. When she read the Manobos' folk tales in an article by Arsenio Manuel, she felt that they would make good material for a new ballet piece.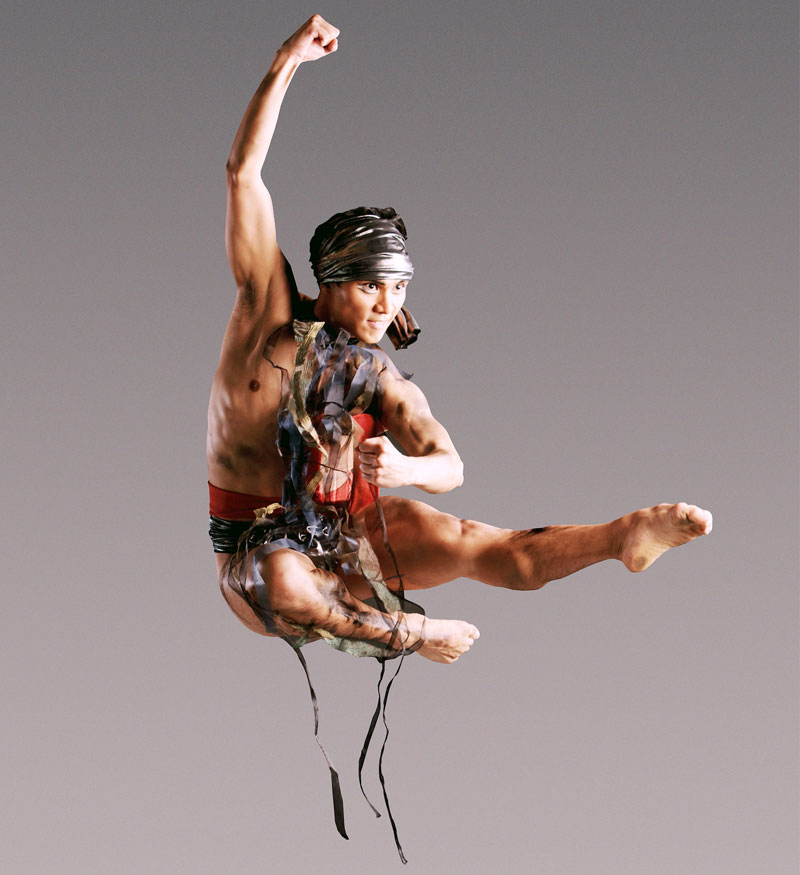 EJ Arisola as Ogassi
And who better to tell these stories than the country's own share of artistic legends: While it was Reyes who did the choreography, it was National Artist for Literature Bienvenido Lumbera who wrote the libretto. Popular composer Nonong Pedero — the man who gave us Narito Ako, Umiibig; Isang Mundo, Isang Awit; as well as that SM jingle eternally on loop — created the score. Pedero calls the entire production "an ethnic pop rock opera ballet."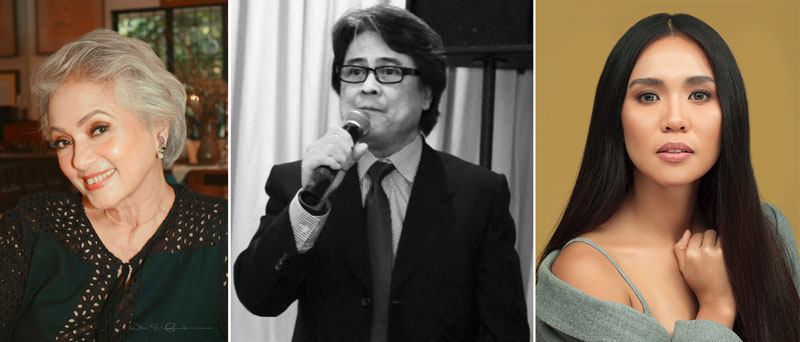 Celeste Legaspi, Boy Camara and Aicelle Santos
Each night, a set of three singers — who play the voices of the characters — narrate the story. The beat shifts with the scene. A fast, dynamic rhythm, like the pulse of a world quickly waking, introduces us to the Manobo legend. The music turns gentle, slow, and humming in the tender moments when the first man and woman are created. The two dancers, as though discovering what their bodies can do for the first time, follow small endearing movements and then shift to larger strides that command space onstage. In the latter part comes the familiar "Noong Unang Panahon." This now-iconic melody marks a pivotal part in the myth when men were changing, nature was becoming less benign, and the gap between land and sky was expanding.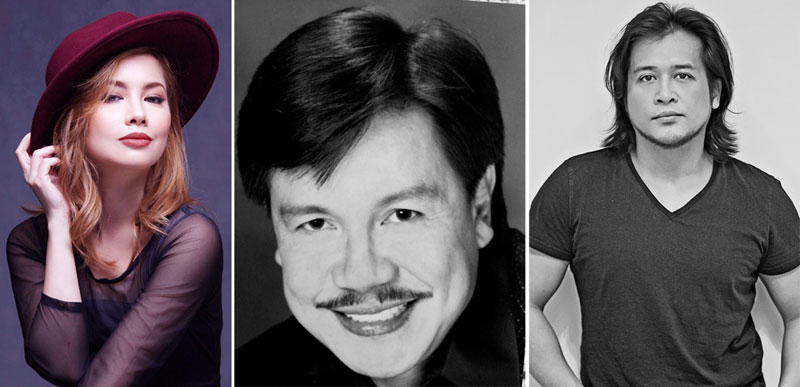 Shiela Valderrama, Ding Mercado and Lorenz Martinez
When the music was being made in the '70s, Pedero would work with Camara's rock band The Afterbirth. "Most of them played by ear," Reyes remembers. "It was highly improvised, very collaborative." This recent iteration sees an exciting set of talents performing the iconic pieces. Pinoy rock band Radioactive Sago Project — with Francis de Veyra as musical arranger and director — is joined by singers Shiela Valderrama, Lorenz Martinez, Nar Cabico, Reuben Laurente, Poppert Bernadas, Lara Maigue, and Aicelle Santos. "It's always been on my bucket list ever since I saw (BP's) Rama Hari," says Valderrama. "I always wanted to sing while there's ballet going on because I'm a frustrated dancer. This is the closest I can get to it."
Tales of the Manuvu may be a creation story, but as a season ender, it's also a tribute to the many worlds that Ballet Philippines has helped shape. For five decades now, it has created a breeding ground for talent and collaboration. The show, as it is, celebrates creation. Where dance meets rock and myths are set to music, it clearly makes a case for how brave worlds are born in theater.
* * *
Tales of the Manuvu runs until March 31 at the CCP Main Theater. For inquiries and reservations, contact Ticketworld (891-9999, www.ticketworld.com.ph, or Ticketworld outlets), CCP Box Office (832-3704), or Ballet Philippines Box Office (551-1003).