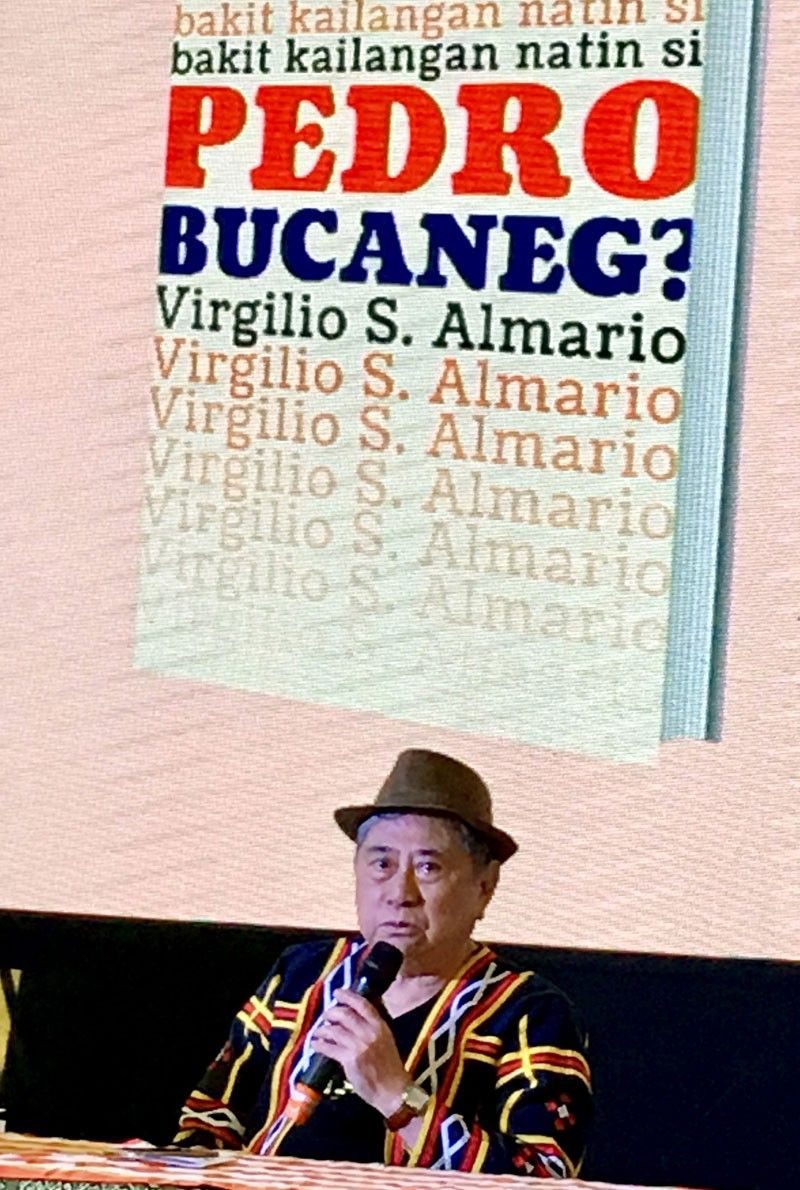 National Artist for Literature Virgilio S. Almario launches his latest book.
Pedro and the health of national memory
Exactly a week after his 75th birthday on March 9, Piscean, National Artist for Literature, National Commission for Culture and the Arts chair and Komisyon sa Wikang Filipino chair Virgilio A. Almario launched yet another title, Bakit Kailangan Natin si Pedro Bucaneg.
Since he's turned diamond, the book launching that traditionally marks his natal month featured a special program at UP Diliman's Vargas Museum that was preceded by a press conference, with the poet-writer known as Rio Alma articulating the raison d'etre for his latest collection of essays.
Jorge B. Vargas Museum and Filipiniana Research Center curator Dr. Patrick D. Flores rendered the welcome remarks, followed by a dance number by the U.P. Dance Company. Fidel Nemenzo Jr. read UP Diliman Tsanselor Dr. Michael L. Tan's keynote message. An unscheduled but welcome performance followed, with soprano Lara Maigue delivering a couple of songs as a beauteous diva would. Performance readings of Almario's works ensued, starring Vim Nadera, Juan Miguel Severo and Negatibo.
Rio then presented book copies to his fellow National Artists in attendance: F. Sionil Jose, Bienvenido Lumbera, Ramon Santos and Ryan Cayabyab. Concluding the program was a unique balagtasan conducted by The Makatas (Karl Isaac Santos, RR Cagalingan and Dax Cutab-Lakandiwa), billed as "Rio Alma vs. Virgilio S. Almario."
During a break, I joined Graphic magazine OIC Joel Pablo Salud and his better half and fellow writer, Che Sarigumba, for a sneak preview of the merienda offerings. We settled for two cups of taho each, plus ice cream from a "dirty" cart, sparing the cupcakes with cover designs of Rio's books. And when Mike Coroza handed me an XL edition of the special T-shirt that commemorated the occasion, my literary day was made.
Before the program started, I filched a book copy from the press-con table for a quick browse before I had it signed by the author. Since the dedication he penned was quite lengthy, I managed to ambush him with a few queries.
Yes, Pedro Bucaneg was a near-mythic figure whose actual existence no one has verified, and yet he is believed to have compiled the first written account of the Ilocano folk epic, Biag ni Lam-ang. He must have dictated its entirety to an encoder, since like Homer, Pedro was known to have been blind.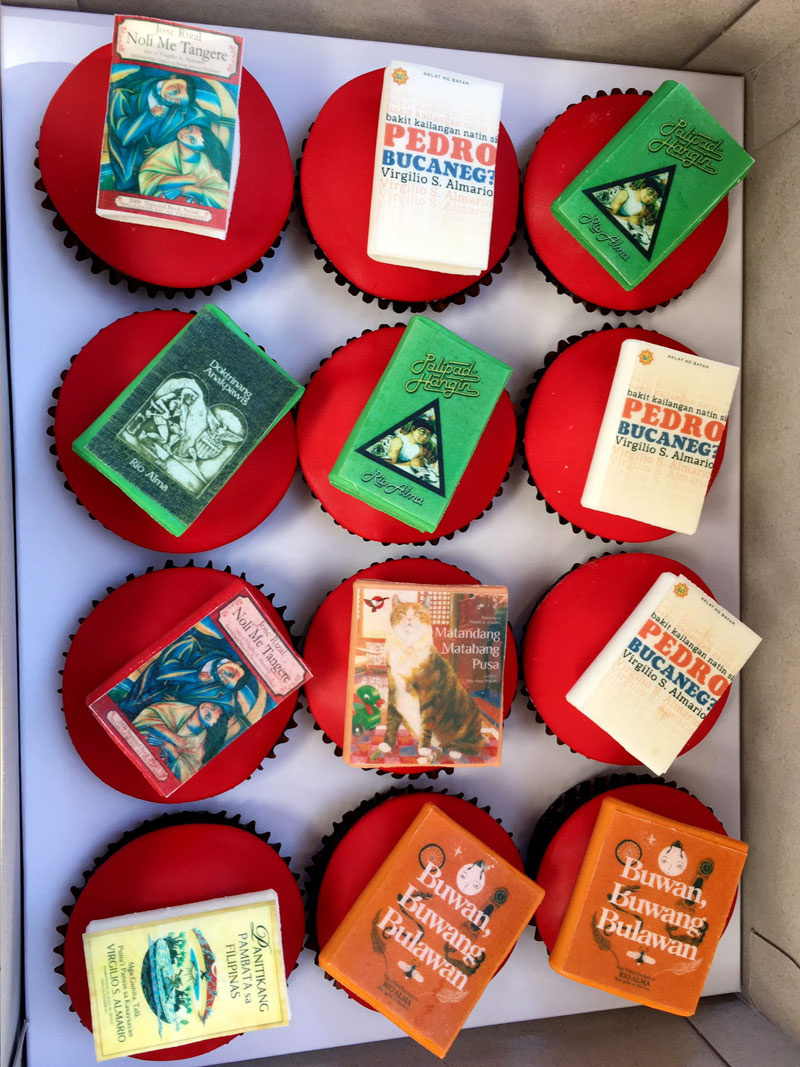 Cupcakes with design covers of some of Rio Alma's books are a merienda feature. known to have been blind.
Ilocanos hail Bucaneg as "Ama ng Panitikang Ilokano" and believe that he had the Lam-ang folk epic written circa 1630. However, credit for its dissemination was eventually given to Isabelo de los Reyes, who first published it in his newspaper El Ilocano in 1889, based on text sent by Fr. Gerardo Blanco from Bangar, La Union.
In the second of nine essays that compose his new book, a lecture he delivered in 2018 titled "Kung Bakit Mahalaga si Pedro Bucaneg," Rio recalls that it was at a 1962 lecture in Indiana University where E. Arsenio Manuel expressed "(ang) kauna-unahang komprehensibong pagsusuri sa sinaunang mahahabang tula ng Filipinas."
Manuel cited specific features of an epikong-bayan: "These characteristics show that these etnoepics are (a) narratives of sustained length, (b) based on oral tradition, (c) revolving around supernatural events or heroic deeds, (d) in the form of verse, (e) which is chanted or sung, (f) with a certain seriousness of purpose, embodying or validating the beliefs, customs, ideals, or life-values of the people."
Further, "(t)hese features … as a consequence exclude from consideration prose narratives such as the Maragtas…"
But even Manuel did not acknowledge Bucaneg as the first to have consolidated the Lam-ang verse narrative. Almario writes: "Mula kay E.A. Manuel, lumilitaw pang si Fr. Gerardo Blanco ang dapat kilalaning unang nagrekord sa epikong-bayan ng mga Ilokano, at ang kanyang tekstong inilathala ni I. de los Reyes ang hulmahan ng mga sumunod na nalathalang bersiyon nitong ika-20 siglo."
As the final essay, Almario includes the only entry in English, "Reconstructing the National Memory Towards Nation-Building," a lecture he delivered at Kyoto University on Jan. 13 this year for a conference organized by the International Research Centre for Intangible Cultural Heritage in the Asia-Pacific Region (IRCI). He writes:
"The national research agenda can truly serve as a guide in identifying gaps and areas which need more research, encourage the generation of more scholarly proposals, and support the more productive allocation of resources by expanding financing to more research areas while preventing the duplication of projects. But more than these, we want our enriched knowledge of the past to contribute to the solution of problems commonly confronting developing countries — for example, the problem of national identity. We want our enlightened memory of the past to lead us to a heightened and national consciousness of our identity as a people.
"Again, this problem is not new. Our intellectuals and academicians passionately tackled the search for national identity in the 1960s, more than half a century ago, and failed to agree on a useful image for the 'Filipino.' Looking back, I can see many reasons for their failure. First of all, they searched using a foreign language and all the Western perspectives they learned in school. They were not able to form a vision of our national history. Most of them exhibited values inherited from colonial tutelage. And most of all, they did not take seriously the advice of E. Arsenio Manuel, F. Landa Jocano, and the other leading folklorists and anthropologists to study our myths and legends as sources of information about our original self as a people."
In a Note written and published as a Facebook post, poet-translator Marne Kilates sums up Virgilio S. Almario's objectives with the publication of his book by Komisyon ng Wikang Filipino:
"Almario proposes a tandem assignment to research advocating the recovery of national memory. First, what is needed is the proper method of inquiry so the recovery of memory can be more beneficial to the country. The educated Filipino has long been said to be a product of 'mis-education,' not only of 'bad' education but even of the sort of education that is the mixture of excessive religiosity or what Rizal and Del Pilar called the 'obscurantism' of the 'monarchial sovereignty' and the awe and deep reverence Filipinos hold for Western culture which is the product of widespread Americanization. ...
"Second, proper research and inquiry must be offered to the liberation of national memory. This proposal devotes itself to promoting the health of national memory."