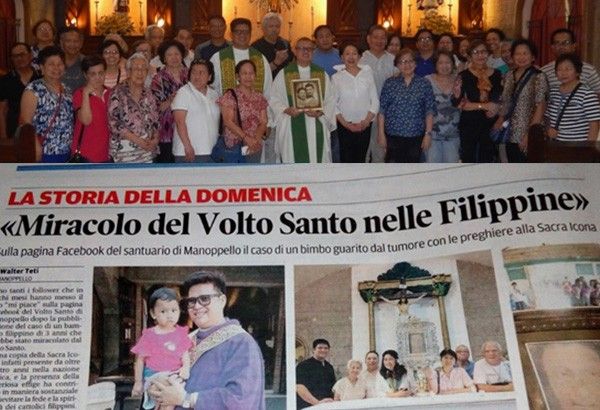 Fr. Christian was featured in the Italian newspaper Il Centro last January 6, holding the two year old child whose tumor was healed by prayers to the Holy Face of Jesus of Manoppello.
Released
Philadelphia Fil-Am church group holds medical mission in Nueva Ecija
(Philstar.com) - February 21, 2019 - 12:26pm
MANILA, Philippines — A Philadelphia church group led by Fr. Efren Esmilla from Our Lady of Hope Parish came to the town of Nampicuan to celebrate World Day of the Sick on February 16, 2019.
The day started with an early caravan through rice fields to the poorest barangay of Monic, where mass was co-celebrated by Fr. Efren and Bishop Mallari of the Roman Catholic Diocese of San Jose, and ended with a Vigil Mass at the Shrine of the Holy Face.
Five barangays converged in Monic where Sr. Marissa's CBCP Social Action team worked with 20 dentists, 10 doctors and 2 pediatricians, to serve hundreds of families. The day included a dental hygiene presentation for the children and closed with 500 children receiving a Jollibee kid meal. Head volunteer Ms. Nenia Romero said, 'This is the first time that we have had so many doctors, so many priests, and even the Jollibee mascot come to our barangay!"
Pope John Paul II, when he was diagnosed with Parkinson's disease, decided to create a World Day of the Sick in 1992 to be celebrated in February of each year. He wrote on the topic of suffering in his Apostolic Letter Salvifici Doloris. In 1993, His Holiness' delivered a Message on the 1st World Day of the Sick, which resonates26 years after. Some excerpts:
'The sick and suffering are before our eyes'
Before the eyes of all are the very sad images of individuals and whole peoples who, lacerated by war and conflicts, succumb under the weight of easily avoidable calamities. How can we turn our gaze from the imploring faces of so many human beings, especially children, reduced to a shell of their former selves by hardships of every kind in which they are caught up against their will because of selfishness and violence?
And how can we forget all those who at health-care facilities — hospitals, clinics, leprosariums, centers for the disabled, nursing homes — or in their own dwellings undergo the calvary of sufferings which are often neglected, not always suitably relieved, and sometimes even aggravated by a lack of adequate support?"
"In the light of Christ's death and resurrection illness no longer appears as an exclusively negative event; rather, it is seen as a "visit by God", an opportunity "to release love, in order to give birth to works of love towards neighbor, in order to transform the whole of human civilization into a civilization of love" (Apostolic Letter Salvifici doloris, n. 30)."
"In this regard, I wish to address a special appeal to civil authorities, to people of science, and to all those who work in direct contact with the sick. May their service never become bureaucratic and aloof!
Particularly, may it be quite clear to all that the administration of public money imposes the serious duty of avoiding its waste and improper use so that available resources, administered wisely and equitably, will serve to ensure prevention of disease and care during illness for all who need them."
"The hopes which are so alive today for a humanization of medicine and health care require a more decisive response. To make health care more humane and adequate it is, however, essential to draw on a transcendent vision of man, which stresses the value and sacredness of life in the sick person as the image and child of God. Illness and pain affect every human being: love for the suffering is the sign and measure of the degree of civilization and progress of a people."
MESSAGE OF THE HOLY FATHER
POPE JOHN PAUL II
FOR THE FIRST ANNUAL WORLD DAY OF THE SICK
From the Vatican, 21 October 1992
After more than four years at the Holy Face Shrine, Fr. Christian says, "I have encountered lots of seriously ill patients who are really claiming that they were healed by the Holy Face of Jesus---a woman who had stage 4 breast cancer, a two year old child who had leukemia, a man who had heart failure but recovered after the image of the Holy Face was placed on his chest. The Bible declares that Jesus Christ came to earth to 'heal those who needed healing.' He heals completely the body, the mind and the soul. Someone who is battling illness knows what it means to feel strength and hope dim, but the grace of God can be overwhelming. After hearing testimonies of many sick pilgrims to the Shrine, I believe there was divine intervention in their life."
Fr. Christian was featured in the Italian newspaper Il Centro last January 6, 2019 holding the two year old child whose tumor was healed by prayers to the Holy Face of Jesus of Manoppello.
The Shrine now also houses replicas of the Shroud of Turin and the Sudarium of Ovieto, completing the collection of holy cloths that are believed to have enfolded the body of Jesus Christ. Visit us at: http://www.holyfacenampicuan.com/.