Fernando Botero: A voluptuous imagination
Latin America is home to some of the best writers and artists who ever lived, such as Gabriel Garcia Marquez, Pablo Neruda, Diego Rivera, and José Clemente Orozco, among others. Fernando Botero, who hails from Medellín — Colombia's second largest city that sits on a valley along the spine of the Andes — is no doubt part of this illustrious club, a singular painter who, at 86, shows no sign of slowing down.
In fact, the master is the first international artist to have a special exhibition at Art Fair Philippines. Dubbed "Botero in Asia," the show will be a "mini-retrospective" of some of Botero's most important works in the different stages of his career, tracing his development as an artist of voluptuous imagination. His every work is marked by a pervasive sensuousness — a rootedness to earth with its plenitude of colors, textures, and aromas.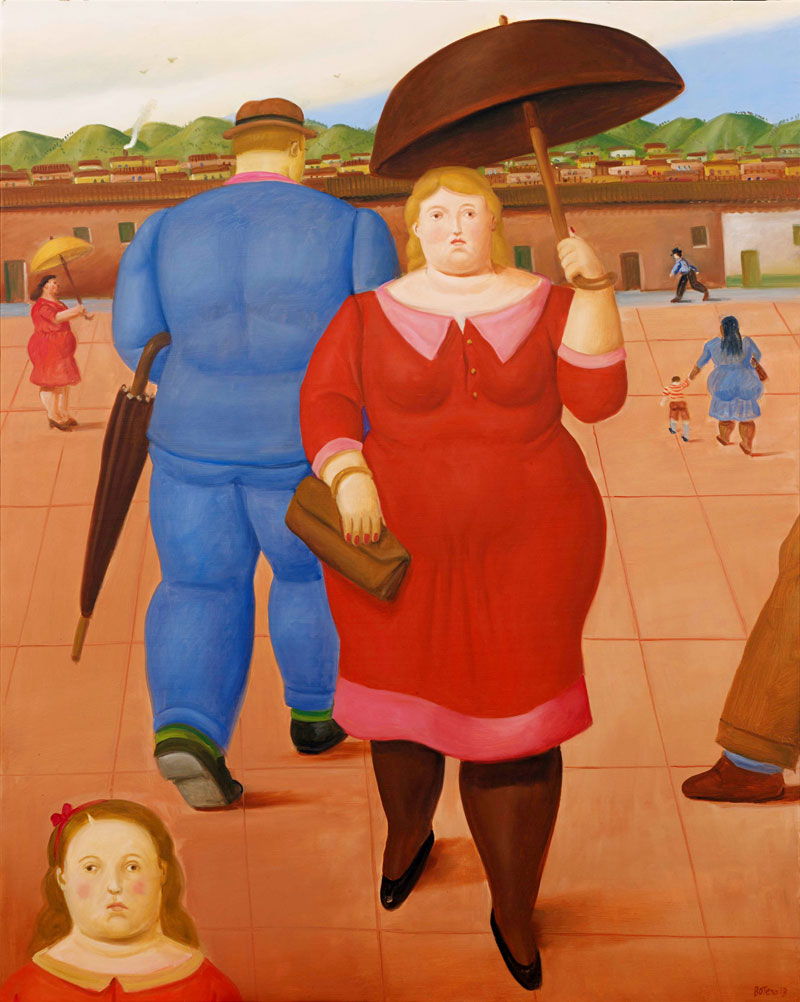 "The Square" (2013)
One of the first of its kind in the region, "Botero in Asia" will be a pivotal experience to those who have yet to be acquainted with his body of work or those who are already intimately familiar with his landmark figuration that bears his name: Boterismo. It will be a joy to see Botero's rotund characters in their various poses and routines that quote iconic images of art as well as portray the everyday life of his beloved Medellín.
In this interview, Botero narrates how he came upon his volumetric style, how his hometown has shaped his artistic journey, his relationship with fame, and what Filipinos can expect from his upcoming show in Manila.
Philippine STAR: How did you come to develop your distinctive "volumetric" figuration? What was the defining moment that prompted you to continue and explore this vein?
Fernando Botero: One day I was doing one of these sketches, and I drew a mandolin with a very abundant form. And at the moment of putting the hole of the instrument, that is, right on the middle, I made it smaller than what it is. It was as if the mandolin had exploded: it grew in monumentality, it grew in every possible way! I was looking at this sketch and I felt that something important had happened there.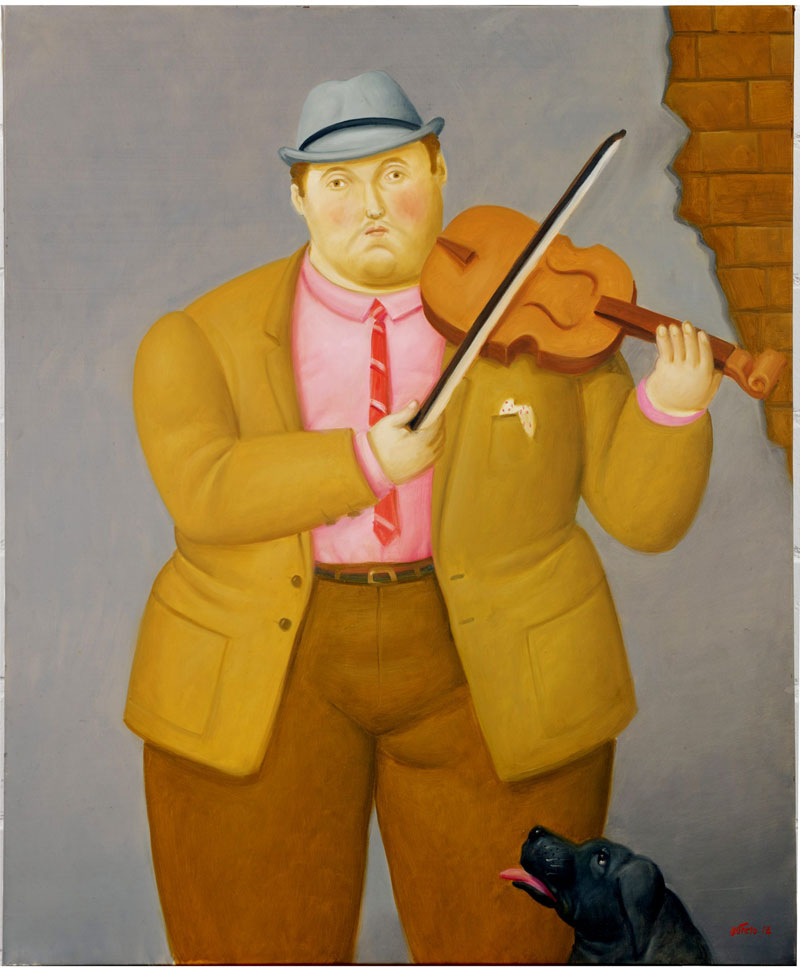 "Man with Violin" (2013)
It was absolutely pivotal. I wouldn't be the artist that I am, the person that I am, if I hadn't had that moment in my career where I discovered my style. But anyway, it was bound to happen: if it didn't happen then it would have happened at another time, through another subject. But in any case, I would have discovered my style. Because as an artist, I have always been intensely drawn to volume, to celebrate existence, to accentuate the voluptuousness and exuberance that lie in nature by exaggerating the volume present in all forms. So, when I drew that small hole in the mandolin and observed how the volume immediately expanded and became monumental by the introduction of this small disproportion in the form, I was only doing what I was always meant to do: to discover my style.
In your interviews, you have always emphasized the importance of color, composition, and balance in the creation of your works. What do you think is the ultimate value of the mastery of form?
I believe that all formal elements of painting are fundamentally important. Because painting has some elements that are global, that are universal, and that can say something to everyone. Color, for example: a beautiful color harmony can be understood by a Japanese or a German or a Colombian or an Argentinean. Besides the color, the way of combining colors. How to compose a picture: everybody is sensitive to a well-balanced composition, and to drawing and to personal style. All that is something that people around the world appreciate and understand. And this has always been the case in the History of Art. Take the Impressionists, for instance: the subject could not be more French, or in the German Expressionism you find subjects that cannot be more German. Each country has a theme that is local but it's the way of saying it that it is international. One is touched by a painting by Monet, but Monet painting is also admired in Japan and is admired in Argentina, because there is such a clear and wonderful language, even though the issue is entirely French. So that is why I have always believed that the formal elements of a painting (color, composition and harmony) are so important and cannot be overlooked.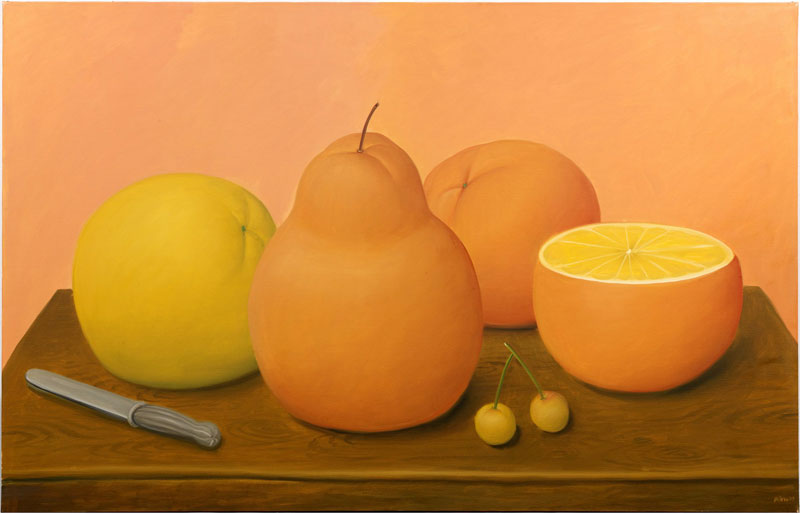 "Fruits" (2009)
How do you think Colombia, especially, your hometown Medelli?n, has shaped your artistic sensibility? What are some of your fond memories of the place?
I have tried to show my historical identity in my paintings: all the feelings awoken by the memories of my childhood and adolescent years spent in Medellín. When I paint, I feel myself regressing to my early life, the things that my mother prepared for dinner, family reunions, my neighborhood, my friends, all the things I loved there, my experiences as a young artist trying to find my own voice. I have always had the fortune of being able to follow my memory in my art, of telling my life step by step, food by food, dress by dress, the habits, everything that happened here, even if it was prosaic, parochial, everyday life stuff. This is what makes my work unique in the world; I took it and showed it to the world to make it come to life so everyone knew what was happening here.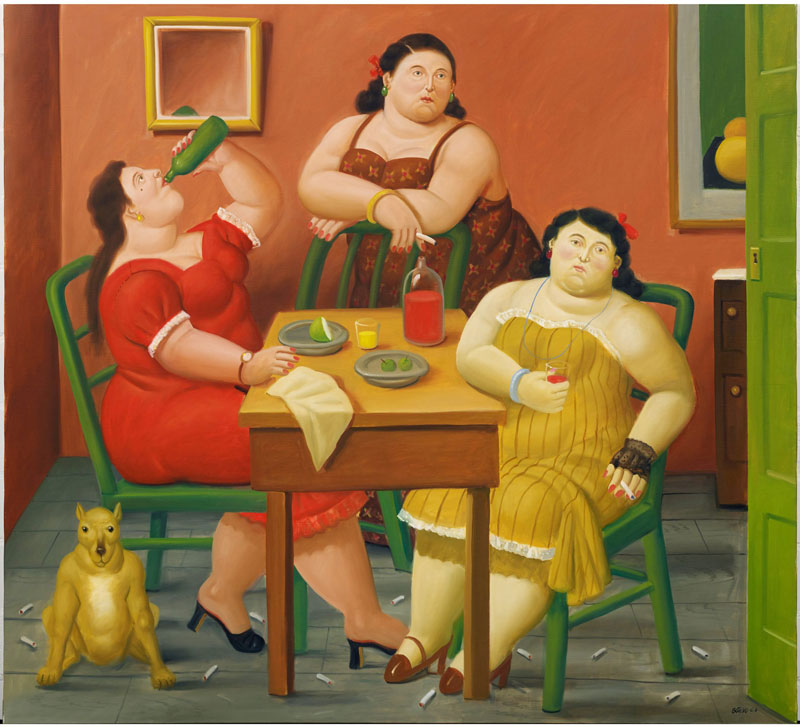 "Three Women Drinking" (2006)
My subject has almost always been the Colombia I grew up around the 1930s and 1940s. I have always stayed true to this subject and I've tried to approach it in all its diversity and complexity: its joy, its beauty, its color but also its pain, its violence and its social injustices. I've done it throughout a career that has spanned over 60 years.
What is your usual day like?
I paint every day. Everything revolves for me around that. I have a great passion for my craft and my happiness consists of being able to do art for a living, so my routine is going to my studio to work and then going back to spend the night with my wife.
As one of the most renowned artists in the world, what is your relationship with fame?
Well, like all artists in the world, we want our work to have a life after we produce it, we want it to exist in the minds of people, we want it to become something that remains in that sense, that people will have a memory of the artist. Of course, time ends with everything, even with the great artists of the past. But that's the aspiration of every artist: to last in the minds of people. And that's what I want, too. It is something that you want: that your work will last on time. But I try not to worry about it at all. I have to worry so much when I am painting about what I paint that to worry about eternity would be too much for me.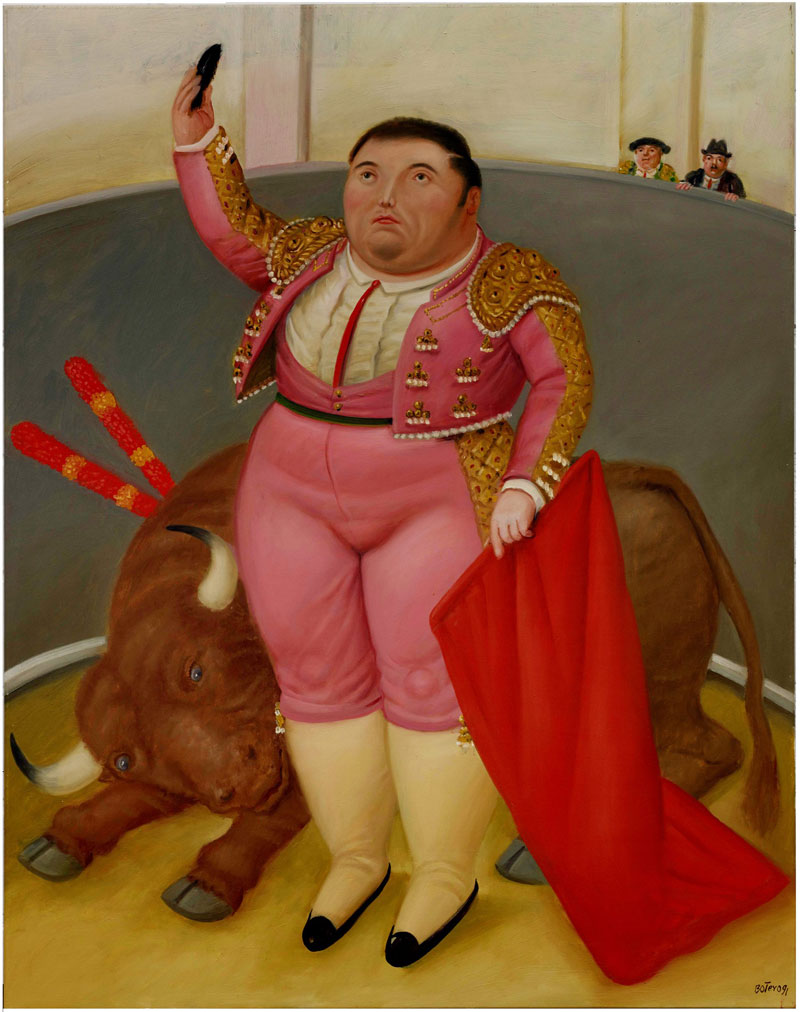 "Matador with Trophy" (1995)
What are the works that you will be showing in Manila?
The works that will be exhibited in Manila are taken from my entire career, some as ancient as from the '70s and some as recent as one I did only last year. Most of them reveal my primordial subject matter: everyday life in Latin America, specifically in Colombia, in my hometown of Medellín, which has always been my main subject because I believe that an artist should approach the topics nearest to his soul and these are usually related to his childhood years, when he is developing as an artist and as a human being. But you will find also paintings which have allowed me to explore color and composition in atypical manner, as for example, paintings from the "Circus" series. And also paintings in which I wanted to pay homage to the great artists of the History of Art, such as a small watercolor in tribute to Degas.
In any case, I hope the people in Philippines will enjoy the works I have chosen for Art Fair Philippines 2019.