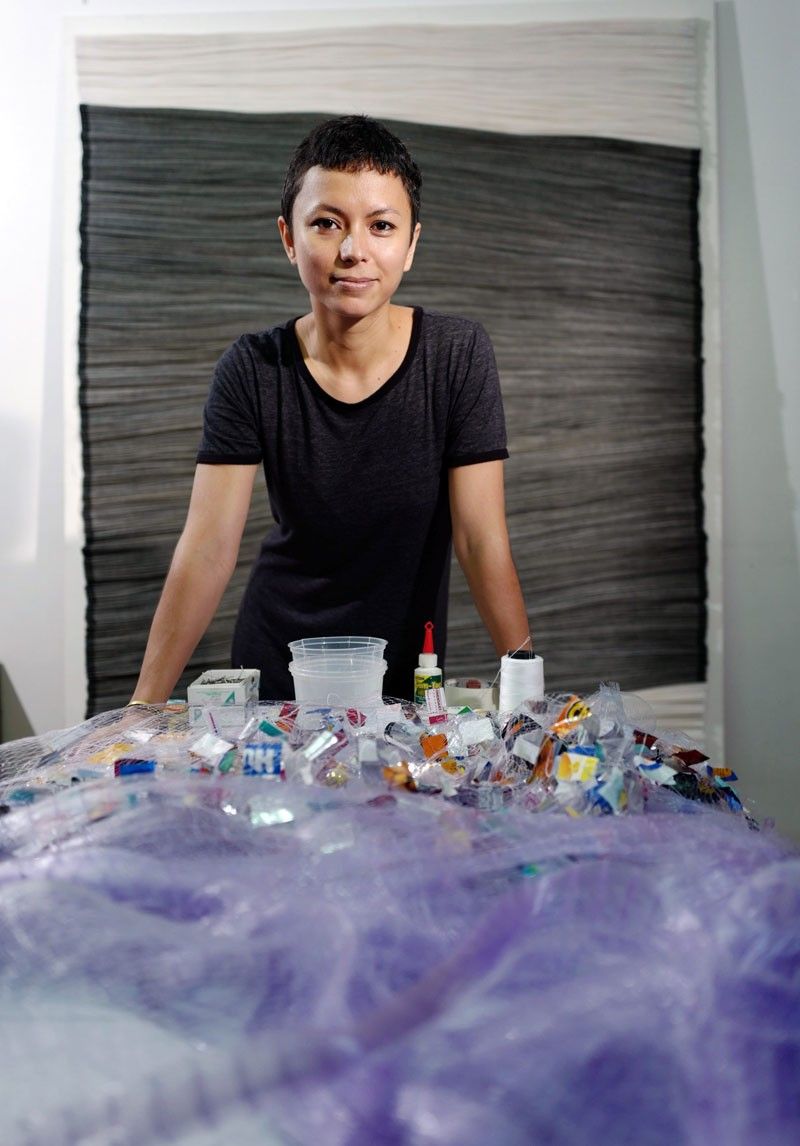 D'Aboville works on pieces that are at once a representation of current reality and a cautionary tale.
Olivia d'Aboville: Sea change
MANILA, Philippines — When "Chasm of Fantasies" was exhibited at Ayala Museum in 2010, observers in the art world took notice. It announced the arrival of Olivia d'Aboville, who used quotidian, disposable objects, such as plastic spoons and net, as the media of her art. Fabricated in all sorts of ways, they mimicked the look of underwater creatures — from jellyfish to anemones to corals — glowing and seemingly undulating under ultraviolet light. Together, they evoked a phantasmagoric effect for the viewer who, with no need for an oxygen tank, seemed to have dove in the shadowy depths of the ocean.
Fast forward to 2019, when D'Aboville presents "Everything, Everywhere, Everyone," her special exhibition for Art Fair Philippines. She returns to the material of her first solo exhibition but this time employed discursively. In this show, plastic no longer assumes otherworldly marine shapes but is revealed for what it is: the primary culprit in marine pollution. This fact becomes all the more disheartening when one learns that the Philippines, which has one of the longest coastlines in the world, is the third biggest contributor to plastic pollution of the seas.
Bathed with light, the main piece of the installation is the two-meter wide, 185-meter long net which D'Aboville has draped from a certain height. It is strewn with squares from a multitude of wrappers (that could have ended up in the sea) intermittently showing their colorful packaging and the silver underside of their foil. This central element evokes the cascading, helplessly unstoppable on-rush of this unfortunate human debris. "For this show, D'Aboville says, "I really want it to be more obvious that it's trash — more literal, more in-your-face."
This net, burdened by fragments of plastic debris, is complemented by a suite of wall-bound works composed of "coral-looking shapes, very organic but all synthetic, all made from discarded materials." These materials were sourced from actual plastic found along the coastline of Puerto Galera and procured along with the volunteers of the Stairway Foundation, which conducts regular beach cleanups.
This love for the ocean has been inculcated in D'Aboville since she was a child. ("My parents have a house in Puerto Galera so, as kids, we would go there all the time — every weekend, long weekends, holidays.") At 13, D'Aboville received her Professional Association of Diving Instructors (PADI) certification, which enabled her to discover a rich welter of marine life.
It was at Duperré, the prestigious textile design school in Paris, where D'Aboville began to mull over the theme of the ocean as a subject matter for her art. It was also at this time when she began experimenting with non-conventional materials, discovering the practicality of plastic.
"Using plastic was a good idea," she says, "because it was already everywhere and it was free. As a student, you always try to find ways how to save money here and there. Materials are expensive for a project. At least it's there, it's free. (Plastic) was perfect in relation to water because it's transparent, translucent, malleable, weavable; it could be cut and interlaced. It was a very convenient material — so many possibilities."
But plastic, as the artist knew, is not without its environmental constraints. Since her first exhibition, D'Aboville has been working almost exclusively with fabric, from dyed silk to pleated abaca, which has proven to be a critical and commercial success. The art fair's special exhibition has given her the platform to explore an issue that requires urgent attention and action. "It's a good opportunity to showcase something different because I've been doing the pleats, the silk for a while now," she says. "With the art fair, the purpose is to showcase something more meaningful."
D'Aboville admits that the world's obsession with plastic has become such "a huge global issue." "Especially now with social media, you keep reading about the trash in the ocean, the pollution, and how it's getting critically bad," she says. "Almost all of the fish and the sea creatures that are being autopsied, they have plastic within their organism, and imagine that's what we eat as well. It's getting really scary and there's a message to be (sent across)."
In 50 years, a World Economic Forum study reports that there will be more plastic than fish in the ocean. "Just imagine what the seabed would look like," the artist muses. "Everything, Everywhere, Everyone" is at once a representation of current reality and a cautionary tale. It won't be too long before nets (just like the artist's proverbial net), instead of drawing in a plenitude of fish, will return back the plastic we have thrown into the sea. Through her work, D'Aboville hopes to add her voice to the growing conversation about the future of the planet and its life-giving oceans.