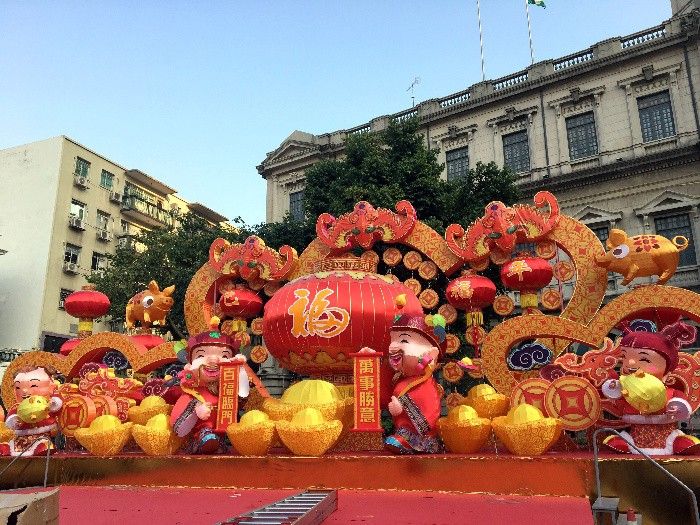 An elaborate display for Lunar New Year in Macau in January 2019.
Philstar.com/Jenny Chua
Red, round and shiny: What Chinese New Year decors mean
As the world celebrated New Year on January 1st, Chinese communities and migrant generations around the world wait until the first day of the Lunar calendar to kick off their celebrations.
Also known as the Spring Festival, the Chinese New Year on February 5 symbolizes a new beginning or a fresh start.
Now that it has arrived, here are some popular Chinese traditions you can adopt to help you attract good fortune as you welcome the Year of the Earth Pig.
Decorate
The Chinese believe it is crucial to have red Chinese lanterns in the house to drive away bad luck, or simply as a sign of celebration. Front doors may be decorated with Spring Festival couplets that express excitement and good wishes for the coming year.
For luck and happiness, there are red paper cuttings on doors and windows. Each animal and plant in the cuttings represents a different wish.
For example, the peach symbolizes longevity; the pomegranate, fertility; the mandarin duck, love; the pine tree, eternal youth; the peony, honor and wealth; while a magpie perched on the branch of a plum tree indicates a lucky event that will happen soon.
"Fu" characters pasted upside down at the door will also invite luck. "Fu," which means luck, when pasted upside down means luck poured out.
Having Kumquat trees at home also brings wealth and good luck. Kumquat is called "gam gat sue" in Cantonese which means good luck, and "jijju shu" in Mandarin which is the Chinese word for gold.
You may also decorate with flowers that hold special significance during Chinese New Year.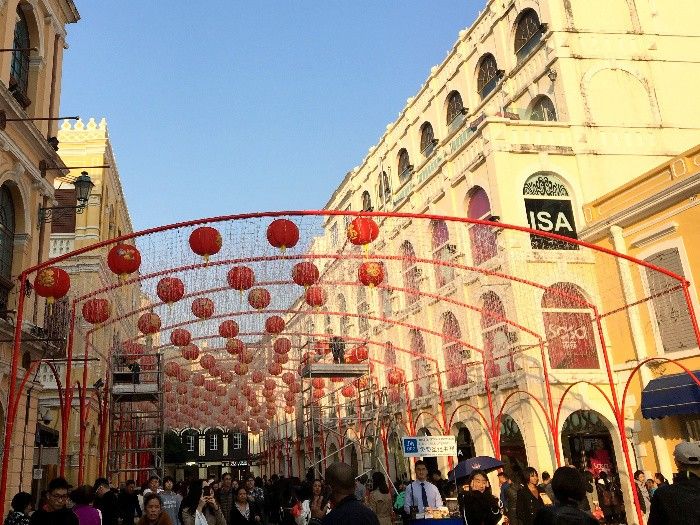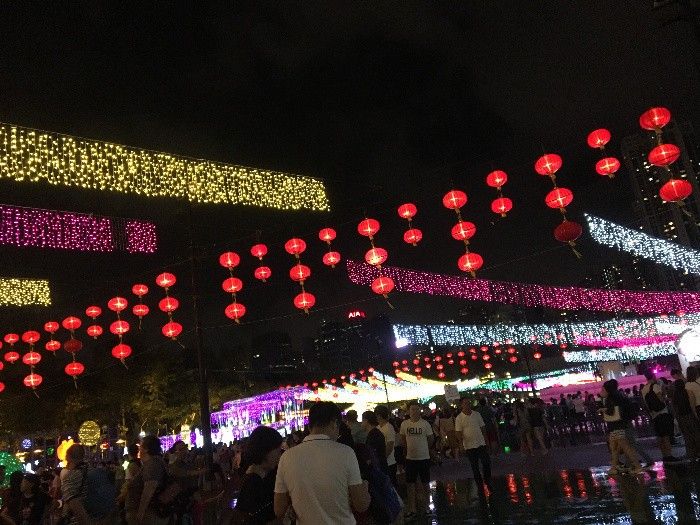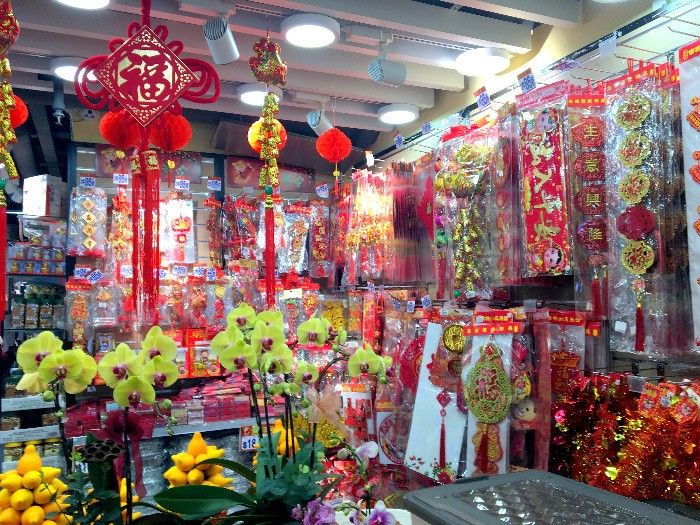 <
>
Peach blossoms symbolize romance, prosperity and growth, perfect for single and young people looking for love.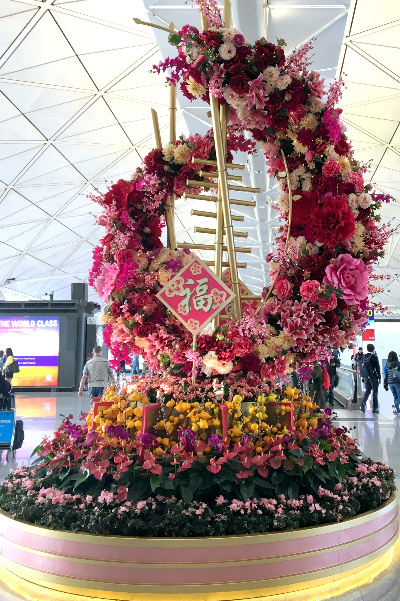 Display at the Hong Kong International Airport in January 2019.
Peonies are associated with feminine beauty, innocence, affection, and charm. It is known as the "flower of riches and honor." Red peonies are particularly auspicious.
Pussy willows and white fairy flowers likewise represent growth, prosperity and good fortune.
Some of the most important symbolic flowers for the Chinese are plum blossoms which represent endurance and courage, orchids (purity), bamboo (uprightness), and chrysanthemum (humility). In Chinese art, they are collectively known as the Four Noble Ones.
Serve or eat 'lucky' fruits
Oranges mean abundance and happiness while pomelos will bring good luck and family unity.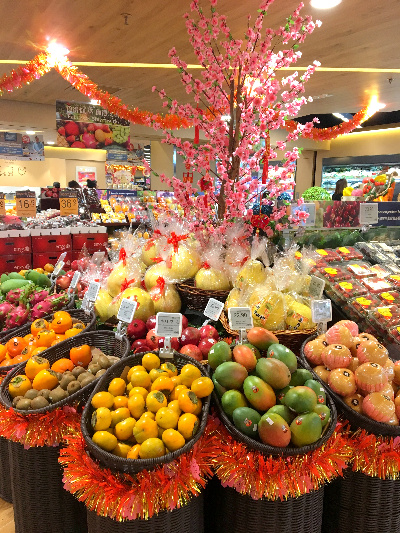 "Lucky" fruits sold in a shopping center in Hong Kong.
Grapes, plums, jujube (a type of date) and kumquats will also bring good luck and prosperity.
The peach fruit represents longevity which makes it very important to the Chinese especially around this time of year.
Give money in red envelopes
A good way to send good wishes is to give away red envelopes with money. These are called "hongbao" in Mandarin and "lai see" in Cantonese. Make sure to put crisp new bills inside as wrinkled or dirty bills are frowned upon.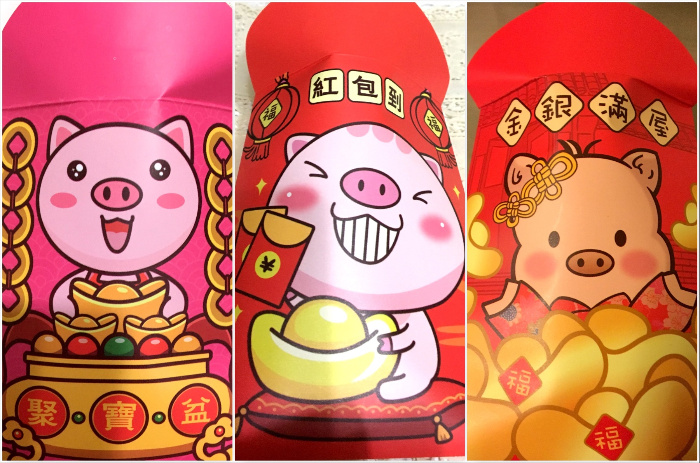 "Lucky" envelopes for the Year of the Pig.
The number four in Chinese sounds like death and is considered bad luck so avoid giving amounts that begin with number four. Even numbers (except four) are better than odd numbers. The luckiest amount begins and ends in number eight.
When receiving a red envelope, always get it with both hands because it is impolite to accept it with only one hand. Don't forget to greet the giver with a pleasing, auspicious phrase and to express your gratitude. — Photos by Jenny Chua in Hong Kong and Macau