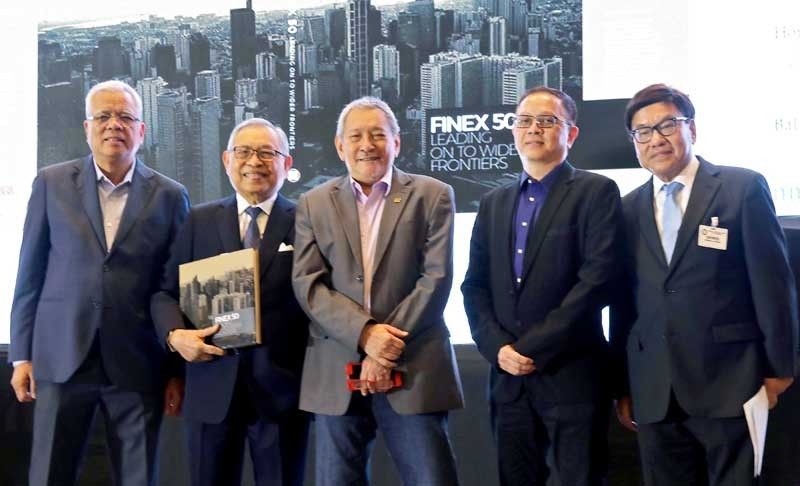 The book team: executive publisher Ramoncito Ocampo Cruz, chief chronicler and project director Santiago Dumlao Jr., executive editor Alfred A. Yuson, project manager and managing editor Joseph Albert Gamboa, and Dennis Decena, Order of the Golden Phoenix.
A collectible of a Golden Jubilee book
FINEX 50: Leading On to Wider Frontiers was launched last Wednesday at the ballroom of the Shangri-La at the Fort in BGC.
The Golden Jubilee book, a handsome, square-format collectible of a coffee-table book, all of 222 pages in full color, was released on the occasion of the Financial Executives Institute of the Philippines (FINEX)'s inaugural meeting and induction ceremonies for year 2019, with Finance Secretary Carlos G. Dominguez III as keynote speaker and inducting officer.
The activity also marked the turnover of the organization's leadership, with 2018 FINEX president Maria Victoria Españo giving way to 2019 president Atty. Eusebio Tan of ACCRALAW, also concurrently vice chair of the FINEX Research and Development Foundation, whose declared theme for the year is "Innovating Businesses for a Better Tomorrow."
The section "Flashback to the FINEX Founding" recounts:
"Founded in 1968 by a dozen finance men previously affiliated with the Philippine Institute of Certified Public Accountants (PICPA), FINEX issued a new call — for the development of financial management in the Philippines to promote the interests of finance professionals as distinguished from accountants.
"The breakaway group was composed of Elmer Aguilar, Reneo Albano, Edgardo Bacani, Romeo Co, Romeo Esteban, Ramon Ilusorio, Jaime Ladao, Vicente Muro, Joaquin Olano, Vicente Pacis, Antonio Sta. Ana and Arsenio Vistro.
"They came from varied backgrounds, industries, and sectors: banking, manufacturing, telecommunication, insurance, and government. Two eventually became presidents of major commercial banks, and another co-founded the country's first investment house."
In 1993, Santiago Dumlao, whose unbridled passion for chronicling the group's advance through the decades still serves FINEX to this day, authored a modest volume in commemoration of the group's silver anniversary.
His chronicle of those first 25 years is condensed as Chapter 2 in this book, following up on Chapter 1: "The Golden Year: Celebrating in Uncertain Times."
For this book that "documents the milestones of the organization, features the illustrious men and women who are products of this institution, and offers other invaluable information assembled as a comprehensive backgrounder to the Golden Jubilee celebration," Dumlao again serves as guiding light, chief chronicler and project director.
As early as 2017, the FINEX Board of Directors gave the green light for the project, with an editorial and design team formed early on. Members and alumni were also enjoined to share their FINEX photos, publications, and other materials to be archived for inclusion in the Golden Jubilee Book.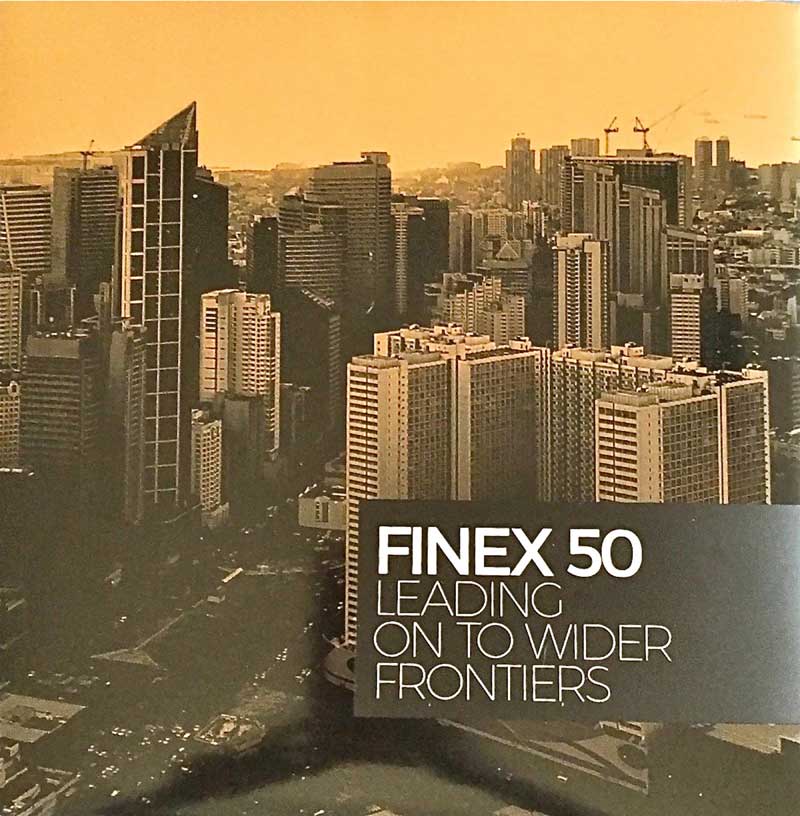 The Project Team headed by Santi Dumlao included Joseph Albert A. Gamboa as project manager and managing editor, Dennis D. Decena (chair, Order of the Golden Phoenix), Roberto T. Borromeo, Zoilo P. Dejaresco III, Victor P. dela Dingco Jr., Manuel B. Guillermo, Antonio B. Inumerable, Reynaldo C. Lugtu Jr., Blanquita C. Mercado, Normita L. Villaruz, and Franklin F. Ysaac.
This writer was fortunate to have been designated as executive editor, with the production and technical team headed by Ramoncito Ocampo Cruz of Media Wise Communications Inc. / Muse Books as executive publisher, Noel Avendaño as art director, Alex B. Dulay for graphic design and digital imaging, Rey Albert Fuentes as editorial assistant and Edwin Tucay and Nonoy Lacza for photography. Two thousand copies were printed by House Printers Corp.
Apart fom Dumlao and Gamboa, major contributing writers were Manny Guillermo, Edwin V. Fernandez, and Zoilo Dejaresco III.
Dumlao's series of overviews and detailed chronology are complemented with interesting "Historical Notes" that correspond with the years involved, providing suitable context for all the challenges faced and accomplishments made.
There were, for instance, "The Restive Years" of 1970-1971, which started "with unprecedented anti-government riots."
Martial law was the big story of 1972, preceding the phase titled "Gaining Ground: 1973-1977," when "Despite the constricting environment, FINEX pushed on with more determination to encourage public debate on financial policies, thereby gaining a modicum of recognition with the general public."
For 1981, Dumlao's "Historical Note" retold the Dewey Dee scandal that "triggered a crisis in the financial community" and eventually "led to the organization of the Credit Information Bureau."
The years 1983-1987 were of "Crisis and Political Turnaround," of course with Notes on the Ninoy assassination and its aftermath.
Dumlao himself served as FINEX president in 1989, which "started rather auspiciously with favorable economic projections," with President Aquino being informed in early February "that the United States and Japanese governments had endorsed the multilateral aid plan for the country."
The "Historical Note" for the year, however, was about "The Bloodiest Coup Yet."
Other major features are the "Roundtable Session of Capital Market Development," with various voices among FINEX officers and members lending inputs, and "The Broad Front of National Issues."
Dumlao writes in the foreword:
"There are continuing themes that FINEX concerns itself about, and we mention them because they are part of the FINEX agenda.
"This book, therefore, is not just about the past 50 years, but about our present preoccupations and future hopes. What we write about here reflects the kaleidoscopic view of our collective state of mind."