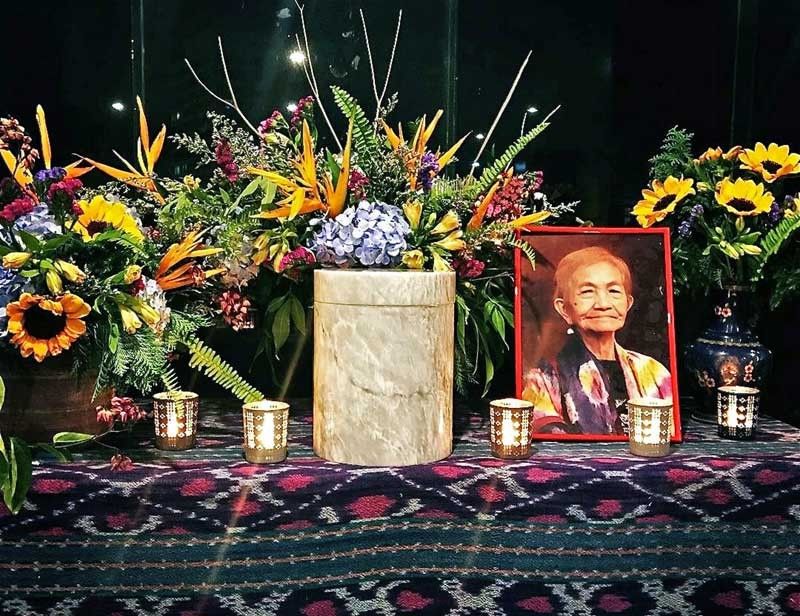 The much-loved Tita Lacambra Ayala was laid to rest last week.
Photo by Jhoanna Cruz
Farewell to dearest TALA — poet, artist, mother
Initial recall is vague. It must have been in the early 1970s when I first met Tita Lacambra Ayala and Joe Ayala, although they were surely heralded by their reputations as literary and visual artists.
We may have been introduced at some art gallery or at a literary gathering. But around that time, I had started residing at Teachers' Village in Quezon City, so I should've visited them at least once in their place on or close to 20th Avenue off Cubao, where writer-and-artist-friends often dropped in for socials.
Among these were our common friends Nick Joaquin, Leo Benesa and Jolico Cuadra, although I've failed to retain any vivid visual memory of such gatherings at the Ayalas' place.
Then they moved to Mindanao, eventually settling in Davao, where Joe had relations. Somehow, we must have continued corresponding. When a group I was with embarked on the alternative monthly magazine ERMITA in 1976, Joe had quickly submitted a feature article titled "KulaminKita" — on sorcery lore, with his own illustrations.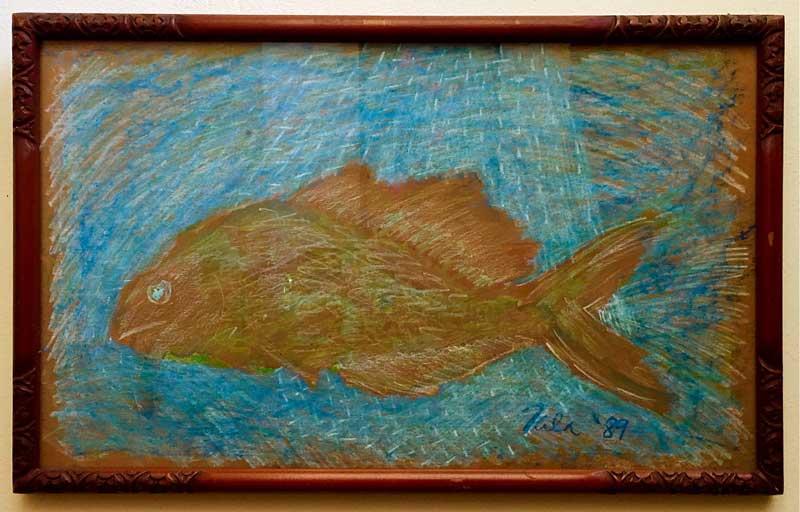 1989 artwork by TALA
We must have sent them regular copies, as Tita once commented on poems by Francis "Butch" Macansantos that we had published. Her pithy, positive comment on the poet: "He's daguerreotype." Her feedback was included in the Letters section.
But it wasn't until March of 1988, when a total solar eclipse would be visible in Davao, that we got to meet again. A small group of us still relatively young poet-writers from Manila decided to fly over. It included Eric Gamalinda, Fatima Lim and Juaniyo Arcellana. Tita arranged for our stay at a house owned by the painter-writer Margarita "Margot" Marfori.
I remember that we visited Joe at his house-studio by a beach, where I took memorable pictures of Tita and "Timmy" Lim wackily posing with arresting pieces of driftwood.
A year or so after, Tita gifted me with an artwork of hers, signed "Tala '89" — of a fish, that this Piscean prized and have treasured since. TALA stood for Tita Agcaoili Lacambra Ayala. Not too many friends know that she was known as Marciana before her fond nickname took hold.
Correspondence continued, with Tita making sure that I received every single copy of the Road Map Series that she initiated and nurtured through decades. I wrote about this signal accomplishment of hers once or twice.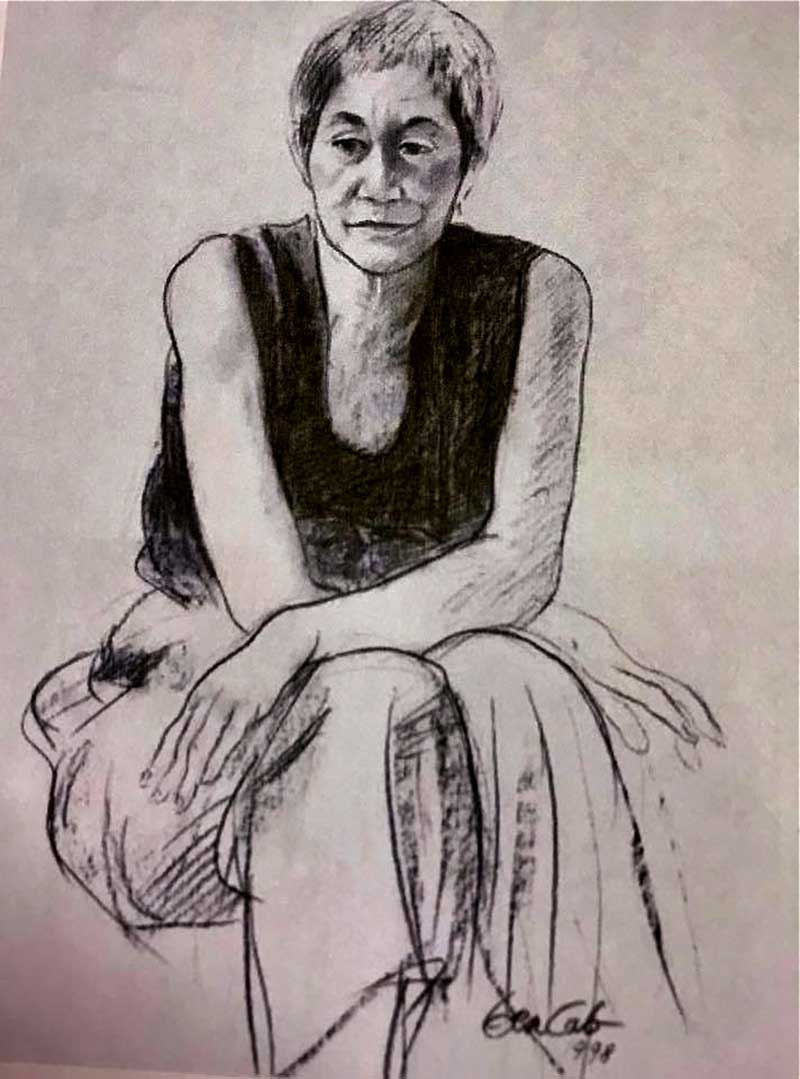 Portrait sketch by BenCab, 1998
Devoted as she was to poetry, fiction and multi-media arts, she mothered generations of young Davaoeños, published their works and encouraged associations. Her own works stood the test of time, such as her delightful children's story, "Mr. Webster, Spider," first published in 1963 in the Philippines Free Press, and which joined her 2005 book Rocking Chair Stories. Its first line was entirely appetizing: "Be careful you do not get an appetite for words or you may end up like Mr. Webster, a hopeless word addict, helplessly becoming every word he ate."
Here a sample among her early poems, "O the Sad Brown": "forfeitures of my race / stare me in the face / like little sins as peanut shells / dotting the ripe sea // When will the fugitive erase / the ransom he consigns upon himself / to live an idyll free / from nightmare? // Behave / to withstand the tender lick / of foreign lions / and the lure of bright magnificent / supernatural spaces. // There is no magic there to console / even as reprimand your fallen graces / until your strength is true / by your own heart's fidelity."
I revisited Davao City a few more times over the years. In one of those sojourns, I recall bring taken around by Joey Ayala, with a popular seaside resto specializing in tuna panga and bariles as an outstanding memory. In another, more recently, Joey and his band were performing at Matina Square.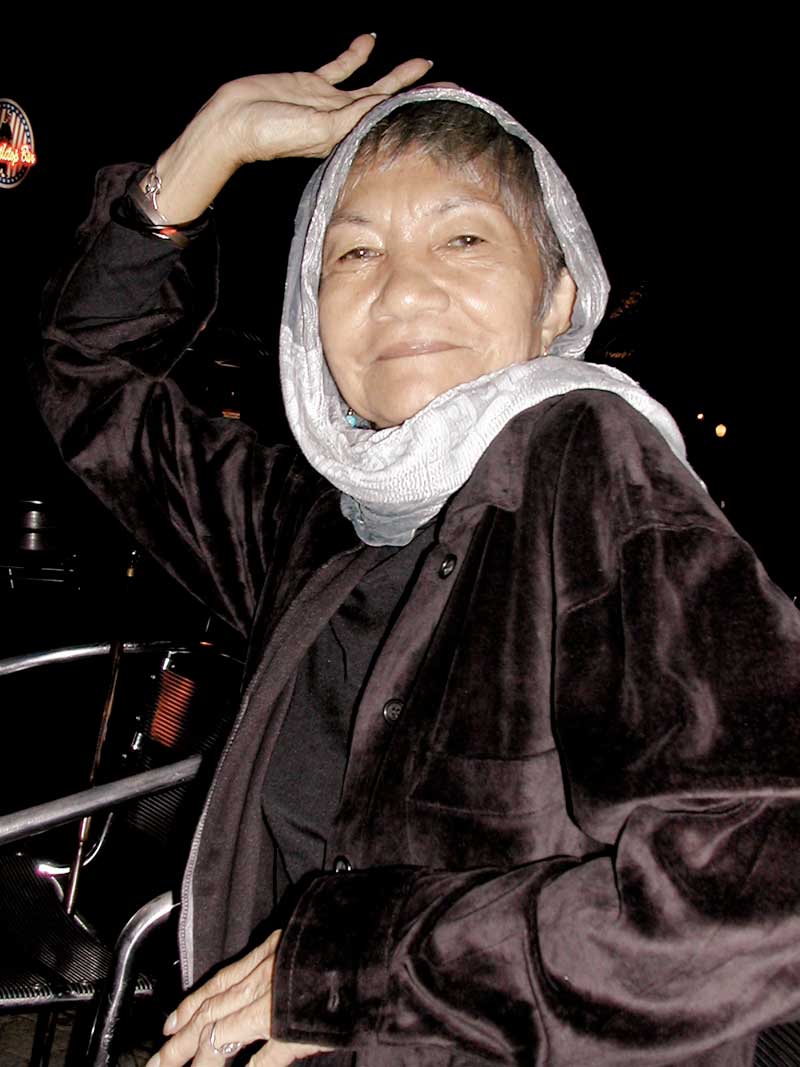 Playful in Davao in 2007
On one of those occasions, I was welcomed by Tita at her apartment, where we must have shared a bottle of booze — because the next time I saw her, several years later when she had just recovered from an illness, she quipped that I now had to drink by myself. At some outdoor cafe, we settled on posing for selfies and groufies — while I kept teasing her that only whisky would ensure longevity. That was in November 2007.
In February 2011, we met again, at a hotel hosting a writers' event. She had taken to wearing a cap, eschewing the scarf she used to wrap around her head. Was that the last time I saw her? We still kidded around about the medicinal benefits of favored spirits.
I sensed then that she was tempted to subscribe to my jocose counsel that very night. And well might she have, when she got home. She did make sure she'd reach the token number of infinity.
Much loved and so loving, TALA made it to 88.