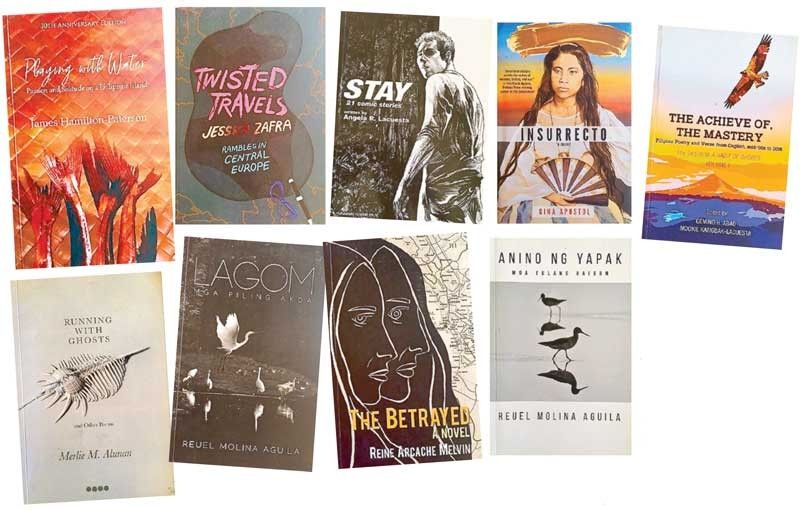 Here are nine recent literary titles I recommend as fine book buys for the holidays, for gifting oneself and friends.
Gift books for the holidays
Here are nine recent literary titles I recommend as fine book buys for the holidays, for gifting oneself and friends.
Playing With Water: Passion and Solitude on a Philippine Island by James Hamilton-Paterson, published by Ateneo de Manila University Press as the 30th Anniversary Edition. The British author, who had enjoyed strong ties with our country since he lived on an island off Marinduque in the late 1980s, returned for the commemorative launch several weeks ago after a decade's absence. He engaged an audience in Ateneo for a lecture-forum, and met up with old Manila friends at several dinners in his honor. His landmark memoir has been hailed for its eloquent prose and excellent insights. Available at AdMU Press.
Twisted Travels: Rambles in Central Europe by Jessica Zafra, published by Visprint, Inc. Touring the Czech Republic and Poland as a journalist for a TV travel series, Zafra documents her "rambles" in her inimitably amusing way, montage-ing observations and actual experiences with her expansive recall of books and films. Earlier visits to Italy, Venice and Paris pad up the itinerary, with a Paris anecdote told as a crime story. A fun read. Available at Fully Booked BGC.
Stay: 21 Comic Stories by Angelo R. Lacuesta, published by Good Intentions Books, Inc. and produced by Comic Book Lab. The recent National Book Award winner for Short Fiction in English enjoys collaboration with 17 outstanding graphic artists for this unique collection of komiks stories that may only be acknowledged as comic if one had an equally strange appreciation of anomie, existentialism and nihilism in non-nerdy narratives. Available at Komikon events, or you may order copies at https://goodintentiions.ph/
Running with Ghosts and Other Poems by Merlie M. Alunan, published by Ateneo de Naga University Press last year, consequently winning the 2017 National Book Award for Poetry in English given last month by the National Book Development Board. The premier poet stands as witness to Haiyan in this collection, which also includes poems in Cebuano and Waray (the memorable "Balangiga Suite") with their translations in English.
Anino ng Yapak: Mga Tulang Haibun by Reuel Molina Aguila, published by Kataga Samahan ng Manunulat Pilipinas, Inc. The haibun is a Japanese literary form that merges haiku and waka (brief verse) with travel accounts in prose. Aguila transcends travel documentation and incorporates other verse forms, from the Filipino tanaga to the villanelle, among others.
Lagom: Mga Piling Akda by Reuel Molina Aguila, published by Kataga Samahan ng Manunulat Pilipinas, Inc. Aguila offers selections of his poetry, essays, short stories and plays. Being a birder and accomplished photographer, his literature ranges from intimacies within the selective scan of forests and trees to the scope of a bird's-eye view.
The Betrayed by Reine Arcache Melvin, published by BUGHAW, Ateneo de Manila University. This is the much-awaited first novel of an exquisite prose writer based in Paris, whose collection of short fiction, A Normal Life & Other Stories, appeared nearly two decades ago. Apart from winning a National Book Award, it was hailed as a collection of narratives on desire. I'll be coming up with a review of the novel soon. Available at AdMU Press.
Insurrecto by Gina Apostol, published by Soho Press, Inc. (NY). The fourth novel of the multi-awarded, New York-based Apostol was named by Publishers' Weekly as one of the Ten Best Books of 2018, and has been earning rave reviews. Her first two novels, Bibliolepsy and The Revolution According to Raymundo Mata, both won our National Book Award, while her third, Gun Dealers' Daughter, won the 2013 PEN/Open Book Award and was shortlisted for the William Saroyan International Prize. Presciently, Insurrecto relies on the author's research on the Balangiga massacre and the Philippine-American War "to cast a lens on our contemporary times." I'll also be reviewing this book soon.
On Jan. 5, the SOAS at University of London, which offers Philippine Studies, will present "History and Fiction through Gaps: Two Book Launches," with the authors of Insurrecto and The Betrayed present, from 6 to 8 p.m. at Kalili Lecture Theater at the University of London.
The Achieve of, the Mastery: Filipino Poetry and Verse from English, mid-'90s to 2016, edited by Gémino H. Abad and Mookie Katigbak-Lacuesta, published by University of the Philippines Press. As the sequel to A Habit of Shores, this softcover title comes in two volumes, the first at 430 pages and the second at 440 pages. Volume One begins with four poems by Edith L. Tiempo (National Artist for Literature), followed by poets of succeeding generations, a total of 67 from Gloria A. Garchitorena Goloy (born 1927) to Joel Pablo Salud (born 1963). Volume Two starts with Antonino Salvador Soria de Veyra (born 1963), and includes 74 poets, ending with Regine Cabato (born 1995).
The "General Introduction" by Dr. Abad alone, which dwells on his poetics and of how we have colonized the language from where our poetry is wrought, is worth the price of both volumes. Available at UP Press and its branches at UP Town Center and the University Hotel, Diliman.