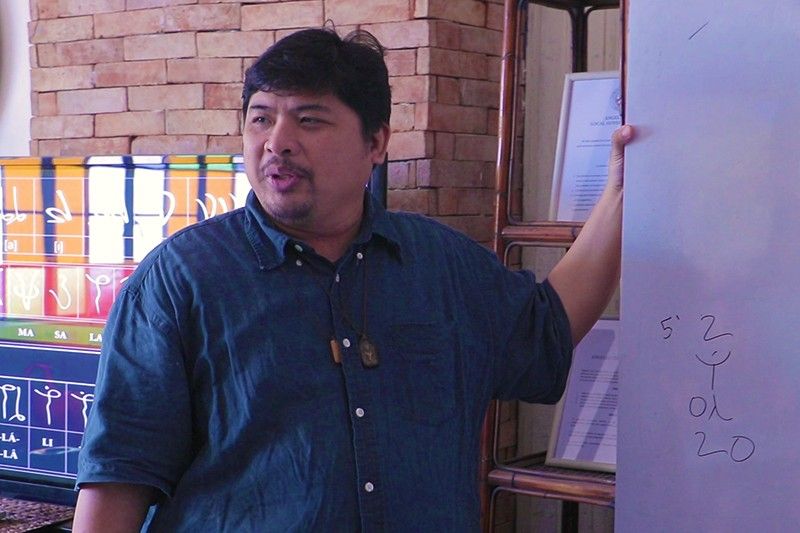 In this September 2018 photo, Mike Pangilinan of the Center for Kapampangan Cultural Heritage teaches Kulitan script.
Philstar.com/Erwin Cagadas Jr.
WATCH: Kapampangans preserve indigenous 'Kulitan' script
ANGELES, Pampanga — At least once a month, well-known cultural activist and an internationally acknowledged expert on Kapampángan language and culture Mike Pangilinan works on preserving Kulitan—one of the indigenous writing systems of the Philippines—by teaching it to fellow Pampangos and others who are interested.
The Kulitan script is used to write Kapampangan, a language spoken in Pampanga and in nearby areas.
Pangilinan started teaching the basic Kulitan script in April 2016 when he was invited to give the staff of the Arts, Culture and Heritage Division of the Angeles City Tourism Office lessons in it. His lecture received good feedback and attracted more students than the ACTO could accommodate.
Herminia Pámintuan, called the Mother of the Kapampángan Cultural and Linguistic Revival of Angeles City, inaugurated the Sídduan ning Kabiasnan Kapampángan at Pámanigáral Kulitan (Institute for Kapampángan Research and Kulitan Studies) in October 2016 so Pangilinan could hold regular lectures on Kulitan.
Pangilinan also holds lectures on Kapampangan language, history, and culture.
Earlier in 2016, he was was given the Talasínup king Singsing (Keeper of Heritage) lifetime achievement award by the local government and people of Angeles City for his expertise on the Kapampángan language and script.
Kulitan better represents Kapampangan
Pangilinan stresses the importance of learning Kulitan, saying it represents the language of the Kapampangan people. He said Kapampangan is currently endangered because some parents are no longer passing the language on to their children, hence his passion to further preserve both Kapampangan and Kulitan script
"It accurately represents the Kapampangan language – the sounds of the Kapampangan language ... unlike the Tagalog, who only have five vowels," Pangilinan says of Kulitan during the Skechers' Heritage Walk in Angeles, Pampanga in September.
READ: Travel guide: Discovering Angeles City through heritage, culinary walking tour
"We have more than five vowel sounds that are accurately represented in Kulitan," he adds.
More to pre-Hispanic writing than Baybayin
Pangilinan says some Tagalog students have also noted the difference between the Kapampangan and Tagalog script Baybayin.
Due to this, Pangilinan says he is not in favor of making Baybayin, one of the pre-Hispanic writing systems used in the Philippines, as the country's national writing system.
In April this year, a committee of the House of Representatives approved House Bill 1022 or the proposed "National Writing System Act" to declare Baybayin the Philippines' national writing system.
READ: House panel approves use of Baybayin as country's national writing system
The bill was filed by Rep. Leopoldo Bataoil (Pangasinan). It was supported by the Department of Education, the National Commission for Culture and the Arts and Buhayin, a Baybayin advocacy group.
"The importance of writing in general and of the alphabet in particular for the preservation and progress of civilization is incalculable," Bataoil was quoted in April in a press release from the House Press and Public Affairs Bureau.
Pangilinan, however, says Pampanga should retain its own indigenous writing system.
"So, that's why you cannot impose someone else's script on our script," Pangilinan says.
"We don't approve that Baybayin bill or whatever it is 'cause we have our own writing which are accurately represents our own language," he adds.
At present, Pangilinan offers basic Kulitan classes at least one Saturday month at the receiving lounge of ACTO. The class size is limited to ten participants.
(Editor's note: An earlier version of this article referred to the Kapampangan people as Pampangueños. This has been corrected.)