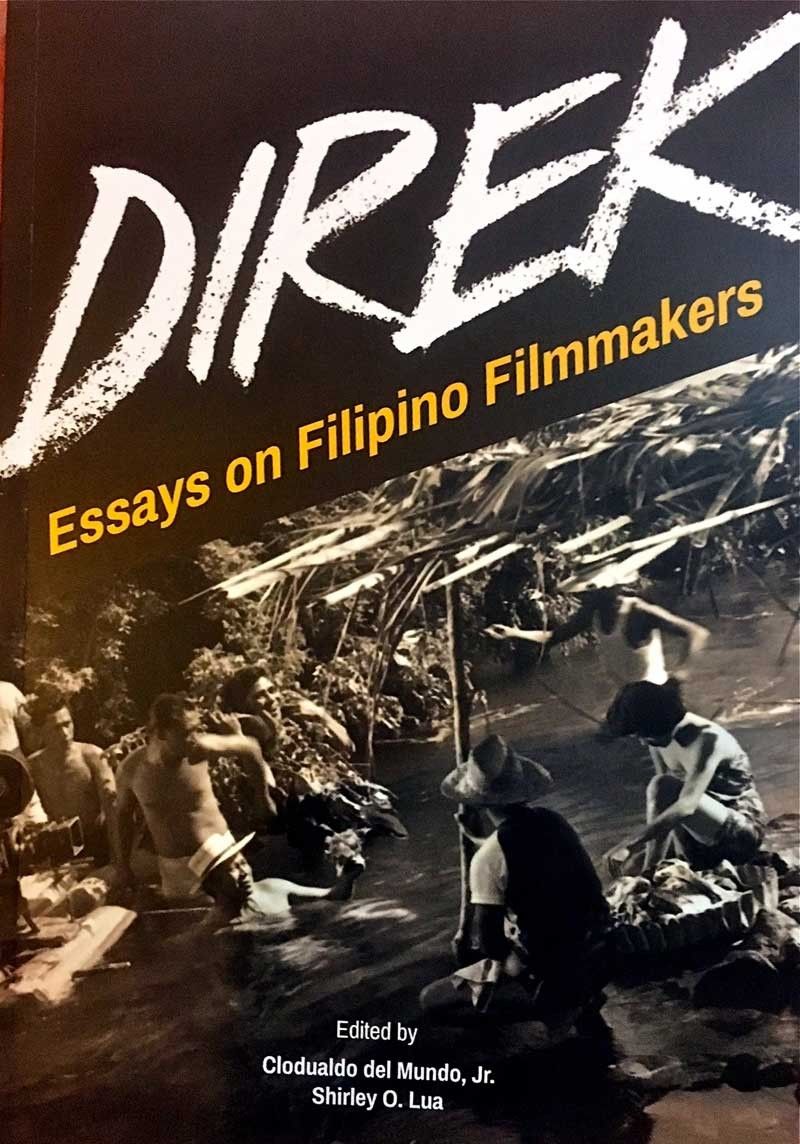 This distribution shows how much interest there is in the work of filmmakers of particular nations. As Del Mundo says in his Intro: "Very few books have been published on Philippine Cinema, much less on individual Filipino filmmakers."
Honoring 15 Filipino filmmakers in a book
Recently released was the important anthology Direk: Essays on Filipino Filmmakers, edited by Clodualdo del Mundo, Jr. and Shirley O. Lua, published and distributed in the Philippines by De La Salle University Press, but also published and distributed in Great Britain and North America by Sussex Academic Press.
This distribution shows how much interest there is in the work of filmmakers of particular nations. As Del Mundo says in his Intro: "Very few books have been published on Philippine Cinema, much less on individual Filipino filmmakers."
He also writes: "This anthology is an introduction to selected Filipino filmmakers and their films. The list of featured filmmakers is not exhaustive, by any means, but the list includes the usual names when a discussion on Filipino filmmakers is brought up."
The 352-page book has three sections, with the first, "Short Takes," featuring three relatively brief essays: "Re-visiting Manuel Silos and Biyaya " by Del Mundo; "The Life and Art of Gerardo de Leon" by Agustin Sotto; and "Eddie Romero: Grand Ideas in a Small Film Industry" by Del Mundo.
The second section, titled "Medium Shots," contains the following: "Manuel Conde: Trickster and Visionary" by Nicanor G. Tiongson; "Avellana: A Portrait of the Artist as Pinoy Filmmaker" by Del Mundo; "FPJ: Dreaming of National Fantasies and Justices in Philippine Cinema" by Shirley O. Lua; "Lino Brocka: Film and Politics in the Marcos Era" by Rolando B. Tolentino; "The Brave and Ironic Ishmael Bernal" by Ronald Baytan; "Peque Gallaga: The Passion of the PQ" by Vicente Garcia Groyon; "Satire and Social Activism as Subversion in Mike de Leon's Kakabakaba Ka Ba? and Sister Stella L." by Anne Francis N. Sangil; "The Quiet Man Passes" by Noel Vera; "A Portrait of Kidlat Tahimik, A Godfather of Filipino Indie Cinema" by Patrick F. Campos; and "Home or Elsewhere: Locus and Dislocation in the Cinema of Brillante Ma. Mendoza" by Lito B. Zulueta.
The last section, "Long Takes," has "Marilou Diaz Abaya: Beyond Feminism" and "Lav Diaz: New Directions in World Cinema" — both by Gil Quito, with each billed as "A Biographical Survey." These are full-blown scholarly essays that take up 38 book pages and 65 book pages, respectively.
"The Quiet Man Passes" is on Mario O'Hara. The 15 essays dwell on 15 Filipino directors who are most often discussed. Invaluable information is provided on each, with Works Cited, Films Cited, Filmography and End Notes supplied.
Quito writes on the premier screening of Diaz's Hele sa Hiwagang Hapis:
"A capacity crowd came to the cavernous 1,600-seater Berlinale Palast, including jury member Clive Owen and jury president Meryl Streep. Team Hele, as they called themselves, walked on the open-air red carpet on a freezing but sunny Berlin day, the women in strapless evening gowns envying the men snug inside their tuxedos. Screening started at 9:30 a.m. with a one-hour break for lunch and ended at 7:30 p.m. There were disgruntled walkouts — there always are, and probably always will be — with these long Lav Diaz films — but intrepid hundreds who stayed put, apparently energized rather than exhausted, leapt to their feet in sustained ovation. Two nights later, Lullaby received the Silver Bear Alfred Bauer Prize given to a film 'that opens new perspectives on cinematic art.' With the Bauer, Diaz joined the ranks of earlier winners who took cinema into new directions, like Alain Resnais, Andrzej Wajda, and Zhang Yimou. The longest film in the festival's 60-six-year history was also the first Filipino film ever to win at the main competition."
For a cineaste, there is much to peruse in this book. So far, I've fully enjoyed Campos' take on Kidlat Tahimik:
"Kidlat Tahimik — true to his name — is a man of apparent contradictions. His life is continually defined by his ambivalent attitudes toward his bourgeois origins; his daily tightrope act as a son of urban Baguio, adopted son of rural Ifugao, Third World filmmaker, and proud Filipino artist; and his balancing of his many gifts, talents, and resources."
I can say the same of Groyon's on Peque Gallaga:
"Gallaga believes that a film director orchestrates characters' behavior, and he is keenly observant on set, studying his actors' for giveaway movements that can be emphasized and incorporated into the scene. A face-scratching tic exhibited by actor Michael de Mesa during rehearsals for Unfaithful Wife was eventually made an integral part of the story and used as a subtle indicator of deceit in a pivotal scene."
Del Mundo adds in his Intro: "Certainly, there are more Filipino filmmakers that should be subjects or serious study. I'm sure every Filipino film scholar or enthusiast would be able to list a number of missing filmmakers in this anthology."
Yes, to add to his own lengthy list that includes Raymond Red, Emmanuel Borlaza, Celso Ad. Castillo, Chito Roño and Carlos Siguion-Reyna (all of which I agree with), I would venture these other names: Nick de Ocampo, Behn Cervantes, Tikoy Aguiluz, Briccio Santos, Auraeus Solito (also known as Kanakan-Balintagos), Eric Matti and Chris Martinez,
Indeed, as Del Mundo says, after citing the need for similar evaluation of the work of Filipino scriptwriters and cinematographers: "There is simply much more to be done. Film critics and scholars have a lot more to do."
This anthology shows the way, commendably so.