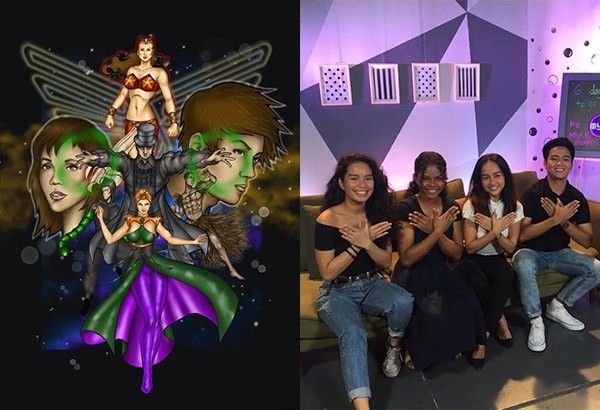 From left: The cast costumes designed with guidance from Mars Ravelo's family; the cast of "Ding, Ang Bato!"
Facebook/"Ding, Ang Bato!"
New 'Darna' musical told from Ding's perspective
MANILA, Philippines — Before Darna takes flight in cinemas, the super heroine will conquer the stage first as Saint Benilde's Arts and Culture Cluster presents "Ding, Ang Bato!"
The dance musical by Benilde's Arts and Culture Cluster's (BACC) Dance Program based on Mars Ravelo's "Darna" is set to be staged until May 21 at SDA Theater, School of Design and Arts, De La Salle-College of Saint Benilde at 950 Pablo Ocampo Street, Malate, Manila.
Set in contemporary times, the musical is told from the perspective of Ding, Narda's deaf brother. The beautiful language of the deaf community is masterfully incorporated in movement, music and dance.
The cast's costumes are designed with guidance from Ravelo's family.
Carlos Serrano, an alumnus of the Dance Program, plays Ding, while Juner Quiambao and John Peñaranda, who are students from the School of Deaf Education and Applied Studies, are his alternates.
Darna is played by Christine Crame, Benilde's Dance Program Chair, while Stacy Abarca, an AB Music Production student, plays Narda. Natasha Cabrera portrays Valentina, Darna's nemesis.
The production is led by the visionary director and librettist Chris Millado, Vice President and Artistic Director of the Cultural Center of the Philippines and renowned theater director and playwright.
Joining him are achievers of the stage including choreographer Denisa Reyes, co-choreographer Ernest Mandap, and music composer Ejay Yatco with Jef Flores.
They will be leading the collaboration between professional and student musical theater performers, dance majors, singers, and multimedia practitioners of the De La Salle-College of Saint Benilde's School of Design and Arts.