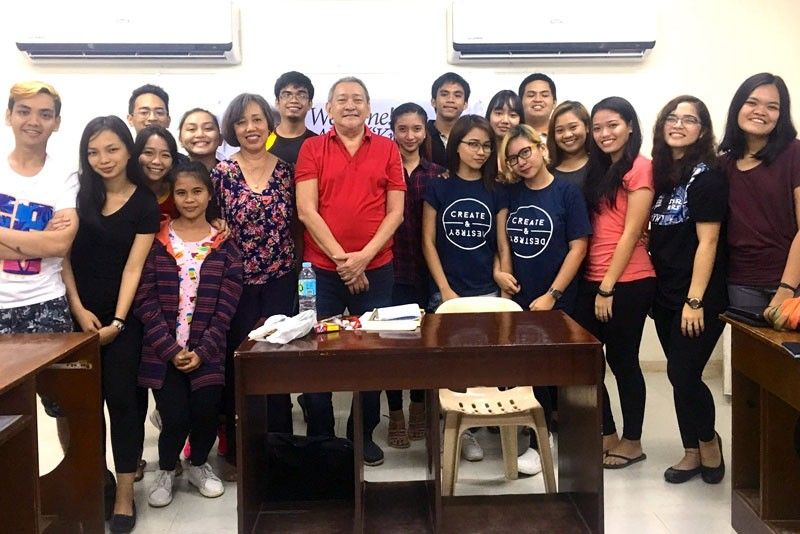 Enjoying a bright class for poetry fundamentals, thanks to their professor Joycie Dorado Alegre.
A quickie of a poetry workshop
Words could go beyond their primary meanings, especially when joined together in fresh, felicitous phrases.
I had the good fortune to conduct a three-day poetry workshop at UP Tacloban on April 25 to 27. The invite came from Joycie Dorado Alegre, whose B.A. Communication Arts class composed the intended beneficiaries.
The following conditions were met: that the sessions not start early in the morning, and that I get an opportunity to hit a beach on the Saturday before I flew back home. Thankfully, Joycie said we could have afternoon sessions, as the class would also be busy prepping for a dance presentation for Friday's cultural program. And that Saturday would be a full-day outing at a nearby beach, something her students would also enjoy.
The 18 students were Yedda Vicelle Adona, Pamela Kate Almo, Pierre Dan Ampo, Janella Mae Balboa, Jobelle Cabonce, Gabriel Canillas, Janeca Rae Dacoco, Camille Jane de la Cruz, Andre Ebio, Stephanie Esquierdo, Jamie Belle Evanglista, Ana Mae Geroy, Pearl Jovelle Madeloso, Sean Christopher Manabat, Neldson Mora Jr., Leander Louis Oguin, Sigrid Vera Villamor and Carisha Yabora.
Not only did they turn out to be an enthusiastic bunch, but a bright and gung-ho one that readily took on the challenges for a proper appreciation of poetry, and the demands that came with having to write effective poems.
I started with a brief lecture on having to disabuse their minds of general misconceptions. Rule No. 1 was to avoid using too many abstract words, in favor of graphic images that would fill up the readers' mental screens. As figurative representation, imagery should serve up the notions and emotions they wished to express. Words could go beyond their primary meanings, especially when joined together in fresh, felicitous phrases.
No. 2: Poetry wasn't just cut-up lines of prose, even if these were made to rhyme. The observance of these first two rules would help them avoid sounding like Hallmark greeting cards.
Given our time constraints, I prepared a sheaf of sample poems that could demonstrate some basic do's and don't's. The popular "Trees" by Joyce Kilmer showed how unbridled use of imagery could lead to ridiculous personification that features a contortionist subject. Its sing-song quality was the result of adherence to traditional prosody, in this case the iambic tetrameter. More on which, later.
The next poem, 'it may not always be so; and i say" by e.e. cummings, was a modern sonnet that also sang, but did so with novelty. The concluding lines could be emulated when expressing love's loss. Upon being replaced as a romantic partner, instead of saying "okay I'll congratulate him and I'll just be so sad," the poet versifies effectively: "you of my heart, send me a little word;/ that i may go unto him, and take his hands,/ saying, Accept all happiness from me./ Then shall i turn my face, and hear one bird/ sing terribly afar in the lost lands"
Three brief poems, two of them haiku, shared powerful imagery of brevity. Salvatore Quisimodo: "Each alone on the heart of the earth/ impaled upon a ray of sun,/ and suddenly it's evening." Matching up well was Emmanuel Lacaba's "In puddles and rivers/ pebbles hit bull's-eyes/ before targets are drawn." Indeed, that cosmic observation even outdoes Basho's classic "Old pond./ Frog jumps in./ Sound of water."
We took up Billy Collins' "Introduction to Poetry" to stress that meaning is not always the be-all and end-all of poetry, which can offer music, mystification, ambiguity that leads to possibly multiple meanings, if at all. In aspiring to music, it's the heightened language of poetry that is its best weaponry.
I had to backtrack to traditional prosody that ushered in melodic language — the iamb, trochee, anapest and dactyl — whose use in meter-ed form was seen in sample excerpts from Shakepeare, Marlowe, Longfellow, Tennyson, Lord Byron, Lewis Carroll, Harry Potter, and The Beatles. Of the last, "What/ would you do,/ if I sang/ out of tune…" employed anapestic trimeter. But that these days it was fair game to apply these devices sporadically and in mix-match fashion, within the same poem.
Other contemporary poems that were shared were Derek Walcott's "Love After Love," Jane Hirshfield's "This Was Once a Love Poem" and "For What Binds Us," Billy Collins "Japan," and Aimee Nezhukumathil's "Are All the Break-Ups in Your Poems Real?" and "Making Gyotaku."
In between these readings, we critiqued their own fresh poems. On the first day, I asked them to write something new, titled "Stone, Papyrus, Clay" — dwelling on the theme of changing technology as applied to memory storage. I was pleasantly surprised with the results. They observed the checklists and came up with fresh imagery and analogies. They cut their lines properly, avoiding articles or weak words while employing a modicum of caesurae and enjambments.
The second poem had to mention the moon. Again, hardly any typical lines or scene-setting appeared. Imagery was generally strong, with strains of lunacy from romance to Goth offered adequately.
They hit it off with the grace notes, too, these 18 students observing the checklist minutiae offered in a quickie course on the fundamentals of poetry. My hopes are high that one or a few of them can eventually follow in the footsteps of premier poet-educator Merlie Alunan, whose company we also enjoyed while in Tacloban, even if she didn't join us on the beach on the eve of the full moon. But then that's another story.