A Music Festival Infused with Colors and Surprises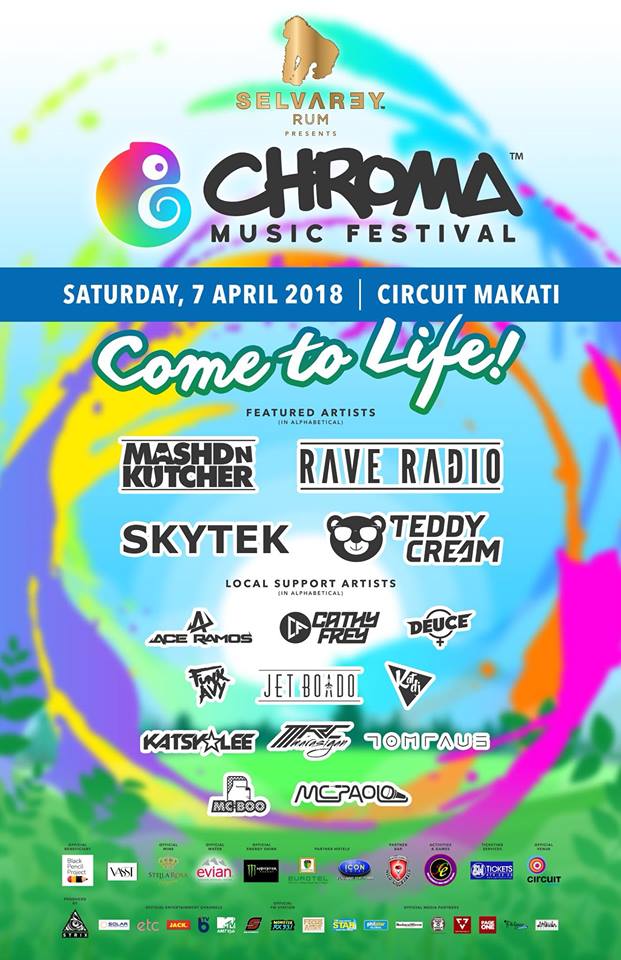 The countdown to the most electric color music festival that has set foot in the metro starts now!
Prepare to turn imaginations to reality as we celebrate summer like never before at Circuit, Makati for CHROMA 2018!
Happening on April 7th, the third installment of Chroma promises a more colorful display of colors, the latest mixes from top international and local DJs and a whole lot of surprises for everyone taking part in the event.
Chroma has always been identified for its iconic powder toss countdown - a moment that has redefined the music festival scene in the country.
It is a one-of- a-kind experience where everyone will witness the harmony between hues and EDM that will paint the sunset-themed sky with new memories.
A host of side activities and games like Giant Jenga, Velcro Wall and Ball Shootout, among others are also in store to energize the entire Chroma Nation apart from the explosive beats of international artists like Rave Radio, Skytek, Teddy Cream and Mashd N Kutcher and solid acts from Marc Marasigan, Tom Taus and a whole lot more!
Gather the whole squad and #RELIVE the childhood memories, friendships, and love within this fantasy-inspired playground while bringing the dreams of indigenous children #ComeToLife as the event will be donating part of the proceeds to the Black Pencil Project.
Are you #ChromaReady? Hurry as tickets are running out fast! Get your passes now at SM Tickets near you or call 470-2222 and don't ever miss this event that has revolutionized the EDM stage in the Philippines!