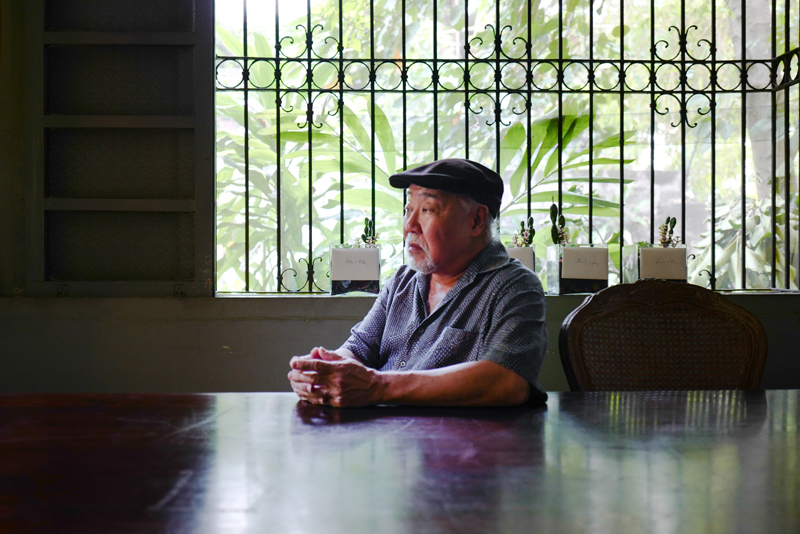 Neal Oshima: Photography's Time Has Come
MANILA, Philippines — Long considered as an artistic medium, photography, at least in the country, has not gained the prestige of the more conventional fine arts of painting and sculpture. There are many reasons for this: its reproducibility, its accessibility (especially in the light of digital photography and camera-affixed phones), and its evident utilitarian function of documentation. In capturing historical moments, photography falls under the category of journalism, not art.
But there is no doubt that in Neal Oshima's hands, photography assumes the expressiveness of a hand-held brush. His works cover a wide range of subject matter: from commercial works to coffee table book extravaganzas to stunning documentation of artifacts. His photographs of articles of clothing made of gossamer-like piña fabric, such as those exhibited at sepiaEye Gallery in Soho, New York in 2015, are stunning for their transparency and lyricism. Revealing wear and tear and the shapes of bodies that have inhabited them, they appear as enduring, luminous records of a life and a time lived.
In his work for Art Fair Philippines, Oshima will feature the peoples and the traditions of the Austronesian ethnic groups, bound by languages that have emerged from the same Austronesian family and whose presence in the Philippines spans from the northern tip of Batanes to the southern regions of Bukidnon and Cotabato. In "Kin," the title of the exhibition, "issues of land, tensions between past and progress lend a narrative backdrop to portraits shot during different periods and encounters…It is a visual tribute to tribes, across places and across generations, encountered through one man's lens."
Together with Angel Shaw, Oshima will also curate an exhibition showcasing the best of the local documentary photography. It will feature both emerging and established photographers, including Nana Buxani, Geloy Concepcion, Tommy Hafalla, Jose Enrique Soriano and Veejay Villafranca.
For more than four decades, Oshima has been chronicling the life of indigenous groups, possibly longer than anybody else here. His body of work is only closely matched by the Filipino-Catalan lensman Eduardo Masferré who, between 1934 to 1956, documented the traditions, customs and ways of life of the Cordillerans through black-and-white photographs which are considered some of the best to have come from the Ifugao region. Fittingly, Masferré's works will also be highlighted at the fair in the dedicated space called Art Fair/Photo.
One may say that both Oshima and Masferré, to use a sociological term, have "gone native" in their pursuit of documenting their subjects. For Oshima, this started when he was taking his undergraduate studies in Hawaii and got exposed to the work of Gregory Bateson who co-wrote with Margaret Mead the groundbreaking book, Balinese Character: A Photographic Analysis.
While in college, Oshima tried his hand at working as a laboratory and field photographer at the BP Bishop Museum in Hawaii. When he took up his MFA at the San Francisco State University, a course on Visual Anthropology under Dr. John Collier was an eye-opener. The desire to document people who were living on the fringes of modernity was stoked.
He came to the Philippines when his father, Harry Oshima, visited the country as a Rockefeller Foundation grantee. "Since then," he tells the International Center of Photography, "I've been fortunate to photograph many of the best collections of antiquities and tribal art in the Philippines and the National Museums in many Southeast Asian countries. I've been lucky to document many of the living Philippine traditional Austronesian peoples."
For Oshima, it's important for the photographer, especially within the context of anthropological documentation, to "know your subject inside and outside, not just superficially," he told The Philippine Star two years ago. While he now works exclusively with digital photography, he mentioned that he still misses "my craft, the hours spent carefully developing film in a darkroom, resulting in something magical." In "Kin," the magic has simply been transmuted into another photographic medium, as the man behind the camera has stayed committed to the power of the art form through all these years.