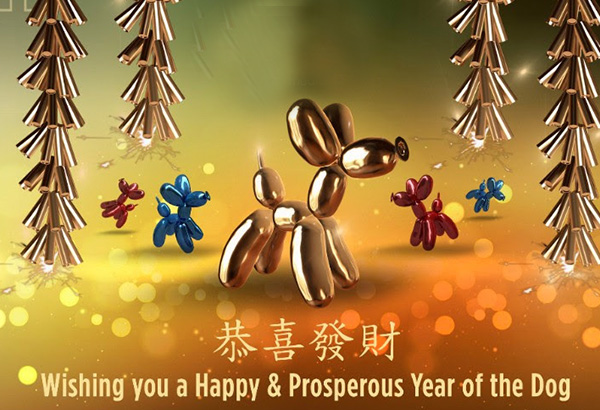 According to Chinese zodiac, those born in the Earth Dog year are believed to be serious, skilled in communications, and responsible in the office. Blue Ant Media/Released
10 ways to enhance your luck this Year of the Earth Dog
MANILA, Philippines — The year 2018 has been tagged in the Chinese Lunar calendar as the "Year of the Earth Dog."
Thus, just like the dog, this year has been characterized by many emotional outbursts among humans, and lots of movement and activity in Earth and nature, said feng shui expert Princess Lim Fernandez.
WATCH: Feng shui expert Princess Lim Fernandez on improving one's luck
"In general, since this is a year of change, people should be more open, more adaptable, and also not be quick to react. Because it could be a potentially emotional year. It becomes negative when they don't research or if they become impulsive," Fernandez explained in an exclusive interview with Philstar.com.
Those born in the years of the Dog, Dragon, Rooster and Monkey do not have a strong luck this year, said Fernandez.
Hence, on February 15, the eve of Chinese New Year, Fernandez advised everyone, especially those belonging to the not-so-lucky signs, to do the following to improve their luck this year:
De-clutter
Buy new underwear
Have a new haircut
Eat lucky food such as noodles for long life and round fruits for prosperity.
To further enhance one's luck, on February 16, Fernandez suggested:
Spending time with one's family over a nice lunch or dinner.
Giving "angpao" or Chinese red envelopes to children with money inside for good luck. This has been considered lucky for the giver and the receiver. Keep the money inside the envelope and do not spend the money for a year.
Take note of lucky directions: Southeast, Center, Northwest, Southwest
Avoid the following unlucky directions: North, West, Northeast
Directions to avoid for renovation work: North, South, Northwest, Southeast
Months to avoid renovation: first lunar month (February 4 to March 4); fourth lunar month (May 5 to June 5); 10th lunar month (November 7 to December 6).
Directions to avoid sitting and facing: Sitting Southeast and facing Northwest; Sitting north and facing South
Those from the not-so-lucky signs are also advised to boost their luck by joining more happy occasions and celebrations.
Fernandez will be leading the festivities to welcome the Chinese New Year with a Chinese New Year Eve celebration at the Grand Hyatt Manila in Bonifacio Global City.
Titled "The Golden Path to Luck in the Year of the Earth Dog," the feast will be presented by ODV Creative Inc. and Fernandez's The Yin & Yang Shop of Harmony.
The festivities will start at 10:30 p.m., beginning with a Can Bai Wishing Ceremony and Dragon and Lion Eye-Dotting ceremonies. This will be capped by a fireworks display to drive away negative energies. — Video by EC Toledo IV