Filipino artists take stage at Singapore Art Week
January 30, 2018 | 8:14pm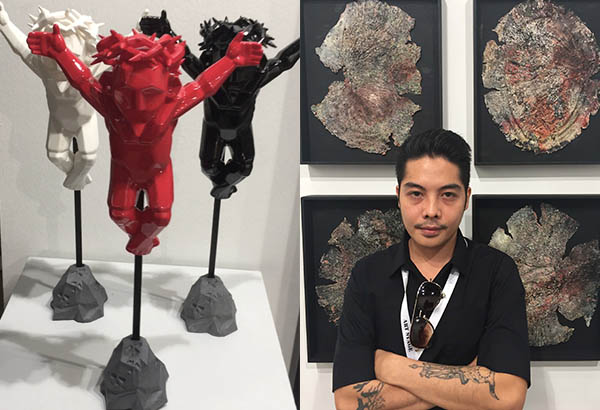 SINGAPORE — From street artists to collector showcases, more Filipino artists were represented at Singapore Art Week, held in various city locales from Jan. 17-28.
Marina Bay Sands Expo Center was the site for Art Stage, the largest Southeast Asian art showcase presenting over a thousand collected works from emerging artists, including well-known Filipino figures like Ronald Ventura, Leslie De Chavez ("Malevolent Reality"), Geraldine Javier ("Hysteria"), and a showing by young artist JC Jacinto ("Independent as the Sun") represented by Manila's Artinformal gallery.
Other Filipino artists shown included Jigger Cruz, Don Salubayba, John Santos and Rodel Tapaya (award-winning Cordilleran mural "Cane of Kabunian, Numbered But Cannot Be Numbered").
It was also a heady mix of international artists — Fernando Botero works scattered throughout (his son, Fernando Jr., was set to give a lecture on Sunday), along with a looming Mogdigliani bust and a special exhibit of Alexander Calder's gouache paintings and one small mobile (reportedly valued at $4.5 million) — along with up-and-coming artists from Indonesia, Vietnam and Thailand. Art Stage president Lorenzo Rudolf's opening remarks struck a challenging note: "Everywhere in Southeast Asia, the art scene booms… Only in Singapore is it stagnating." True, there were relatively few Singaporean artists on the walls; yet Singapore has opened at least 12 galleries this past year and Art Week is a visual sign of its commitment to nurturing local talent — or at least becoming a hub for buying and selling art.
Over at Gillman Barracks' "Art After Dark" festival last Friday, Sundaram Tagore gallery presented Filipino group exhibit "Street Mining." Organized by Broke design collective's Gary Ross Pastrana, the show featured installation works by Poklong Anading, Louie Cordero, Vic Balanon, Nona Garcia, Kawayan De Guia, MM Yu and design collective Broke.? Highlights included pop art by MM Yu ("Land Paintings"), abstractions by Louie Cordero and commentary on Philippine billboard messages by Broke. According to the front desk, almost all of the works had been pre-sold prior to opening, a strong signal that Filipino art is becoming more accepted across Southeast Asia. "We only wish we had more pieces," lamented the front desk assistant.
On the streets, Philippine graffiti artist Zero was decorating a large-scale cast elephant ("Makara") with swirling designs for ARTWALK Little India, while over at the National Gallery, in addition to the ongoing Raden Saleh/Juan Luna exhibit "Between Worlds" in the main galleries, the lobby features a large interactive installation by Filipino artist Mark Justiniani ("Firewalk: A Bridge of Embers") that expands upon work shown in Art Fair Philippines: referencing the Christopher Nolan movie Interstellar, the glass walkway allows a disorienting "peer into infinity," as well as a perfect venue for Instagram selfies.
Hosts Singapore Tourism Board took media guests through a half-week of ongoing exhibits as it wraps up the sixth edition of its major arts festival. (For more details, visit www.artweek.sg)