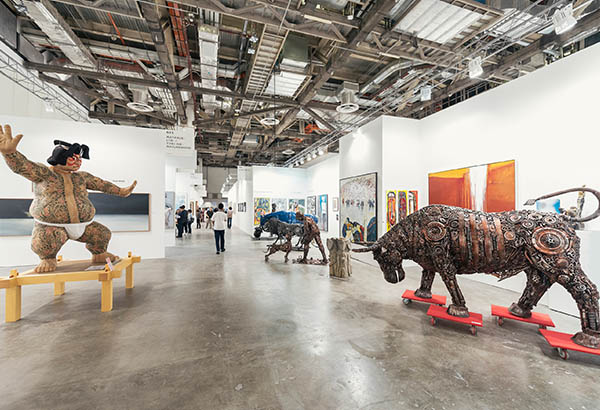 At this year's Art Stage Singapore, Filipinos can take pride in the work of Filipino artists. Singapore Tourism Board/Released
Filipino artists showcase works at Singapore Art Week
(philstar.com) - January 29, 2018 - 6:08pm
SINGAPORE — At the start of every year, Singapore explodes with a burst of colors, lights, and arts with the Singapore Art Week.
Now on its sixth edition and held from January 17 to 28 this year, the festival brings together all sorts of passionate individuals like renowned artists, art aficionados, collectors and enthusiasts for a 12-day celebration complete with a diverse range of activities—from fairs, exhibitions, walking tours, and lifestyle events, to art and culture forums.
A joint project by the National Arts Council, the Singapore Tourism Board, and the Singapore Economic Development Board, the event showcases the country's position as Asia's leading arts hub.
Take a journey along the sprawling grounds and be inspired by stunning creations of the finest regional artists from over 100 galleries at Art Stage Singapore 2018 in Marina Bay, claiming to be the flagship platform of the Southeast Asian art world.
At this year's Art Stage Singapore, Filipinos can take pride in the work of Filipino artist Melissa La O' with her first solo show "Eden," which features large-scale oil paintings of flowers, landscapes and foliage seemingly belonging to an ethereal tropical paradise.
Works by other Filipino artists Geraldine Javier, Ronald Ventura, Rodel Tapaya, and John Santos are also exhibited in the annual art festival.
For those looking for visual feasts in Singapore, check out the following art havens.
1. National Gallery Singapore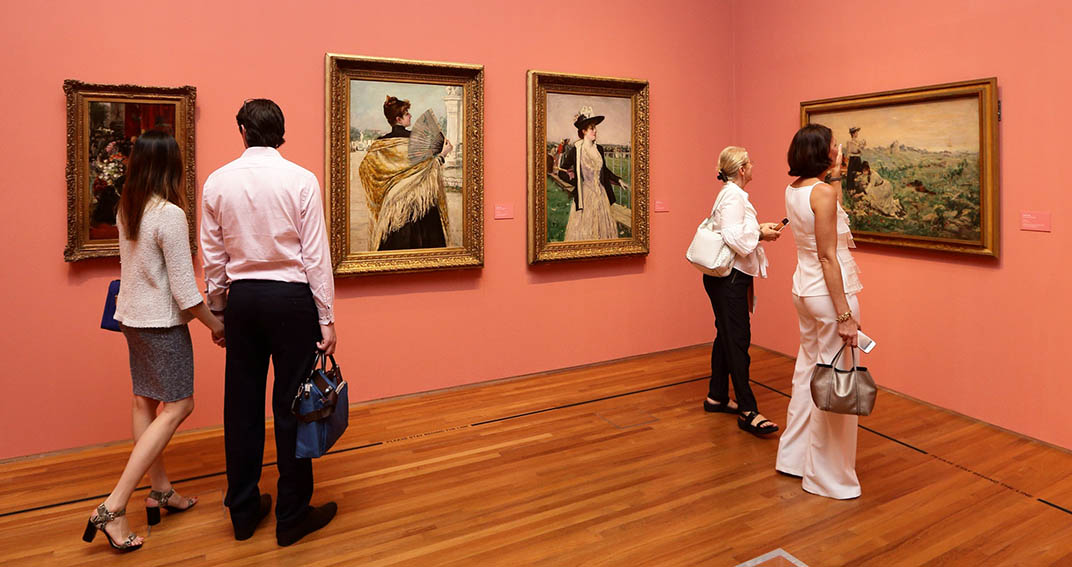 "Between Worlds: Raden Saleh and Juan Luna." Singapore Tourism Board/Released
This is the largest public collection of modern art in Singapore and Southeast Asia. Stand in awe of the 8,000 diverse artworks the gallery has amassed, including world-class pieces from revered artists like Filipino pride, Juan Luna, in an exhibition titled "Between Worlds: Raden Saleh and Juan Luna."
2. Singapore Art Museum
The country's first art museum houses an extensive collection of Southeast Asian masterpieces.
3. ArtScience Museum
This offers exhibits that blend art and science.
4. Gillman Barracks
This revamped military encampment holds 13 galleries brimming with contemporary jewels and hosts one of the coolest multi-arts events during the Singapore Art Week, "Art After Dark."
5. Kult Gallery
Another refurbished spot, this colonial building is where surrealism meets street culture as seen in its displays, prints, paintings, t-shirts and tote bags.
6. Kampong Glam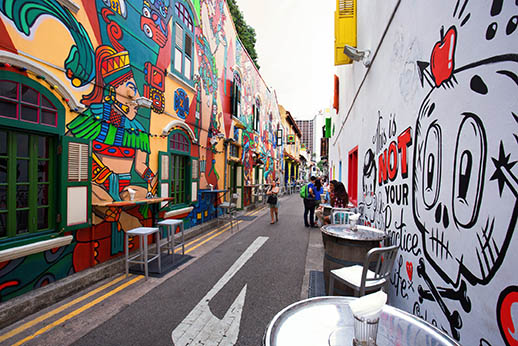 Haji Lane in Kampong Glam. Singapore Tourism Board/Released
This is home to all things artsy with its independent shops like The Blog Shop and Know It Nothing ,and interesting cafes like I Am Cafe.
The district's Haji Lane is a work of art in itself with its colorful shops, emblazoned with bold street art.
7. Tiong Bahru
This is a favorite among hipsters because of its cool spots like the quirky bookshop, Books Actually and pioneer third wave coffee hub, Forty Hands.
8. Jalan Besar
Challenging Tiong Bahru as the new "it" neighborhood is Jalan Besar, with artisanal coffee shops like Chye Seng Huat Hardware and galleries like At Ease Gallery and the Artists Village, Singapore's first artist colony that promotes more radical and unconventional ways of artistic expression.
9. Little India
Enjoy beautiful murals, public art installations, and free performances, and Art from the Streets, which displays the history of street art through its 200 works by 50 of the world's best street artists.
10. Civic District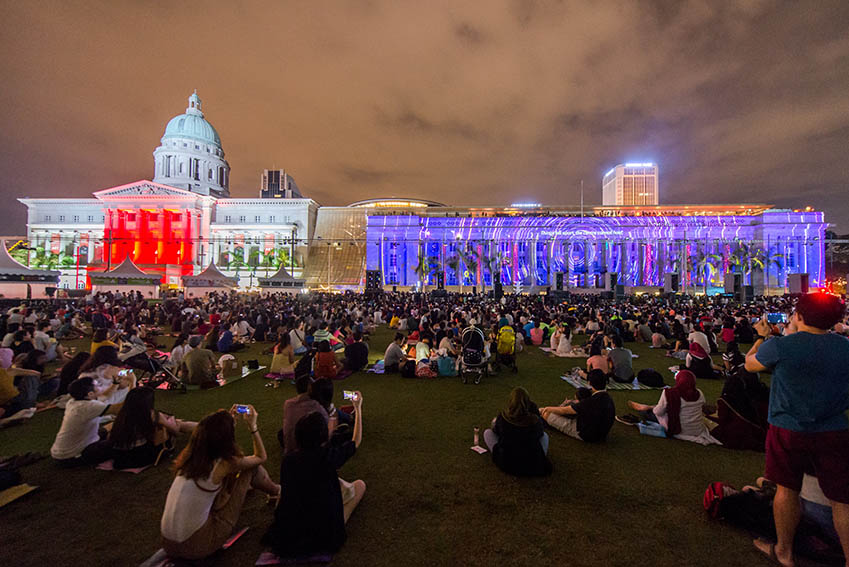 Civic District. Singapore Tourism Board/Released
See iconic buildings like the National Gallery Singapore and the Esplanade turn into a fantastic backdrop for the spectacular multimedia projection mapping, "Light to Night Festival 2018: Color Sensations."
Singapore Airlines (SIA), and its regional wing SilkAir, reach another milestone with the 5th year of its annual travel fair, together with its long time and growing list of partners.
With the theme "Experience the Best in Travel," the airline company has made this year's Showcase and Travel its biggest yet, holding the fair simultaneously on the same weekend from January, exclusively at Glorietta and TriNoma.
"With a humble beginning in 2014 based on the idea of showcasing what the airlines has to offer to its customers, we have indeed come a long way with the event growing in size year after year, and this year is no different with the travel fair being held in two venues simultaneously over the next three days." said Balagopal Kunduvara, SIA General Manager Philippines.
As part of its 70th anniversary, the company launched a full suite of new A380 cabin products including luxurious suites and the new business class, which have already debuted on flights to Sydney, and will soon be available on flights to London and Hong Kong.
In the past year, the company also affirmed its commitment to boost sustainability practices with the unveiling of its "farm to plane" concept, working together with the international culinary panel of world-renowned chefs, to create in-flight menus using more sustainable ingredients while delivering a quality in-flight dining experience to our customers.
As a treat to its Filipino patrons, promotional fares were launched during the event. With 84 destinations to choose from, the discounted rates come with free baggage allowance, in-flight meals, a wide variety of in-flight entertainment, and accruable KrisFlyer Miles, helping provide options to fulfill one's travel goals for the year. — Deni Rose M. Afinidad-Bernardo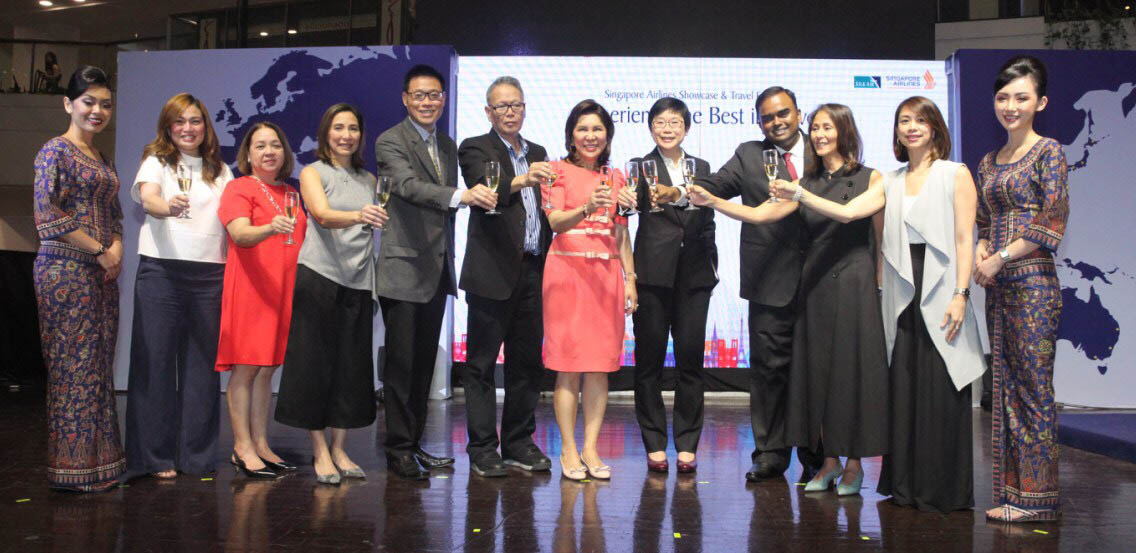 Carla Rabanzo, Manager, Singapore Tourism Board, Jenny Lacerna, Vice President for BPI Credit Cards Division, Myrna Fernandez, COO for Ayala Malls Group, Lim Wee Kok, SIA Regional Vice President, Southeast Asia, Atty. Carmelo Arcilla, Civil Aeronautics Board Director, Sec. Wanda Teo, Department of Tourism, H.E Kok Li Peng, Singapore Ambassador to the Philippines, Balagopal Kunduvara, Singapore Airlines General Manager Philippines, Josephine Ocampo, Unsecured Lending and Cards Group Head, Bank of the Philippine Islands. SIA/Released