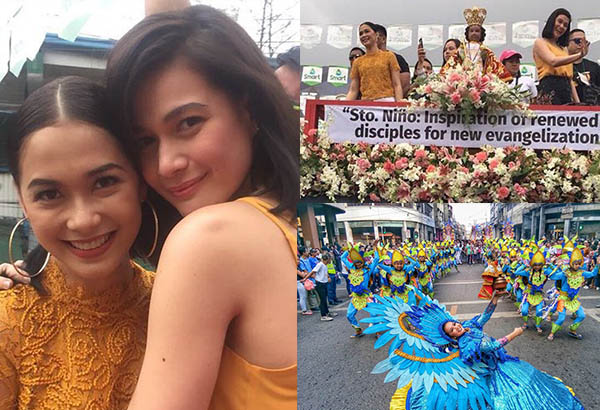 Bea Alonzo and Maja Salvador (left and top right) are among those who graced this year's Sinulog float parade. Photos from Twitter/Star Magic; This photo from The Freeman shows a festival queen and her street dancers. The Freeman/File
WATCH: Sinulog Festival 2018
MANILA, Philippines — Actresses Bea Alonzo and Maja Salvador were among the celebrity guests that added shine to this year's Sinulog-Santo Niño Festival in Cebu City.
Held from January 7 to 22 this year, the Sinulog is marked to honor Señor Santo Niño or the child Jesus. An image of the child Jesus, believed to be miraculous, was given in April 1521 to Hara Amihan or Humanay of Zebu (Cebu) by Portuguese conquistador and Philippines' "discoverer" Ferdinand Magellan. The icon is now kept at the Basilica Minore del Santo Niño church in Cebu.
During the festival, street dancers and festival queens are clad in elaborate, colorful costumes as they parade Santo Niño statues all over the city while performing a prayer ritual dance, which is believed to be created by Filipino natives to honor the child Jesus since they first knew him in the 1500's.
WATCH: Sinulog Festival 2018 highlights
Photos and video by The Freeman
Edited by Philstar.com / Kat Leandicho