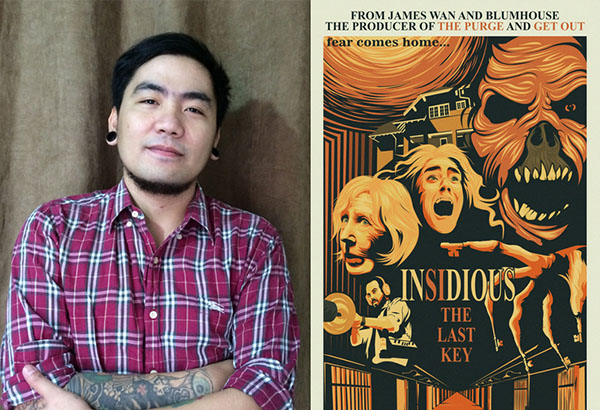 Filipino artist is Adriann Delmo (left) and his winning poster. Released
Filipino artist wins Hollywood movie's poster contest
(philstar.com) - January 17, 2018 - 7:56pm
MANILA, Philippines — A Cavite-born visual artist has been proclaimed one of the five winners of the "Insidious: The Last Key" alternative poster contest.
The competition was organized by Blumhouse Productions, the powerhouse studio of blockbuster thrillers ("The Purge," "Get Out," "Split") in collaboration with the open-source creative platform Talenthouse.
Blumhouse's Jason Blum himself selected the five winners from participants all over the world.
The winning Filipino artist is Adriann Delmo from General Trias, Cavite, a 25-year-old freelance graphic artist/designer and owner of T-shirt printing business. He is joined in the winners' circle by artists from Peru, Ecuador, Spain and France. The five winning artworks received a cash prize of $2,000 each.
Delmo gave his thoughts about his victory in the following interview.
Question: When you learned about the contest, did you immediately want to join? What convinced you to take part?
Delmo: I've been joining the Creative Invites of Talenthouse for more than six months. When I learned about the contest for the Insidious poster, I knew I wanted to join 'coz the concept was interesting. I previously joined a couple of contests before but unfortunately I didn't win dahil sobrang gagaling ng mga participants. Ang nakakatuwa almost lahat ng magagaling na 'yun ay Filipinos.
Q: Do you have funny or interesting experiences with these contests?
AD: In one of the contests, I submitted entries full of confidence, really feeling I'd win. And then "nakita ko bigla mga malupit na entries. Natawa nalang ako kasi hindi pala." Since then, I promised myself to always try something new and be more creative. After that, I didn't notice at first but there were already improvements in my craft.
Q: For your "Insidious: The Last Key" entry, how did you arrive at the concept?
AD: The participants were encouraged to submit artworks with movie poster styles from the '50s to early 2000s. I did a lot of research as I wasn't familiar with vintage style since I'm still in my early twenties. My winning entry is simple but it gave emphasis to the demon coz that's the style of old posters.
Q: Did you have a feeling that you will win this time?
AD: Actually, I didn'nt expect to win "dahil sobrang dami talagang magagaling." I told myself it is enough if people seek out my entry and like it. That's why I was so happy and feel blessed when I learned my artwork was chosen.
Q: You used Adobe for your entry. Do you consider yourself a digital artist? Do you also hand-draw? What works better for you?
AD: Yes. I consider myself a digital artist. I used to hand-draw before I got familiar with vectors and vexel arts. What works better for me? When thinking of a concept, freehand is better until an idea pops up. Then I just render the sketch digitally. I find my work better and complete "pag nagawa ko na sya in digital."
Q: What will you do with the US dollar cash prize?
AD: I am planning to buy higher specs laptop and pen tab to be able to catch up with the latest applications. The rest of the prize will be for financial savings.
Q: Any advice for aspiring artists?
AD: Always pursue what you want to be. Don't be afraid to fail. Failures teach us to make something new and move forward. "Set kayo ng competition sa mind ninyo. Wag kayo papayag na di nyo nahihigitan yung last na gawa nyo. Magugulat nalang kayo sa improvements. And lastly ibigay lang lagi yung best and be happy sa napili nyong field."
"Insidious: The Last Key" is the new installment in the Insidious franchise coming to Philippine cinemas January 17. In the supernatural thriller, which welcomes back franchise standout Lin Shaye as Dr. Elise Rainier, the brilliant parapsychologist faces her most fearsome and personal haunting yet: in her own family home.
The film is written by co-creator Leigh Whannell ("Saw"), who wrote the trilogy and directed "Chapter 3"; produced by "Insidious" regulars Jason Blum, Oren Peli ("Paranormal Activity") and co-creator James Wan ("The Conjuring," "Furious 7"); and directed by series newcomer Adam Robitel ("The Taking of Deborah Logan").
"Insidious: The Last Key" is distributed by Columbia Pictures, local office of Sony Pictures Releasing International.