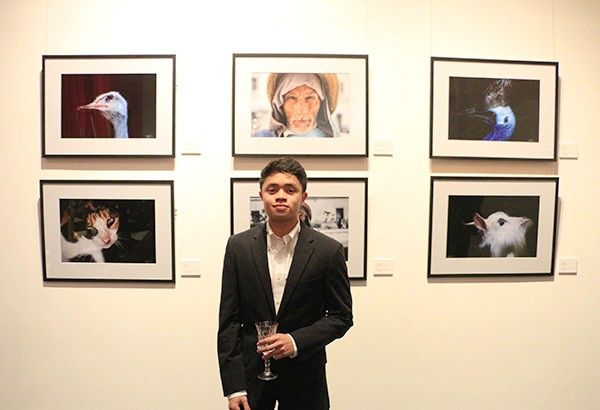 Through the exhibit, teen lensman Basti Belmonte aims to redefine "strays" from its usual meaning of nuisance to "storytellers" with their own lessons to share.
Philstar.com/Jonathan Asuncion
Young photographer mounts exhibit for benefit of Payatas kids
MANILA, Philippines — When basketball superstar Stephen "Steph" Curry first visited the Philippines in 2015, among those lucky to meet him was high school student Philip Sebastian "Basti" Belmonte.
But instead of talking about basketball, Steph and Basti talked about golf. As an avid basketball and golf player, Basti considers Curry one of the best golfers he has ever met.
"(Brazilian photojournalist) Sebastião Salgado is one of my most favorite photographers, but what's interesting though is that my main inspiration is not a photographer. He's a basketball player," Basti says.
What Basti likes most about Curry is his faith in God. He admires how Curry would write on his shoes "I can do all things through Christ" and tap his chest and point to the heavens whenever he makes a perfect shot as an acknowledgement that everything he has is from God.
"It reminds him (Steph) that every after shot, God is always there," says Basti.
Like Curry, Basti also does some "shooting" and dedicates every shot to God—but in the form of photography.
"A photograph is a framed memory and looking at every photograph triggers so many memories. As a photographer, I have to go out and get them (memories) and that's what really amazes me as a photographer," Basti explains.
Usually, during Christmas or his birthday, Basti would get a camera as present, but it was not until two years ago that he began exploring this medium as a way to promote his brainchild, The MEALenium Project, which aims to provide daily nutritious meals or "baon" to around a thousand children in one of the country's most impoverished towns, Payatas in Quezon City.
Payatas is known for its 13-hectare dumpsite, where most families live day by day by scavenging through mountain piles of garbage.
The MEALenium Project is an initiative by Basti and fellow student Joshua Emmanuel Tan, who have since partnered with schools and stakeholders in making sure that every school child in Payatas is well-fed, so that the students can attend school without worrying about having no "baon." Nutritious meals are prepared by the mothers of these students, who also learn about budgeting and the importance of feeding their children the right kinds of food.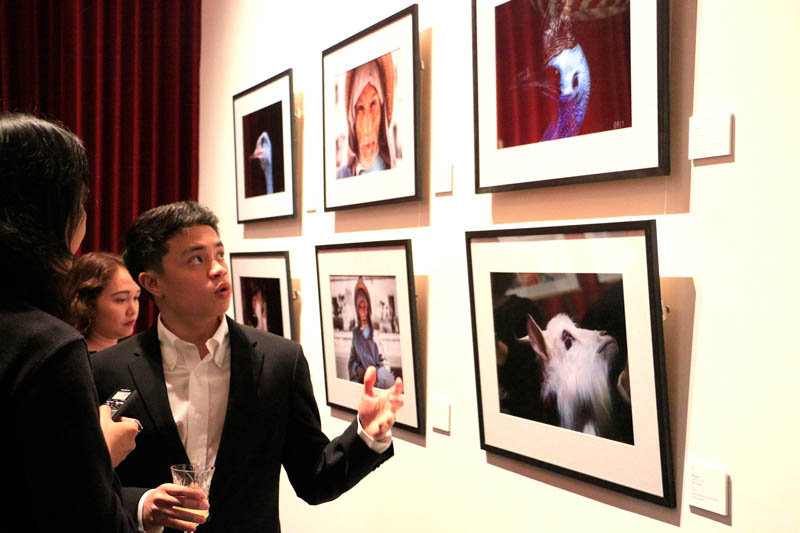 Basti explaining his photos to the exhibit's visitors during the launch on Wednesday, Jan. 3, 2017.
By going to Payatas regularly to feed the children, play sports with them, or teach them Math and other school subjects, Basti was able to document through his lens the different characters in the town. During a recent trip to Morocco, Basti also found similarly displaced people and animals.
Though Morocco and Payatas are miles apart, Basti found similarities among the homeless and the poor people and animals in both areas. Hence, he put together his images from these different places for his first solo exhibition, "Strays: A Perspective," an ongoing photography exhibit at the Hidalgo Hall of Manila House, Bonifacio Global City, Taguig City.
Through the exhibit, Basti aims to redefine "strays" from its usual meaning of nuisance or homeless animals with no pedigree or value, to "storytellers" with their own important lessons to tell.
"It's very ironic because the reason that people transferred to the urban city is to have a better quality of life. That's why I'm very interested in portraying these strays because I really believe they've been overlooked in our society. They have a story that is worth telling—a story that gives a sense of happiness, guilt, hope."
In his self-curated exhibit, he juxtaposed melancholic shots with happy ones to imbibe a sense of hope.
According to him, if people would only look at the eyes of his subjects, they would learn to appreciate things that they usually take for granted. Cats' eyes, which unlike humans', actually change colors and can be very powerful when immortalized as pictures, he shared.
Of the 28 photographs in the omnibus, his favorite is that of an orangutan named Chino, who seems to be posing in the picture, but is actually caught in the moment as he was about to spit on the young lensman. Although the primate was able to spit on him several times, Basti said it was an experience he would never forget as a photographer.
"Moments are always fleeting, so it's important to always capture moments because I'm probably not be able to experience them again in my entire life," he enthused. "You usually don't have much time to take a shot because most moments are fleeting. I have to get very lucky sometimes."
All of his photos in the exhibit are for sale and part of the proceeds will go to The MEALenium Project.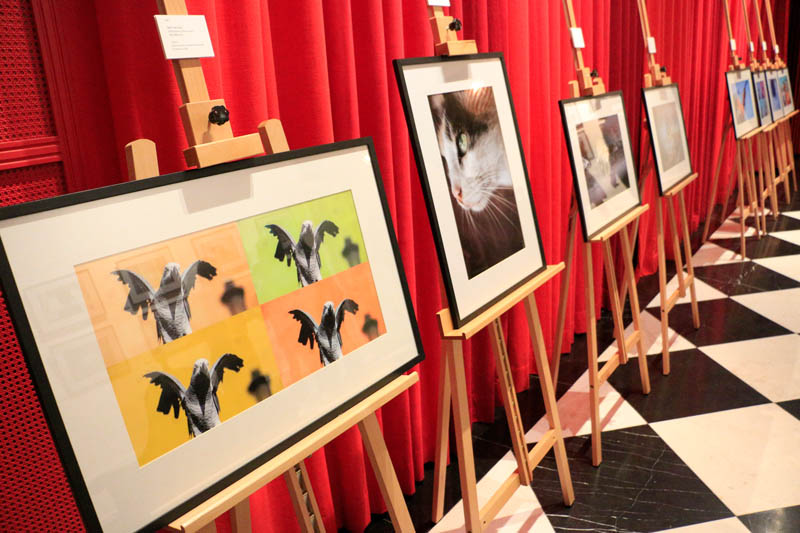 Some prints featured at "Strays: A Perspective," a solo photography exhibit of teen lensman Basti Belmonte.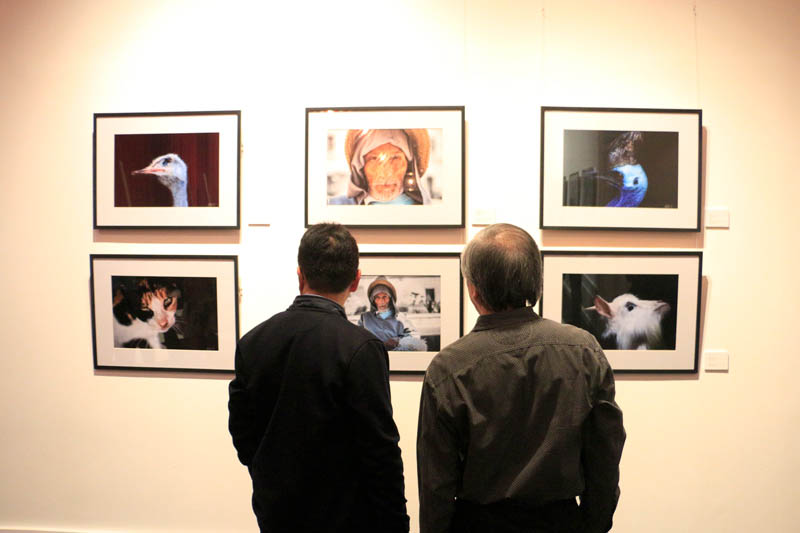 Guests explore the exhibit at Manila House at Bonifacio Global City.
Some of the guests in a packed room for the launch of "Strays: A Perspective" on Wednesday night, Jan. 3, 2017.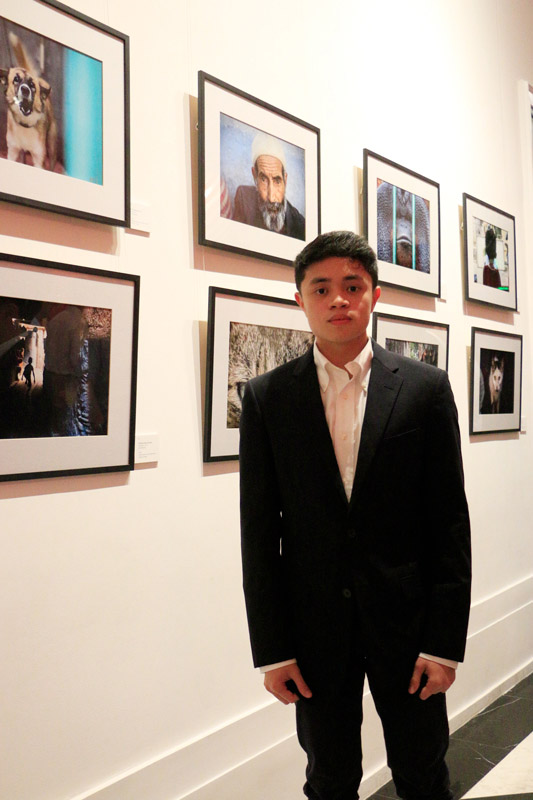 A photographer with a purpose, Basti will channel part of the proceeds from his exhibit to his charitable initiative, the MEALenium Project, which feeds thousands of urban poor school children.
From 25 kids, The MEALenium Project now feeds about a thousand and eyes to benefit a thousand more through proceeds from the exhibit and other efforts.
Basti extends the reach of The MEALenium Project beyond Payatas as he also feeds the stray subjects of his photography. According to him, it is rude for a photographer to just take what he needs and then go. Thus, even with stray animals, he gives them food in exchange for giving him a perfect shot.
Just like Curry, who was a skinny and a short kid but grew up to become a two-time Most Valuable Player at the NBA, Basti believes that he can also carve out a niche for himself in photography.
"My family is an incredibly business-oriented family, so there's so much pressure on me to pursue business and economics. So taking photography is like Stephen Curry pursuing basketball for me because it's going out of the norm, pushing past obstacles for me," explains the 18-year-old, who will be leaving for college next year. Thankful that his family is fully supportive of his passion, he vows to take photography as a minor track while focusing on business.
"If you have a passion, just go for it. Look past your obstacles," he advises other young people who might be holding back from chasing their dreams. "Try to study other people, see how they overcome their obstacles and see how they can achieve their dreams by working hard."