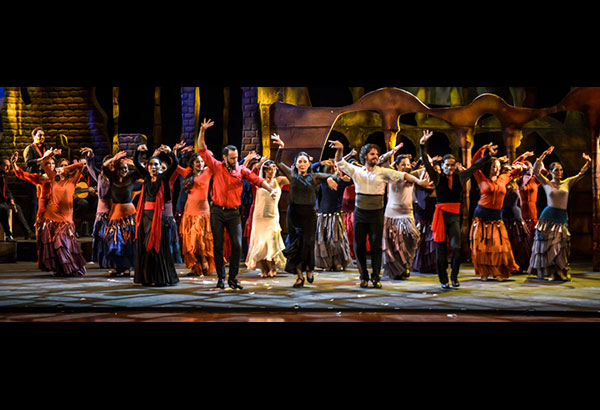 Fin de fiesta: La Luna Roja creator and Centro Flamenco founder Emma Estrada (center), flanked by Javier Martos (right) and Isaac Barbero, leads her dancers in the closing bulerias. Photos by Bert Aricheta
The Philippines' first full-length flamenco ballet, 'La Luna Roja,' fleshes out the shifting faces of passion
MANILA, Philippines — If ballet gives us grace in calculated movements, flamenco appears like its wilder cousin — less concerned with being pretty, prim and proper than with conveying frenzied passion the way we'd wish it was always seen. Think of the gypsy Esmeralda or Bizet's Carmen luring a naive soldier into the pit of danger. If femme fatales had a dance, it would likely be flamenco.
Last Nov. 25 and 26, the Philippines' first full-length flamenco ballet was staged at the Carlos P. Romulo Auditorium in RCBC Plaza.
What's enticing about La Luna Roja is that it doesn't rely on an age-old literary piece, a familiar fairytale, or a worn-out plotline, to give it its charm. The story was conceived by Fundacion Centro Flamenco Philippines' founder and artistic director Emma Estrada, after studying the art form in Spain and teaching it here over several years. La Luna Roja makes a case for the importance of raw feeling over form or formula — how flamenco's seductively raw energy can tell a relatively unknown story. We're easily hooked, not only by the tale, but by its telling.
Every year, Centro would hold a recital for its students. It was only this year that Estrada decided to stage her first full-length production of La Luna Roja, taking off from its 30-minute version, which was part of their recital two years ago. With the director Leo Rialp, Estrada gathered trained flamenco artists flying in from Spain: singer Sergio Gómez, guitarists Rubén Campos and Alejandro Alcaraz, and percussionist José Cortes, and, to play La Luna Roja's male protagonist, Javier Martos, a dancer and teacher at the flamenco school Carmen de las Cuevas in Granada.
The premise of the narrative is intriguing enough. A sorceress casts a curse on an entire village (which is somehow populated by mostly women), after her lovelorn son is betrayed. The women are cursed to lust over any man who stumbles into the place, and to kill him at the rise of the red moon. This kind of love-and-death cycle would go on endlessly until, in true fairytale-like parlance, an act of true love breaks the spell.
In the opening scene, percussive sounds and blood-red light tease us from the rising curtain, suggesting as though something thrilling and sinister is about to take place. As musicians play live at the side of the stage, women, with arched backs, ruffled skirts and flower baskets, stomp, clap, cheer, and dance — it has that kind of subtle disorder that's delicious to watch. Random shouts of "Ole!" are hurled intermittently, as though compelling the audience to do the same.
The first scene felt like a celebration or, more precisely, a demonstration of what women can do with flamenco — while the rest of the production showed what flamenco can do to deliver a story.
The sorceress, played by stage actress and flamenco dancer Tami Monsod, and the sorceress' son, Adrian, played by Angel Gomez, arrives at the scene and gives it new flavor. Following this, the passion conveyed onstage feels more frenetic. There's that palpable sense of agitation, tipping over to desperation, when Adrian tries to woo one of the women in the village. Apart from the agitated tapping of his feet, the world (meaning, the other performers), quite literally, spins around him. In La Luna Roja, the dancers' formation is almost equally seductive as the dance form, amplifying that air of humiliation, confusion, and intensity felt by the character at the center. It's honestly one of those plays where we'd find it thrilling to watch from an upstairs seat.
In the play, passion likewise enthralls in the form of rage and violence. That brief moment, where the scorned Adrian forces a red cloth over the head of his beloved and she screams, feels like the most disturbing gesture, almost like an act of violation akin to a rape scene. When the sorceress grieves over the death of her son, she frantically stomps her feet with her arms and upper body almost unmoving, as though unwillingly releasing pent-up emotion enough to conjure a plague.
The highlight of the production, of course, comes with the entrance of Jamil, played by Martos. In contrast to Adrian's desperate dancing, Jamil — with his proud carriage, assertive gait, and his feet's forceful rhythms — projects a character in possession of that passion (and not the other way around), and easily commands it among the women in the village. When Jamil and his inamorata dance together, it's like the more impassioned equivalent of ballet's tender pas de deux — except that we feel the attraction isn't forced, but actually felt.
Expressing grief over the death of his lover, Jamil furiously taps his feet while, with his back coolly arched, he performs the most lyrical arm movements with a ballet dancer's grace. The music has stopped and the theater is silent, but as Jamil dances solo, that continuous machine-gun rat-tat-tat of his steps is enough rhythm, song and speech. It's as though the entire production has built up to this moment.
Emma Estrada's La Luna Roja is a compelling demonstration of how flamenco can convey a story of passion through passion. It doesn't ache with canned emotion and it doesn't ride on the wheels of a worn-out story. With Estrada's choreography, La Luna Roja makes it seem that flamenco isn't just the performance of a feeling — but feeling itself — fleshed out, made bare, and served raw. Then there's the ballet element that balances it out and gives it poetry. It's both fire and ice, release and restraint — the way passion, we'd argue, always is.