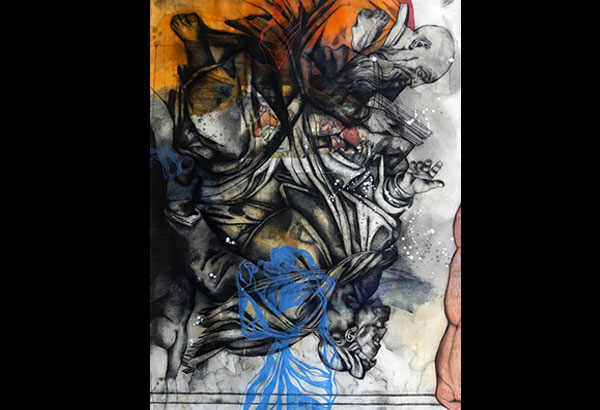 "Zacharias and Ezekiel" from Soler Santos' show, "Hybrid Pictures"
Soler Santos, Ruel Caasi, Ronald Ventura and Igan D'Bayan blur boundaries at West Gallery exhibits
Framed works are never static, if this solipsistic, fake news-ridden, anxiety-driven time that bore them clearly isn't. If there is anything that the four solo shows opening at West Gallery on Dec. 7 have in common, they're hinting at how we see things in multiple viewpoints, with one equally valid as the other, or sometimes even more impossible to distinguish from the next. Put simply, Soler Santos, Ruel Caasi, Ronald Ventura and Igan D'Bayan depict our time as how they see it.
Continuing the series "Hybrid Pictures," which he began at Finale Art File earlier this year, Soler Santos shows another set of works that reference art and media's long history of image-making. Deviating from his photorealistic paintings or his works employing elements from nature, Soler first began finding and cutting photos from ArtForum, and eventually moved on to sourcing images in art history books — for this series, a book on Michelangelo and on the Louvre collection.
One of his largest works in the show, "Zacharias and Ezekiel," combines two of Michelangelo's biblical paintings. The pages cut from the book are at the center, layered with acrylic and Santos' charcoal drawings mimicking the outlines of the figures. The drawings are inverted, rotated, or seen upright — depending on which point of view — yet the figures turn to each other, seemingly conversing. The ghost-blue outline of a cloth floats below as the vivid orange saturating the prophet's garb above complements the hue. Oil paint is dabbed and splattered, looking like either water, stain, or ether, as the repeating set of figures seem to float in hazy, unrecorded time.
"Parang gumagalaw 'yong images, at puwedeng baliktarin 'yong painting," says Santos. In some, he plays with images of Venus de Milo and the classical figures populating the interiors of the Sistine Chapel. In all, he collages, paints and draws, allowing a cross-breeding and referencing of different modes of image-making.
Here, Santos playfully teases out the question, which represents the source and which represents the copy? What is reproduced through books and mass media has become the source of the figure drawn by hand. The pictorial plane seemingly collapses the divide between fake, fact, and fiction, and what we have are repeating elements taken from their context, harmoniously co-existing.
Mounting his first solo show after a seven-year break, Ruel Caasi presents his exhibit entitled "Sinner and Saint." Caasi has participated in several group exhibitions during the gap and, being the project director of Ronald Ventura and the founder of the art collective "The Working Animals," Caasi has been more active in managing projects and curating exhibitions.
"I kind of had a visual overload from these projects," says Caasi. "In a way, this influenced my choice of the absence of color in my comeback solo show."
In "Sinner and Saint," Caasi continues exploring abstraction, albeit now more ripe with texture and bereft of color, save for the stark contrast of black and white. "The works can symbolize this constant battle between good and evil, light and dark, and other dualities," he says. "They can also be interpreted in relation to racism, a social issue that goes way back in history but in recent times have resurfaced. I want to pose questions through these works, instead of giving explicit answers, which is the very nature of abstraction."
While his abstract pieces before have touched on themes like environmental conditions, his works have always been rooted in practice and experimentation first before theory. "It is a philosophy deeply ingrained in our local traditions and indigenous art practices," he says, "the concepts of playing-by-ear, relying on intuition, daring to venture into processes never tested before."
As Caasi explores binaries and dualities, D'Bayan and Ventura both hint at the apparent blurring of borders in an age cluttered with too many images and icons. Human and animal categories blur, tigers cross pedestrian lanes, a monkey's face stares out of the frame marked "millennial," pagan rituals blend with heavy metal iconographies, and art blurs into advertisement. At the shows which run until Jan. 6, references to how we make, mix, view and venerate images are depicted in mixed media and in a visual language as old as painting.