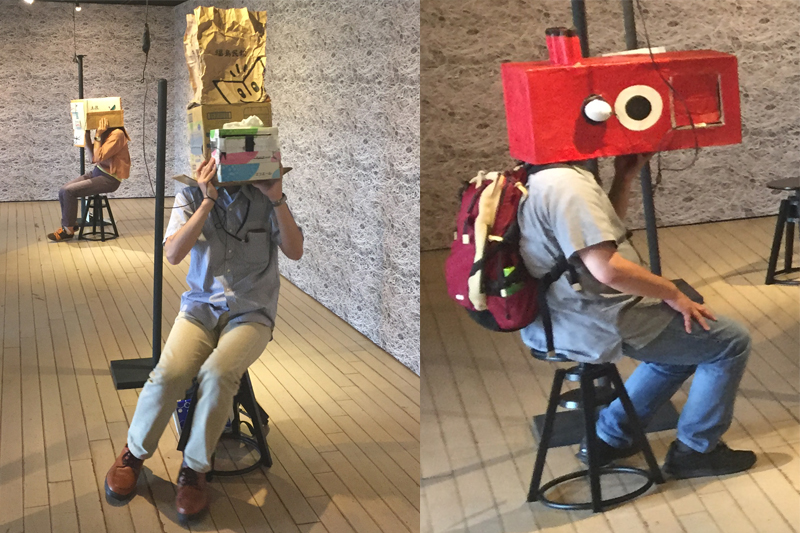 "Don't Follow the Wind," a virtual 360-degree tour inside the inaccessible radioactive Fukushima exclusion zone after the nuclear disaster, is one of the highlights of Yokohama Triennale 2017. The installation was initiated by Chim/Pom and co-developed with curators Kenji Kubota, Eva and Franco Mattes, and Jason Waite.
Yokohama Triennale: Contemporary art in our floating world
The border between good and evil is terribly… let me recall the exact word… "frizzy."
This works as an aphorism to describe today's world which (with smartphones and social media) is becoming more connected and homogenized, and at the same time (with the dilemmas brought about by political turmoil, religious conflict and general territorial pissing) turning more and more isolated and fragmented.
Presidents brandish about nuclear weapons while many of us are numbing ourselves with Netflix, Boomeranging ourselves into silly Instagram selfies, and reducing concepts, ideas and anything into bite-size entries on Wikipedia. ("Do you watch Black Mirror?" someone asked me, adding, "Did you know Robert Downey Jr. optioned the episode 'The Entire History of You'?" "Yes!" I should have said while posing like Gene Wilder in those omnipresent memes, "But oh please do tell me more.") Rafts upon rafts of refugees and migrants are fleeing from bombed and burning cities — and end up either drowned in cruel seas or callously turned away by those who man borders. Oh, how expensive were those boots worn by Kendall Jenner at an L.A. Clippers basketball game? Neo-Nazis are marching in broad daylight with banners, raised fists and festering malignance. Humanity is in dire need of a backrub — wait… perish the thought of Harvey Weinstein in a bathrobe.
We demand to see the manager! You ask these questions like the narcotic mage William S. Burroughs or the fictional aristocratic thespian Whitnail much baffled by the goings-on in the world around him. What are the rules, here? Everything is so put-together but we are in a state of flux.
Or…. What is this that stands before me? I went all-Black Sabbath at the Yokohama Museum of Art as I stood before a huge installation by Indonesian artist Joko Avianto which makes use of around 2,000 pieces of bamboo, drawing inspiration from the ancient Japanese braided rope called shimenawa, titled — "The border between good and evil is terribly frizzy." Elsewhere — at the Yokohama Port Opening Memorial Hall — a large Pink Floydian eye stares into visitors in the dark from under a rubble. This was an installation by Yukinori Yanagi titled "Project God-zilla."
Last month, Japan Foundation invited art writers from Artforum, ArtReview, Mouvement magazine, Hyperallergic, as well as The STAR to see exhibition highlights of the recently concluded 2017 Yokohama Triennale, the sixth edition of the triennale which was inaugurated in 2001. This year, 38 artists and one art collective addressed the "state of the world today" under the theme "Islands, Constellations & Galapagos." Aside from reputable Japanese artists, featured also were international names such as Ai Weiwei, Maurizio Cattelan, Jenny Holzer and Olafur Eliasson, among others. Our very own Mark Justiniani was part of this year's triennale.
Most of us want our art to be confrontational and getting curiouser and curiouser by the minute. The Yokohama Triennale rewarded visitors with works that are beautiful and antagonizing at the same time.
The façade and the columns of the museum had been festooned by the indefatigable Chinese artist Ai Weiwei with an installation of recovered lifejackets and lifeboats as a commentary on the ongoing refugee crisis (which the artist characterizes as "the biggest, most shameful humanitarian crisis since World War 2"). "Safe Passage" is the fruit of the now Berlin-based artist's travels to the Greek island of Lesbos in December 2015 as well as to refugee camps all around the Mediterranean (namely the ones in Syria, Turkey, Israel and France).
According to triennale co-director Osaka Eriko, "Today, when conflicts are frequent and introversion is rampant, the inherent qualities of contemporary art — including creativity, imagination and the multiple perspectives — can be a guiding star in order for us to survive this convoluted world." Co-director Miki Akiko explained, "The themes dealt with (in this year's triennale) are broad: some refer to the individual and society, the self and other, and state and national borders, utopia; and others question different historical views, human activities, and civilizations — as well as specifically Japanese issues of isolation." That's how the Galapagos (Syndrome) part comes into the picture. Co-director Kashiwagi Tomoh shared how Yokohama itself, which was nothing more than an impoverished hamlet during the Edo Period (1603 to 1896) became one of the trading posts that opened in 1859. "Inevitably, as a new international crossroads of trade, people and culture, Yokohama became one of the cities leading Japan on its dramatic march away from Galapagos-like isolation, toward connectivity with the world, and eventually to modernization."
Of course, modernization spawned its own monsters.
It was chilling how a virtual tour of the restricted Fukushima exclusion zone ("Don't Follow the Wind") or Yanagi's "Project God-zilla" resonated with us visitors.
Down the basement of the Yokohama Port Opening Memorial Hall, we went through dark labyrinthine hallways to come across a huge, video eye under a rubble of wood, steel, car and appliances, etc. Is it Godzilla itself under the weight of trash and environmental waste? Maybe. Is it a depiction of a post-nuclear attack? Makes more sense than Godzilla being vanquished by men or Mothra.
A living and belching North Korean despot with nuclear toys makes a far, far scarier villain. And, yes, contemporary artists make sharp and sobering insights on world events just as good as anybody on CNN or the BBC.
Just keep an eye out.
* * *
The Yokohama Triennale was held from Aug. 4 to Nov. 5 at the Yokohama Museum of Art, Yokohama Red Brick House No. 1, and Yokohama Port Opening Memorial Hall. Special thanks to Ami Kurokawa and Tetsuya Koide of Japan Foundation, Manila.