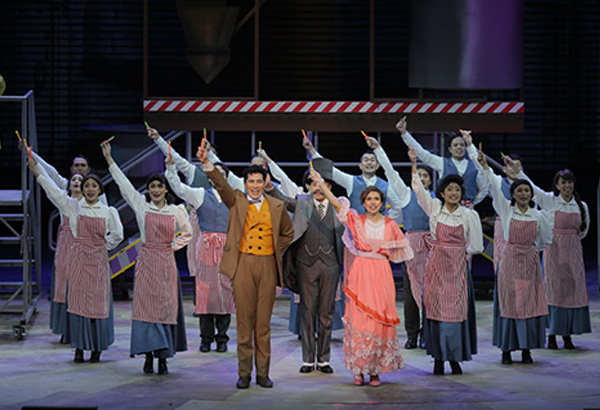 Designed by Bonsai Cielo, Chitty Chitty Bang Bang's costumes take inspiration from the fashion of the late Edwardian era.
A charming trip to childhood behind the wheels of 'Chitty Chitty Bang Bang'
Most people know Chitty Chitty Bang Bang from its 1968 film adaptation, which has made its title song somewhat of a childhood anthem — much like tunes from Annie, The Sound of Music, or Mary Poppins. Unlike a great part of the audience audibly humming the songs that night when Full House Theater Company's production was staged at Resorts World Manila, I had never discovered Chitty Chitty Bang Bang in my childhood. I didn't gush over it the way my mother gushed over Dick Van Dyke — yet in whichever generation we belong, undeniably the production has a way of getting us happily lost in the pleasures of childhood.
The play starts out with animation onscreen, and it makes us feel as though a favorite cartoon is about to begin or an old board game we used to play is about to come alive. Jeremy and Jemima Potts — played alternately by Albert Silos and Isabeli Araneta Elizalde and Noel Comia Jr. and Zoey Alvarade — pretend to be race car drivers steering a famed automobile in its heyday, while an ensemble of imaginary townspeople, singing in the background, cheer them on. It sets the tone for the entire musical, recalling a time in childhood when imagination was enough fuel — our quintessential fairy dust — to get us anywhere.
"Chitty Chitty Bang Bang introduces kids to the magic of the theater, like Harry Potter introduced them to the magic of reading," says director Jaime del Mundo, who had seen the film in his youth, and considers its score the most joyous music he's encountered in his years of directing musical theater. "The fact that Chitty Chitty Bang Bang unlocked a brand new world, where you could do things, you could imagine things, I think, is the reason that we have theater. It's because it opens up windows and doors to the imagination. The theater will not work without the imagination."
Originally a story written by Ian Fleming (author of the James Bond novels) and widely popularized by the 1968 film, Chitty Chitty Bang Bang follows Caractacus Potts (Gian Magdangal), his two children, and Truly Scrumptious (Yanah Laurel) in their adventures with a magical car. Residents from Vulgaria mostly comprise the story's villains. There are the two Vulgarian spies Boris (Mako Alonso) and Goran (Reb Atadero) who provide the production with ample fun and mischief, sneaking around the stage on tiptoe like archetypal bad guys in cartoons. Then there are the Baroness (Menchu Lauchengco-Yulo) who detests kids, and the toy-obsessed Baron (Raymund Concepcion) who acts like one.
While most plays today bid us to fill the gap when the stage feels a bit too bare, here the set is almost the star of the show. Every time the curtain falls or the stage revolves, we're thrilled to see what other contraptions they'll churn out. As Mio Infante, the production's scenic designer, put it, "the magic of theater is that you get transported." Scenes shift from one world to another, keeping the play from becoming too predictable. From Caractacus Potts' steampunk inventions, to the life-size spinning music box, the play's set design gives the production the magic it's due. And yes, thanks to Infante's technical chops and the creative lighting design of Jonjon Villareal, the car flies, and so does the story.
Yes, Chitty Chitty Bang Bang was not part of my childhood, but somehow it didn't need to be. I knew the title song and I remembered Truly Scrumptious from my father, who, with a high-pitched tone comically mimicking a child's voice, sang to me then, to compel me to eat dinner. When the songs are played onstage, they give us—adults, kids, and everyone in between—a certain giddy feeling when familiar but forgotten things come back to us. "There's great nostalgia there," says del Mundo. "Adults have an excuse to bring their children and to have a good time, just like our parents took us to see Chitty Chitty Bang Bang and have great memories."
As Del Mundo has suggested, imagination is a potent, powerful thing. It may be the red shoes that take us to Oz, or the pixie dust allowing us to fly—or, to make the reference more apt, it's the engine smoke from a rundown race car, transporting us for a good two hours.
* * *
Chitty Chitty Bang Bang runs until Nov. 12 at the Newport Performing Arts Theater in Resorts World Manila. Visit www.rwmanila.com or call 908-8833 for details.