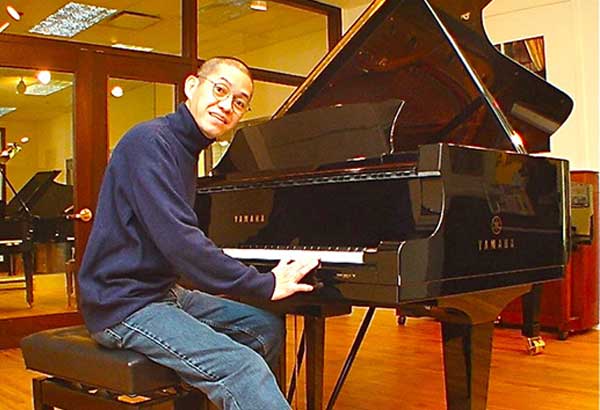 Bobi Rodero as concert pianist, in 2003
Bobi Rodero: From royalty's fashion designer to flora painter
It was in the early years of the millennium when I met Bobi Rodero in London, in the course of a poetry reading and lecture series sponsored by the NCCA. It must have been fellow-poet Ed Maranan, then our press atache in the UK, who introduced him to our visiting group that included National Artist-to-be Virgilio Almario and Benilda Santos.
Bobi was a young yet much-respected pillar of the Filipino arts community, as a thriving fashion designer whose clientele included European royalty, as well as a concert pianist. If I'm not mistaken, either he put up us for lodging in his flat-atelier, where he had a Petrof grand piano, or hosted a dinner reception or two. We found out that we had common friends in Bacolod, where Bobi hailed from.
We kept up on our correspondence, and learned that he had a piano recital in early 2003 at the Chicago Cultural Center. Much later, he found himself based in Hong Kong and Macau, turning out fabulous wedding gowns for relations and friends, until the sorry news came that he had suffered a stroke.
Bobi was forced to come home to Bacolod, where he had a new house built while undergoing lengthy rehab. Almost a dozen dogs are among his wards now. He uses a walker for exercise, and manages to drive himself around the village as part of his daily physical regimen.
Only recently, we were happy to receive word that while he has retired from fashion designing, Bobi refuses to abandon his gifts as a creative artist. He took up oil painting, and has been producing remarkable works that have become much in demand.
On the advice of his painting teacher, Tata Fe Sumagaysay, he had a handyman construct a special easel with a contraption that serves as a movable hand rest. This allows him to control the brush despite a lingering handicap.
His story can very well provide an inspiration for others whose primary efforts at any particular genre of art-making may have suffered stoppage.
To supplement this story, we quote from a recently discovered article by California-based Cecilia Ibardolaza, an illustrator and co-author of a poetry book released by Paloma Press. In her article titled "Bobi Rodero, One of the Last Designers to Work With Princess Diana: His Fashion Story," Ibardolaza provides the background information that Bobi had started working in the fashion industry in the 1980s.
"From the Royal House of Saud, he moved to London in the '90s to work for Catherine Walker, and in the mid-2000s, commuted between the UK and Norway to work for Nina Skarra. He maintained an atelier in London for almost two decades."
She adds: "And inside the House of Catherine Walker in the days of Diana, Princess of Wales, Filipino product developer, Bobi Rodero, actively participated in every aspect of couture construction from taking the Princess' measurements and brainstorming with the head designer, to deftly interweaving technology and tailoring techniques."
Photographs featured in the article include one of the Bespoke Tailors' Benevolent Association Dinner in London in February, 2013, as well as of Mette-Marit, the Crown Princess of Norway, clad in a stunning fuschia gown with hand-woven sleeves, done by Rodero in his London atelier for the Nina Skarra label.
The last wedding dress Bobi crafted with his own hands, on the dining table in his Hong Kong apartment, was a labor of love for his niece Gretchen Arbz, daughter of his brother Armin E. Rodero and Helen Combate Rodero.
Bobi recalls: "The Filipiniana gown was made from maybe six (forgotten now) hand-embroidered piña barong sets and hand-woven Thai silk. I lined it in pure silk (more expensive than the outer materials) to assure cool comfort and a luxurious feel for the bride throughout the wedding ceremony and reception."
Among his other recollections is of "a nouveau wedding dress that took two months to make and cost several thousand dollars because of the 3-D details and the French rhinestones used."
Now he writes wryly of his newfound vocation: "I am the Imelda Marcos of oil paint artists. I have now accumulated 72 tubes of Winton and Pebeo brand colors. Daw namánulán ako. Painting is life!"
The first oil painting he sold, only a month ago, is of a shoreline with flowerbeds. He says proudly that he was very inspired by this development, especially since the proceeds go to charity, as part of his advocacy to help struggling scholars with their school expenses
He also tried his hand at painting animals, a cheetah in particular, as requested by a dear friend, and under the close supervision of his patient teacher.
Now he's turned to flora. Very recently, his painting of a bougainvillea was purchased by a dear friend, former Education undersecretary Dr. Dina Ocampo. A common friend, Susan Jalwin, education program supervisor at the Deparment of Education of Bacolod City, personally picked it up to hand-carry on a flight to Manila.
Bobi has other editions of bougainvillea, as well as cosmos, hibiscus, and roses. One particular rosebud he shared a picture of proves most striking, as he's added a surreal touch. He says that a high school friend, Leopoldo Villavicencio, suggested that he add a modern twist to his paintings. So he applied a barcode to this rosebud.
In my view, it's a collectible. And I'm very happy for this friend who continues to find novel ways to channel his irrepressible creativity.