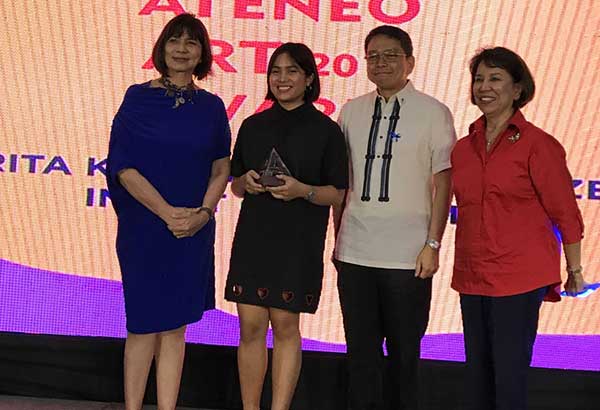 Arianna Mercado receives the Ateneo Art Awards-Purita Kalaw-Ledesma Art Criticism Prize (with the publication prize for The Philippine STAR). With Arianna are Ateneo de Manila University president Fr. Jose Ramon Villarin, SJ, and the Purita Kalaw-Foundation director Ada Ledesma-Mabilangan.
Arianna Mercado wins Purita Kalaw-Ledesma Prize for Art Criticism
Arianna Mercado, a graduate of Art Management of Ateneo de Manila University, received an Ateneo Art Awards-Purita Kalaw-Ledesma Prize for Art Criticism. Formal ceremonies were held at Areté, Ateneo's innovation and learning hub and the new home of the Ateneo Art Gallery. The award comes with a bi-monthly column for The Philippine STAR for one year, with a total cash prize amounting to P240,000.
Titled, "Dalena's Curtain Call," Mercado's piece was a critical engagement of Danny Dalena's retrospective, "Last Full Show," showcased at the Cultural Center of the Philippines (CCP), discussing the contributions of one of the leading lights of Social Realism.
Early this year, Mercado, for her undergraduate thesis, curated a show, "You are Here" at the CCP. Featuring the abstract works of Lee Aguinaldo, Raymundo Albano, Augusto Albor, Constancio Bernardo, Ibarra dela Rosa, Lao Lianben, Arturo Luz, Lani Maestro, and Ben Maramag, the exhibition presented how abstraction — especially that which has a spare, minimalist aesthetic — generates presence from absence and ekes out a space for a variety of psychological and emotional responses.
"What struck me most was that for abstract works, what's important in appreciating them is the engagement the viewer has," she explains. "Sometimes, when you look at it, you just pass by it. But when you really look at it, you ask yourself questions about it — being present helps you find a deeper understanding and appreciating for works like these."
Mercado, as columnist of The STAR, can look forward to crystallizing her aims to contribute to art education in the country through art criticism, in addition to her curatorial work.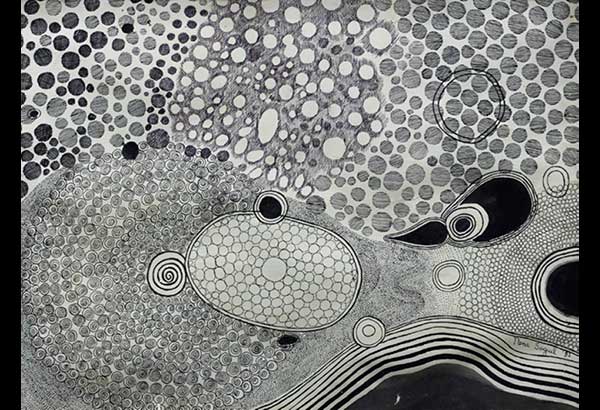 Nena Saguil's "Cosmos Series" (1982), pen-and-ink on paper — one of the artworks to be auctioned off by Leon Gallery
LeonExchange slated on Oct. 21
True to its spirit of bringing art to a wide segment of the market, LeonExchange (leonexchange.com) will open its portal anew for online bidding on Oct. 21, Saturday, 11 a.m. — its fifth edition. This time, aside from art works and fine furniture pieces, the auction will feature jewelry pieces, such as a pair of earrings by Graff as well as a pendant by Tiffany.
Bidders can look forward to the works of Antonio Austria, Lao Lianben, Mauro Malang Santos, Mark Andy Garcia, Nena Saguil, Pacita Abad, and Juvenal Sanso, among others. Those who want to see the works prior to bidding may drop by at Leon Gallery at the ground floor of Eurovilla I, Rufino cor. Legazpi Sts. in Makati City, starting on Oct. 18.
"Leon Gallery is honored to have pioneered online auction in the Philippines," Jaime Ponce de Leon, director of Leon Gallery, said in a statement. "Hopefully, this platform will connect the works of artists to a broader audience who are either just beginning their collections or refining their existing ones with works that don't usually get featured in the quarterly auctions. LeonExchange is envisioned to let more people participate in the dynamic local art scene."