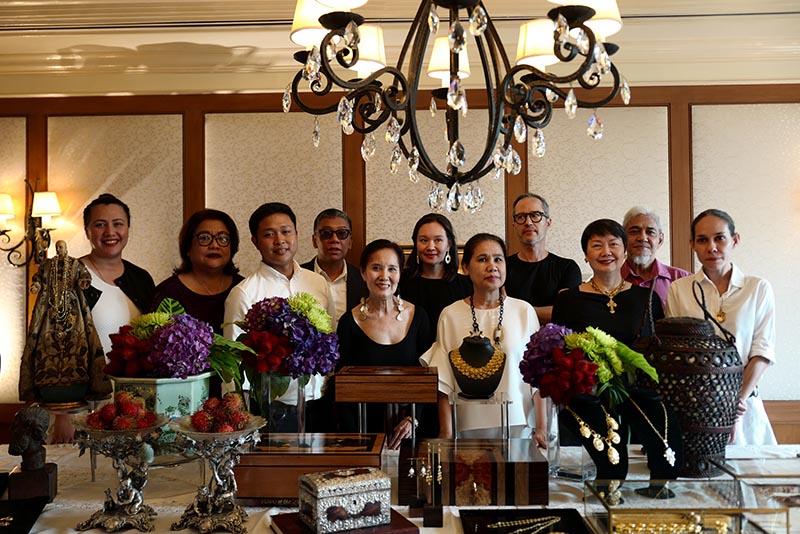 Organizers and exhibitors of "The Nonesuch: Fine Collectibles and Rarities." Photo release
7 artifacts that represent Filipinos' rich culture and heritage
MANILA, Philippines — The organizers of Art Fair Philippines and Art in the Park introduce "The Nonesuch: Fine Collectibles and Rarities," a new kind of fair that showcases a vetted selection of art, antiques, furniture, jewelry, books, maps and prints, rare objects and other collectibles in a unique setting.
To be held from October 27 to 29 at The Peninsula Manila in Makati City, The Nonesuch will be highlighted by the quality and rarity of the featured pieces.
"Those interested in art likely gravitate to singular, finely wrought, pieces that speak of heritage, carry interesting stories, and tell of the memories embedded in them," said Trickie Lopa, co-founder of The Nonesuch.
"We feel that after putting together events that focus on contemporary art, local enthusiasts will welcome a fair where they can revisitdecorative art traditions. Launching The Nonesuch is a natural extension of what we do in terms of widening the exposure of Manila's audience to craftsmanship," Lopa added.
The three-day event will be staged by Gino Gonzales, one of Manila's most creative set designers, who recently bagged the silver prize at the 2017 World Stage Design by the International Organisation of Scenographers, Theatre Architects and Technicians (OISTAT) held in Taipei, Taiwan.
According to co-founder Lisa Periquet, The Nonesuch is patterned after well-known fine arts and antiques fairs such as Masterpiece London and The European Fine Art Fair (TEFAF) in Maastricht."A wide range of top-quality objects will be displayed and offered for sale in a special setting that is designed to highlight their aesthetic, historical, and collectible aspects," said Periquet.
Leading objets d'art purveyors will contribute special pieces for The Nonesuch. Among these pieces that prove of Filipinos' rich culture and heritage are the following.
1. "Bululs"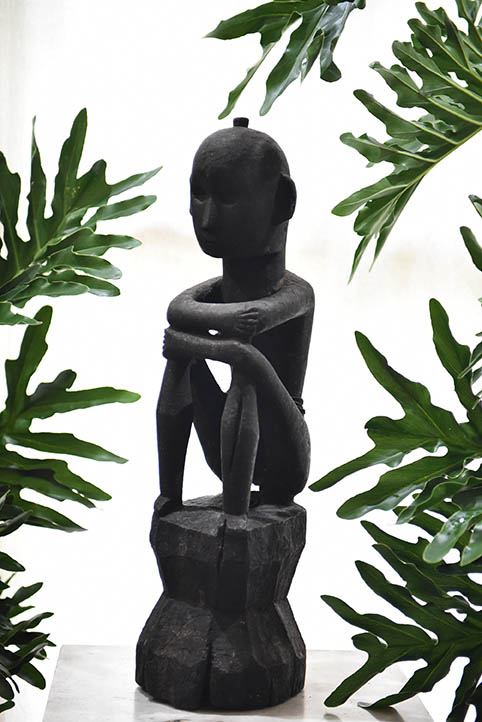 An important granary guardian/ Bulul, Hapao Region, Wood with ritual
encrustation, early 20th century, from Gallery Deus
Bululs or bulols are stylized representations of Ifugao and Kalanguya ancestors. The Ifugao tribesmen of northern Luzon are noted for carving the wooden figures believed to guard rice crops in the Cordilleras.
Among Gallery Deus' offerings for The Nonesuch fair is an important granary guardian or Bulul from Hapao Region, made of wood with ritual encrustation from the early 20th century.
According to the gallery, it is an outstanding example of the Ifugao Bulul, and the Ifugao sculptors' tendencies toward abstraction and representation. One leg of the figure becomes an arm when viewed from the right side.
2. "Ratablos" and "santos"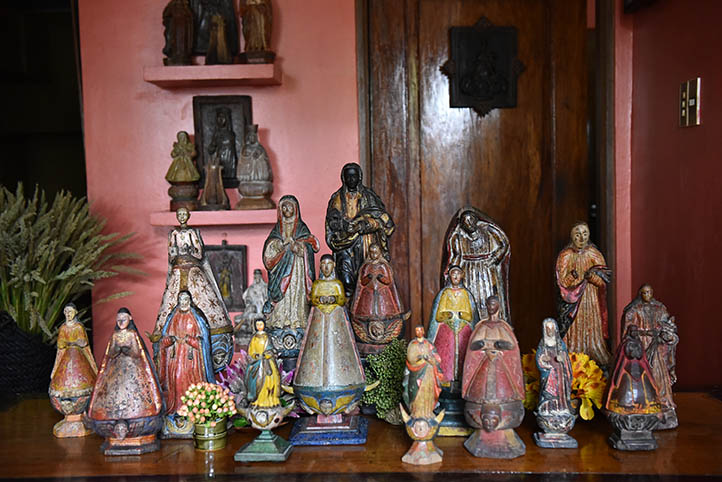 Gallery Deus "santos"
Among the remnants of the Spaniards' 333 years of colonizing the Philippines are "retablos" or devotional paintings and "santos" or statues of saints.
Some of those at the fair are Tawalisi Antiques' San Jose with a child Jesus in a viriña from Binondo, dating back to the 19th century. Unang Panahon also presents a Niño or child Jesus statue from 1910 made of rare European ivory.
3. Diamante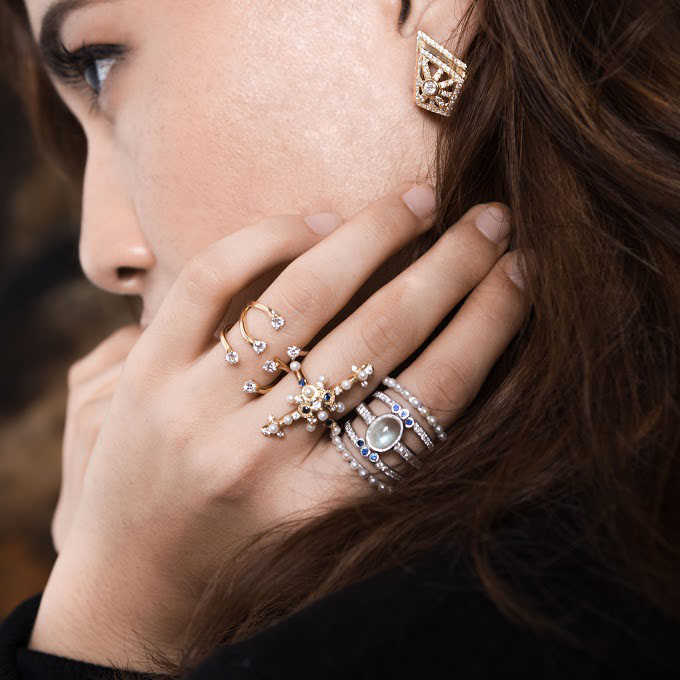 Diamante creations by Whisenhunt Fine Jewellery
Diamanté are the outer crust portion of a diamond. They are believed to give good luck to those who receive them as gifts. Older folks believe diamanté drives away evil spirits to those who wear them.
At the fair, Ma Angelica will present creations such as heirloon diamanté earrings linked together as a necklace.
Whisenhunt Fine Jewellery also offers artisanal pieces such as an 18-karat gold ring with white diamonds.
4. "Corales"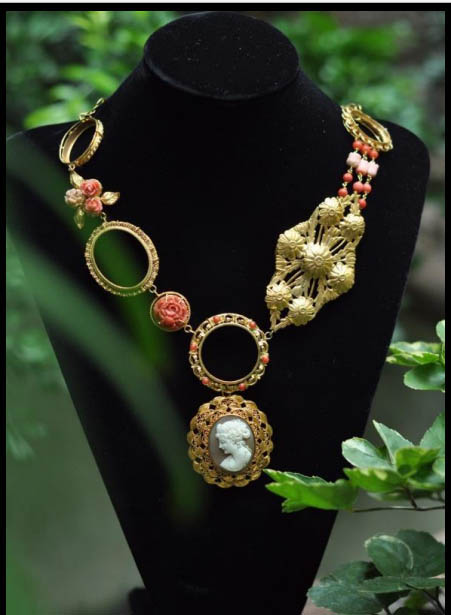 Necklace by Ma Angelica Rare Finds
Besides ivory, diamante and pearls, corales or corals were also popular in Philippine jewelry.
Ma Angelica Rare Finds puts together old silver frames, corales, and brass in costume pieces to grace the neck of the wearer. An antique cameo framed in gold filigree serves as pendant.
5. "Paineta"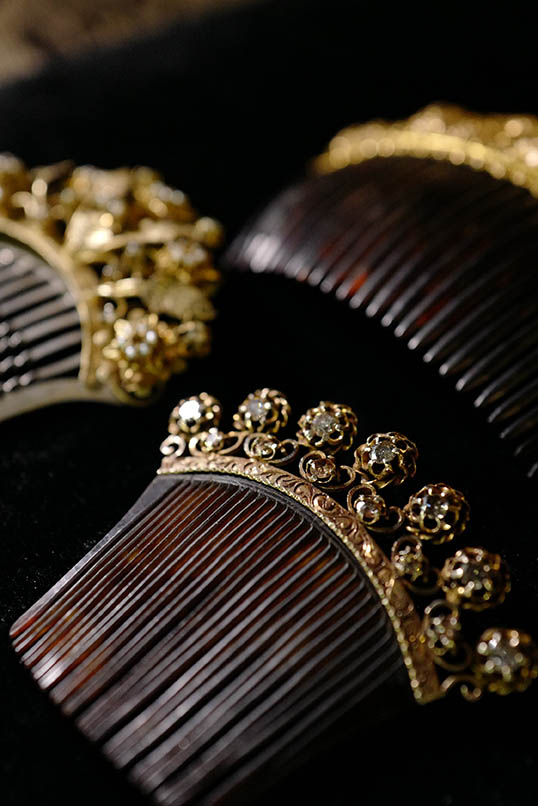 Unang
Panahon's paineta collection
Also due to Spanish influence, old generations of Filipina women used to wear elaborate paineta or bejewelled combs. More than just something that keeps the hair in place, the combs are believed to show one's social stauts. The more bejewelled the comb, the richer the wearer.
At the fair, Ma Angelica Rare Finds will present gold paineta or Spanish combs linked together, with an antique elaborately carved ivory piece framed in gold filigree.
Unang Panahon also offers sterling silver peineta with seed pearls; 14-karat yellow gold with tortoise shell peineta; and 12-karat rose gold with tortoise shell peineta with old miners-cut encrusted diamonds.
6. Beads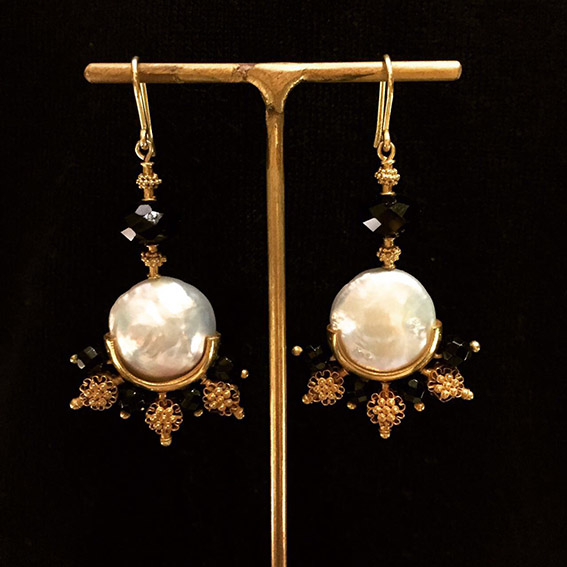 Earrings from the collection of Natalya Lagdameo
Even before colonizers came to the Philippines, Filipino tribes have been using elaborate beadwork in their accessories and clothes. Beads range from handmade resin to cut seeds and animal bones.
But more than just ornaments, these beads have been woven into patterns with deep spiritual meanings.
At the fair, Natalya Lagdameo will present Tamburin beads with black crystal and coin pearl.
Unang Panahon's collection includes assorted, 10th century Agusan gold beads and elliptical cross- section bangle with a rib-like hammer work on the outside and with a herringbone pattern engraved on the flanks with snake bones.
7. "Urnas" and other antique containers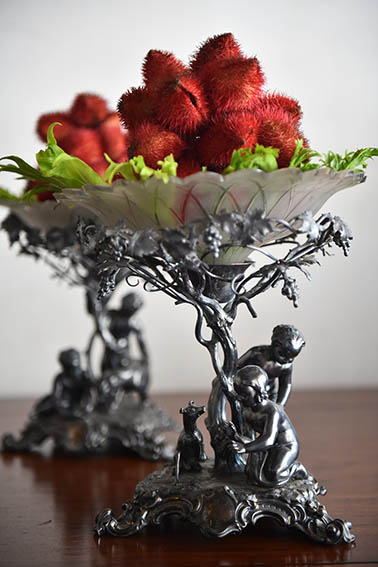 Tawalisi Antiques
Like beadwork, antique jewelry boxes, rice containers and "urna" or urns are not just storage keepers, but are engraved with meanings and precious stones. Examples from the fair are Maria Closa's Pumanhan ceremonial box with carved narra wood with an anthropomorphic figure on handle.
Tawalisi Antiques also features an 18th century tortoise shell and silver box from Mexico.
Participating exhibitors at The Nonesuch Fair include Gallery Deus, Gallery Joshua,Gallery of Prints, Leon Gallery,Maria Angelica Rare Finds, Maria Closa, Natalya Lagdameo,Nicole Whisenhunt,Osmundo, Tawalisi Antiques, and UnangPanahon.
To complement the fair, the organizers also created The Nonesuch Salon – a speakers' series of talks that enhances visitor experience of the fair. The Nonesuch Salon will be held at the Nolledo/Hernandez and Garcia Villa function rooms of The Peninsula Manila.
"Aside from providing an opportunity to acquire choice pieces, The Nonesuch will also be a learning experience widened by a lecture series. It is our way of promoting connoisseurship, and art and design appreciation," explains Dindin Araneta, also a co-founder of fair.
Emmanuel Breguet, the General Manager of Breguet France and the brand's historian and archivist, will be flying in to attend the event and speak on the brand's heritage.
Other speakers are Floy Quintos, a specialist on traditional art and culture of the indigenous people of the Philippines, who will speak on the Ifugao bale; Ino Manalo, culture and heritage advocate and administrator, executive director of the National Archives, will speak on religious urnas, and; Prof. Ambeth F. Ocampo, a Filipino historian, academic, journalist who will speak on collecting and stewardship.
The Nonesuch: Fine Collectibles and Rarities is co-presented by Swiss luxury watch manufacturer Breguet, and sponsored by the Bank of the Philippine Islands and The Peninsula Manila.
Visitors can opt to purchase a three-day pass for P1,000 valid from October 27 to 29, or a daily pass for P350. Ticket holders are also eligible to attend the Nonesuch Salon.