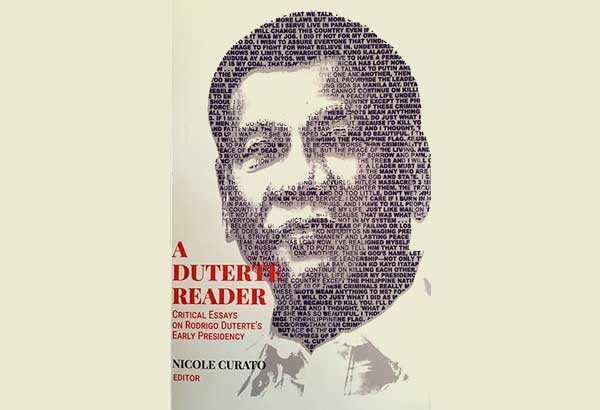 A Duterte Reader: Critical Essays on Rodrigo Duterte's Early Presidency, edited by Nicole Curato, published by BUGHAW and distributed by Ateneo de Manila University Press, was released a fortnight ago, marking the first scholarly collection of commentaries on a controversial subject.
Apart from her Preface and Epilogue, editor Curato leads off the 16 essays with her own, titled "We Need to Talk About Rody" — seemingly a casual reminder yet loaded with backgrounding.
"We need to talk about Rody. Rodrigo Duterte — the 'self-confessed mass murderer' who vowed to kill in the thousands, an unapologetic wo manizer who saw no wrong in making a rape joke about a dead Australian missionary, the 'bastard child of Philippine democracy' whose popularity is built on 'dark charisma,' the 'dictator-in-waiting' threatening to shut down Congress—was elected President of the Republic of the Philippines in May 2016. He cursed the Pope, called Barack Obama the 'son of a whore,' and hailed Vladimir Putin as the paragon of leadership. He was called many names—Trump of the East, The Punisher, and Duterte Harry—all seemingly disparaging and exotic portrayals of the tropical island leader. Indeed, we need to tallk about Rody.
"A lot has been said about the president's eccentricities and character flaws, but more can be said about the broader context that gives rise to such a controversial personality to take power. A Duterte Reader hopes to take part in this conversation by bringing together a lineup of Philippine studies scholars from different generations, geographic locations, and disciplinary backgrounds. Each of the authors was tasked to take a long view of the factors that gave rise to Duterte's phenomenal electoral victory and reflect on the kind of society that emerges from the era of Dutertismo."
One might glean the nature of these viewpoints from the titles alone of the essays — whether neutral, condemnatory or hopeful. Unfortunately, the little space we have will not allow us to do more than provide telling quotes from each, or attempt any encapsulation. Even at that, we'll have to render this review in two parts.
Julio C. Teehankee's "Was Duterte's Rise Inevitable" sees "a major rupture in the post-Marcos 'EDSA regime' founded by Corazon… Aquino in 1986."
"The election of Duterte was a repudiation of the failures of the seond Aquino administration. The Duterte phenomenon was not a revolt of the poor but was a protest of the new middle class…" — which the writer identifies partially as "call center agents, Uber drivers, overseas Filipino workers" that helped compose "an insurgent counter-elite coalition to neutralize the strategic interests that consititute the EDSA ruling elite."
They joined the cobbled-up coalition that also included "the traditional politicans marginalized by the EDSA forces (i.e. the Marcos, Estrada, and Arroyo forces); the non-Manila business elites…; the Communist national democrats; and the national police."
Apart from providing significant charts, Ronald D. Holmes' "Who Supports Rodrigo Duterte?" "… argues that Duterte's performance and trust ratings are not bound to significantly change, save for two conditions: an unexpected or unpredictable critical incident that would put into serious doubt Duterte's commitment to change or his trustworthiness and integrity as an individual; and a catastrophic downturn in economic conditions. For all the warts, missteps, and arrogation of power that Duterte and his cohorts have exhibited, he and his administration have been able to effectively sustain the connection with the public, which explains the positive performance and trust ratings."
Walden Bello's "Rodrigo Duterte: A Fascist Original" states flat out: "In 2016, fascism came to the Philippines in the form of Rodrigo Duterte." While contending that Duterte "fits the 'F' word," Bello qualifies that this "fascist personality" is that of "an original" — since he "is not a reactionary seeking to restore a mythical past," nor "a conservative dedicated to defending the status quo." Rather is "His project… oriented toward an authoritarian future."
"In Duterte's case, the target — one can infer from his discourse and his actions — is liberal democracy, the dominant ideology and political system of our time."
It is no grudging admission, but typical of Bello's partiality only towards honest reckoning and lucidity. He goes on to characterize counterrevolutionaries, and adds to Duterte's originality what may now be called erstwhile success in having "brought the dominant section of the left into his ruling coalition…"
Bello cautions against a politicized miiitary. "Like Marcos, he may think he is riding the tiger, and like him, he might well end up inside it."
He sees an emergent opposition being developed from "the civil society," contrary to Malacañang's manipulative simplification of "these formations as 'dilawan,' or yellow…" These "progressives… are as opposed to a 'yellow restoration' as they are to Duterte's policies…"
Again, a cautionary word: "Fascism in power can be extraordinarily long-lived." But the hopeful turn: "Like the anti-Marcos resistance for decades back, the only certainty members of the anti-fascist front can count on is that they're doing the right thing. And that, for some, is a certainty worth dying for."
The rest of the contributors to this book, with their respective topics, are the following:
Lisandro E. Claudio and Patricio N. Abinales on "Dutertismo, Maoismo, Nasyonalismo"; Jesse Angelo L. Altez and Kloyde A. Caday on "The Mindanaoan President"; Adele Webb on "Hide the Looking Glass: Duterte and the Legacy of American Imperialism"; Nathan Gilbert Quimpo on "Duterte's 'War on Drugs': The Securitization of Illegal Drugs and the Return of National Boss Rule"; Sheila S. Coronel on "Murder as Enterprise: Police Profiteering in Duterte's War on Drugs"; Jayson S. Lamchek on "A Mandate for Mass Killings?: Public Support for Duterte's War on Drugs";
Anna Cristina Pertierra's "Celebrity Politics and Televisual Melodrama in the Age of Duterte"; Jason Vincent A. Cabañes and Jayeel S. Cornelio on "The Rise of Trolls in the Philippines (And What We Can Do About it)"; John Andrew G. Evangelista's "Queering Rodrigo Duterte"; Cleve Kevin Robert V. Arguelles on "Duterte's Other War: The Battle for EDSA People Power's Memory"; Emerson M. Sanchez on "Who Will Burn Duterte's Effigy"; and Carmel Veloso Abao on "Engaging Duterte: That Space Between Populism and Pluralism."
We'll try to take these up in next week's column sequel.
(To be concluded)