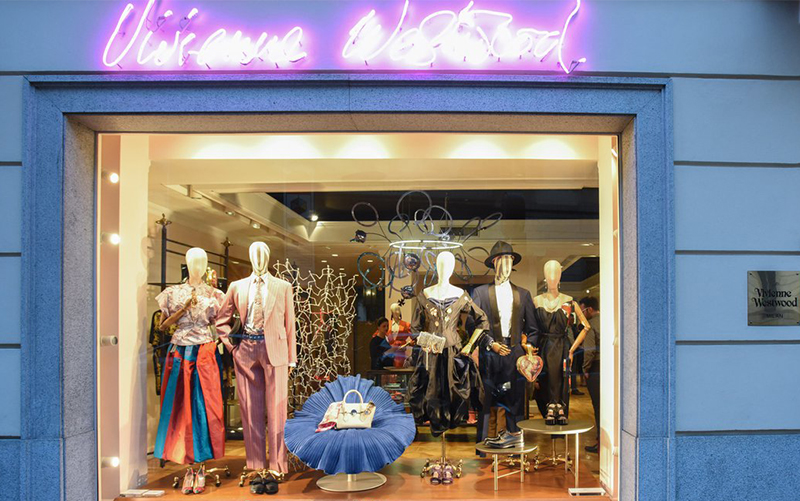 Filipino designer Kenneth Cobonpue's Bloom chair serves as the centerpiece at the window of Vivienne Westwood's new store in Milan opened last April. As part of the collaboration with the British "Dame of Fashion," Cobonpue's works are on display all over the shop. KennethCobonpue/File
3 ASEAN designers: Instagrammable works, inspiring quotes
MANILA, Philippines — Prof. John Howkins, a British author and speaker on Creative Industries, once said that designers today are no longer just creatives but also entrepreneurs.
"Creatives now are business-like," he said during a recent Association of Southeast Asian Nations (ASEAN) forum in Manila. "Consumers want novelty, style, and entertainment to go with design, which is why there is now an ecosystem explosion in the UK."
During the forum, three designers from ASEAN member countries shared their works, experiences, and success stories for a new generation of artists to emulate.
Kenneth Cobonpue
This Cebu-based Filipino industrial designer, dubbed by Time Magazine as "Rattan's first great virtuoso," has been known for his unique designs that integrate natural materials with handmade production.
He studied Industrial Design in New York and took apprenticeships and further studies in Germany and Italy. Among his many awards include the Japan Good Design Award, the Hong Kong Design for Asia, the French Coup de Couer, the American Society of Interior Designers Selection, and the first Asian Designer of the Year by the Maison et Objet in Paris.
His designs can be found in the homes of Hollywood stars and royalty, and have been featured in movies and series such as "Ocean's 13" and "CSI Miami." His furniture can also be found in some of the world's top hotels, including those in Greece, Costa Rica and Paris.
In 2015, he designed the Yoda chairs used by world leaders like then US Pres. Barack Obama at the Asia Pacific Economic Congress (APEC) in Manila.
In a recent talk for an ASEAN forum, Kenneth said that he infuses his local culture with furniture. The results, he said, are creations like the Lasso chair shaped like a stork holding a baby to be delivered; a tricycle called "Eclipse" made of indigenous materials like abaca and raffia; and a bamboo car called "The Phoenix" featured in design magazines all over the globe.
In addition to these, he has designed playgrounds, a bag for international brand Tumi, interiors and his widelycopied "Bloom" chair inspired by couture.
He said his secret to success is distributing his own products and controlling his own marketing messages.
"Art is what we do out of emotion, while design is what we create based on markets and targets," he opined.
To support and draw attention to the brilliance of Filipino artists, Ayala Malls The 30th celebrates Filipino artistry with special exhibitions featuring the works of pioneer Robert Blancaflor Group Inc. (RBG) and renowned sculptural artist and designer Ann Tiukinhoy Pamintuan.
RBG is a pioneer and well-respected creative force in the industry, designing and styling more than 2,000 events both here and abroad. Coinciding with the group's 20th year in the business, RBG Managing Director Robert Blancaflor showcased his artistic prowess in "FRESH: a Floral Installation Show," transforming the Ayala Malls The 30th complex into a flower wonderland. Blancaflor designed especially breathtaking floral art pieces for the three-day exhibit, which reflected his signature style: understated elegance, timelessness and love for fresh florals.
Pamintuan, on the other hand, is the first Asian woman designer to be included in the prestigious International Design Yearbook and is a pioneering member of the Movement 8 design Alliance. Today, she has achieved esteemed status as one of the pillars of the country's design industry. In her exhibit, "Simplicity and Elegance," she showcases her excellent craftsmanship and unique design sensibility translated into stunning pieces of furniture, home accessories and sculptural jewelry. Her famed metal pieces of animals will be displayed at the Corte for the next six months.
Anon Pairot
A Bangkok-based Thai artist and designer, Anon graduated with a degree in Mechanical Engineering from King Mongkut's University of Technology North Bangkok.
From engineering, he then shifted to industrial design and enrolled at the Faculty of Architecture in King Mongkut's Institute of Technology Ladkrabang.
He has designed for Fendi (a collection inspired by Thai boxing), Philipe Starck and Heineken, to name a few, and has made a car-shaped sofa out of wicker weave featured in the Venice Biennale and will be part of a museum's permanent collections.
He, however, is best known for transforming, rather than importing, raw materials, including a local cassava plant that he jokingly said looks like marijuana.
His "design after design" philosophy aims to transform everyday objects into artworks.
During an ASEAN forum, Pairot dropped these unforgettable lines:
"As a designer, I have to work with different people, so my work entails understanding people and their lifestyle, dreams and hope."

"A brand is not just about logo and product, but also knowledge of people and what it can give to the people."

"Designers always want to do something exquisite, which is not a problem. But the problem lies when designers don't think their work is important because they make inexpensive products. Design is not about being perfect. Any creativity is a good start for everybody."

"Design is freedom for everyone to make something positive, a power for young people to express themselves."

"Get ideas from the problems of society. You can get ideas even from housekeepers and drivers. Find something from your local culture that can be understood globally."
He also believes in art as a form of protest, thus, he created the following artworks:
A weapon bag as a protest for government's spending more on weapons than education.
Fake rice artwork as a stand against government corruption involving rice.
He now protests against ASEAN artists copying European works.
Colin Seah
Architecturally trained in USA, Colin honed his skills by working with architecture top guns Rem Koolhaas and Daniel Libeskind.
For four years, he served as a design critic at the National University of Singapore's Department of Architecture.
In 2004, he founded his company, Ministry of Design (MOD), which targets to question and redefine spaces to enable these to add meaning to people's world. From its headquarters in Singapore, MOD now has branches in Kuala Lumpur and Beijing.
His accolades include Designer of the Year by International Design Awards USA 2010 and the Grand Prize of the Gold Key Award, considered as the highest award in international hospitality. He has also been named as one of Hong Kong Perspective's "40 under 40 architects" and a "Rising Star in Architecture" by Monocle magazine.
His latest projects include a robotics laboratory called Race, because as he said, Singapore is big on robotics nowadays.
During the ASEAN forum, Seah shared the following:
"Singapore is so tiny, we have no resources of our own. Fifty years ago, we were a backwater, but we believe in 'Die, die, must try,' a saying in Singapore that no matter what happens, you must try and finish things, have a sense of determination."

"Singapore is a convergence of East and West. It makes the East digestible to the West. It demystifies the mystique of Asia but maintains its character. It's localized and globalized in many fronts. It gives you the double-edged sword."

"Singapore is loosening up and opening to creativity."

"Then, there were only big chain hotels in Singapore, MOD kick-started a new way of doing things. We are not defined by medium but by purpose."

"I named my company Ministry of Design because I'm a Christian. Design is my way to use the gifts I'm given, like a ministry of sorts."

"People of influence can motivate design."

"It is a challenge to be an artist that is responsive to market demand."

"It's hard to be original once you've seen what others have done."

"Design is a business that should be of use, otherwise, it's just a thing."

"Design is communication, intimate and personal."

"Design is a softer take on architecture, which is why so many architects are doing it."