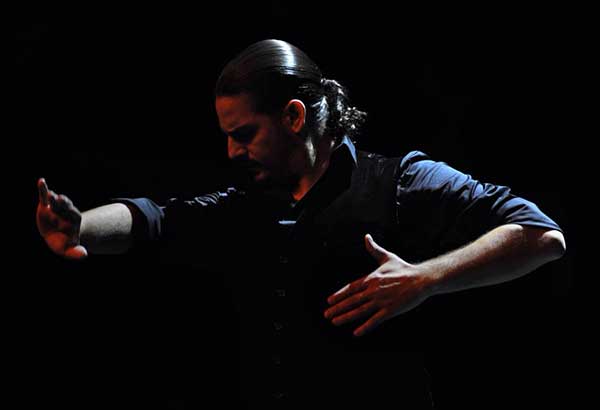 Flamenco's elegant poet: Granada dancer Javier Martos will star in La Luna Roja, the Philippines' first flamenco-ballet created by Emma Estrada.
The flamenco artistry of Javier Martos
With fire in his eyes, his dark hair pulled back into the man bun favored by male flamenco dancers, Javier Martos launches into his escobilla, the part of a flamenco dance devoted to flashy footwork. But while his feet tap furious rhythms below, his upper body is still, retaining the grace of a ballet danseur, hands drawing the curlicue filigrees flamenco is famous for before he turns, strikes a dramatic pose, and stalks offstage.
It's this combination of fire and ice — the near-possessed frenzy of flamenco heating up the coolly elegant poetry of ballet — that characterizes Martos' dancing, and something you'll be able to see in the flesh come November, when he dances the male lead in La Luna Roja (The Red Moon), the first full-length flamenco-ballet ever to be staged in the Philippines.
La Luna Roja, written and choreographed by Emma Estrada, founder of Fundacion Centro Flamenco in Makati, is a flamenco fairy tale with romantic, tragic elements: there's a sorceress, star-crossed (or, more accurately, moon-crossed) lovers, betrayal, murder, a curse, and possible redemption through the ultimate sacrifice.
Estrada met Martos in Granada, Spain, where he has been teaching the advanced level at flamenco school Carmen de las Cuevas for the past 12 years.
When it came time to cast Jamil, the male protagonist in La Luna Roja, Estrada immediately thought of her flamenco teacher. "Javier comes from Granada, the birthplace of the gypsies and the place I'd imagined when I wrote La Luna Roja," she explains. "Aside from Javier being a romantic and unique dancer in his own right, I knew he would bring the fire and authenticity that La Luna Roja needed, playing the role of Jamil. Having studied under Javier I have come to admire his style and approach to the dance and I wanted the audience in the Philippines to experience this."
The 35-year-old Martos, who originally hails from Tarragona in northeastern Spain, started dancing at nine years old, as a lark when his sister took up flamenco. "When she started to dance, I started to dance, but I was playing," he said in an exclusive interview translated by Lally Hidalgo-San Jose of the Spanish Consulate. "Then I got more and more interested in flamenco when I saw Joaquin Cortes perform."
He was impressed by what Cortes could make people feel through his performances. Martos started to get more serious about the art form, extending his usual four hours of practice a week to three hours a day, and taking classes in classical ballet.
His most influential teachers were Jaime Cala — "he's not well-known in flamenco but very important to me because what I learned was his elegance and how to dance like a male dancer" — and Antonio Canales, with whom he still works and learns from.
At a dance academy in Tarragona, Martos started performing professionally at 13 with the school company. There he trained until he turned 18 and started touring with the company, going first to Tenerife in the Canary Islands before visiting Japan and spending a year dancing at a theme park there, Parque España.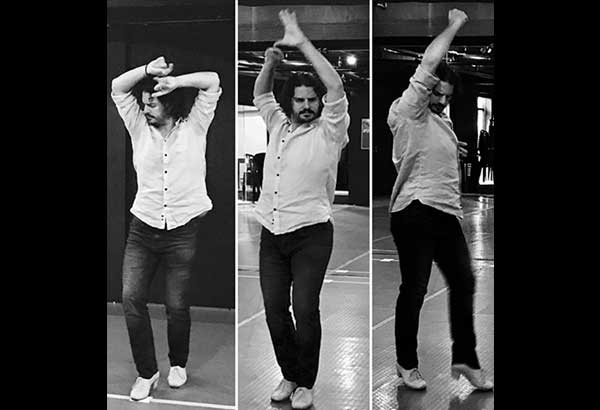 Dance, dance, dance: Martos at Centro Flamenco on Kalayaan Ave., where he held flamenco workshops last May. Photos by JOEY VIDUYA
Martos met his wife (a flamenco dancer from Granada) during his Japan stint, and, after traveling the world with different companies, playing the leads in shows like Carmen and working with nascent flamenco star Patricia Guerrero, together they moved back to Spain, eventually settling in Granada in 2005.
Martos only started soloing at 22 when he entered the tablaos there — those bars/restaurants devoted to flamenco shows. "It was totally different from what I was used to," he says. In dance companies, he was taught a choreography and that's what he would perform. "When I was in a tablao, I felt I didn't know what I was doing."
He was forced to use his own choreography but found he liked to improvise and express himself, forging a style that was unique in the birthplace of flamenco. "Granada has a very particular style, like in the caves — very direct, very strong, aggressive, fast," he says. "Not exactly gypsy, but it has the flavor. With my classical ballet training and other background, I didn't have that style."
In 2007 he formed the company Flamenco Amari with three other dancers — Javier Serrano, Patricia Guerrero, and Violeta Ruiz — creating shows like Amalgama, Sueño de un Ignorante (The Dream of an Ignorant), and Esencia de un Arquitecto (The Essence of an Architect) — the last one inspired by Antoni Gaudi.
"He was from Reus, where I was from, and not Barcelona, as people believe," Martos says. "Gaudi didn't really like flamenco but in his works you could see a lot of flamenco-ish similarities: the fusion of styles, the orderly disorder."
While in that show Martos ultimately takes on the role of Gaudi, his character of Jamil in "La Luna Roja" is markedly different. "When Emma proposed it to me, I was very excited to come," Martos says. "I've been talking to her a lot and asking how she sees Jamil. First I want to know her perception of Jamil, then I want to see the director's perception so I talked to (La Luna Roja director) Leo Rialp, then I'll create my own character of Jamil."
Estrada says the character of Jamil was not really defined in the story at first: "He's a very good-looking man, very confident, and he knows that he is good-looking, but he's not aware that he's coming into this village that is cursed. Under the curse all the girls are supposed to get attracted to him, but they want to kill him as well, so he comes in as their savior and their suffering at the same time."
Martos likens Jamil to his role of Don Jose in "Carmen": "He's a similar character — someone innocent, trusting, he goes through all the bumps of life, and I imagine that the role of Jamil will end up more or less that way. He enters a place, sees it's a beautiful, marvelous place, and he trusts it, innocently falling in love with somebody and it ends in tragedy."
* * *
Co-presented by Centro Flamenco and Frey-Fil Corporation, La Luna Roja will show on Nov. 25, Saturday, at 8 p.m., and Nov. 26, Sunday, at 3 p.m. at the Carlos P. Romulo Auditorium, RCBC Plaza, 6819 Ayala Ave., Makati. Call 0905-460-0211 to reserve tickets.