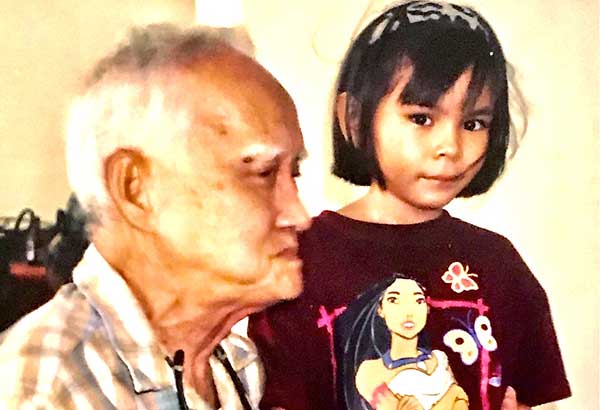 Franz Arcellana with the author Krip Yuson's daughter, Mirava, on a day when Franz joined a PLAC meeting at Krip's home, circa mid-1990s.
Mid-'60s, UP Diliman: Having changed my course twice in the last few years, from AB Philosophy (in the absence of AB Philanthropy) to AB Linguistics (o cunning design!) to the newly offered AB Humanities, I was enthralled to find myself in such exceptional company. It was a small group that met daily in a classroom on the third floor of the Library building, right smack in the work area of Fine Arts and Architecture majors.
There were Felicitas Arellano, a university scholar who was a dear friend from Tuberias istambay days outside their residence right across the Ejercito manse in San Juan; Adelaida Lim whom I had first met as a resident of the UP International House; Dexter Doria, soon to be a budding actress; Felipe "Jun" de Leon Jr., son of an outstanding classical music composer, conductor and scholar; Francisco "Iskho" Lopez; Santiago "Jack" Pilar; and Ruben Defeo.
The last two would turn into reputable art critics, with Ruben staying all his life as part of Peyups academe, until he retired only recently. Iskho and I would run Cafe Hurri-manna on the wrong side of Taft off the Ermita area in 1970, as a brief shining effort to provide an alternative to Café Los Indios Bravos and the Grey November on A. Mabini St. in Malate. Laida Lim Perez moved up to Baguio and became instrumental in establishing Café By the Ruins and crafting its exceptional cuisine. Dexter became a movie and TV fixture as the first "kikay" Pinay, villain and comedienne. Jun de Leon went on to uphold his family's genetic musical legacy, and eventually served as NCCA head honcho until his retirement last year.
It was that kind of a class, an upcoming band of stalwarts that would bravely champion culture and the arts, let alone entertainment and bohemia. The mentor who became closest to us was the poet Virginia R. Moreno, with whom most of us had already engaged with socially, in cafés and discotheques. Other professors were Dr. Alice Coseteng, an expert on Philippine churches, and poet Ricaredo Demetillo. They were both quite serious but commanded respect.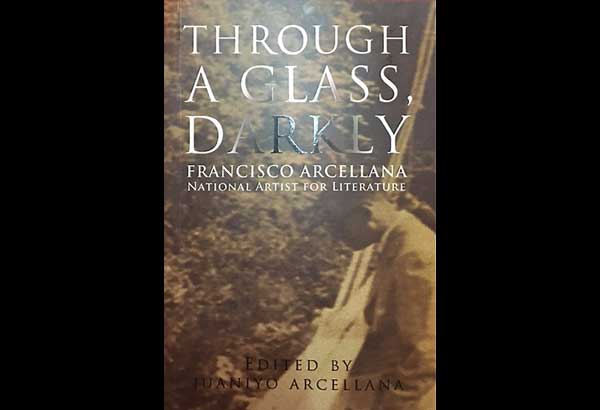 Then along came Prof. Francisco "Franz" Arcelllana, an import from the English department, thus meeting with initial resistance from among the Humanities majors who had been fed certain exclusivist biases.
A first impression was that he lectured as if he were just winging it. But I came to realize that his often seemingly circumlocutory way of arriving at insights with the class could only confirm a fresh kind of articulation that was also carrying him past the valleys of discourse for the first time.
"… And know the place for the first time," as TS Eliot had cerebrated. Years later, it was also how I appreciated Keith Jarrett's preambles on the piano as he meandered in search of the theme he'd eventually arrive at, or stumble upon.
I began to understand Franz's unique meandering voice, acknowledging it as a writer's singular style. I abandoned the resistance to his teaching methods, with no thought of being eventually rewarded with a flat "A." Which actually happened.
And we became friends ever since, especially when I learned that he also commanded the respect of other younger writers, with whom he frequently engaged frivolously in all those subsequent years at the UP Faculty Center, well before he was honored with the Francisco Arcellana Reading Center.
We became neighbors in UP Village and our own contiguous Teachers' Village. I admired and envied the ylang-ylang tree on their side yard and the golden shower in front of their house.
In 1976 he and his good buddy Nick Joaquin paid a visit to our Ermita magazine office and caterwauled over beer for hours — a couple of rambunctious seniors holding court before starstruck fans. A couple of years later he joined Edilberto and Edith Tiempo on the panel for the Dumaguete summer writers' workshop. Emman Lacaba and I ran into him one afternoon outside the cafeteria, nursing a flightless bird in his breast pocket. A little more than a decade later, Franz joined Nick in the pantheon of National Artists of Literature. And we were very happy for him.
Now UP Press has released the latest posthumous Arcellana book, Through a Glass Darkly, edited by his son Juaniyo our compadre, compiling prose works (other than short stories) — "columns written after the Pacific War, introductions to books of fellow writers, commencement speeches, interviews with students, and papers delivered on the sidelines of a workshop…"
These include his classic "The Pride of Fiction," delivered in June 1969 at St. Paul's College in Dumaguete for the 8th Silliman University National Writers Workshop. I was there, and heard echoes of his lectures before a UP Humanities class a few years earlier.
"Fiction is not just speaking of the highest, the truth, reality when it is at its best as in Dostoevsky: it is an acting of this.
"Fiction is Act, then — that which is more true, more real, more irreversible. When Dylan Thamas was dying in that hospital in Greenwich Village where he died, the fact of his dying did not become believable to those who kept vigil for him until the doctors' bulletin said: prognosis negative, condition irreversible.
"It was Thomas also who defined a poem as an addition to reality, a poem as a created thing, an achieved thing, a poem as real. Well, fiction is not just an addition to reality, it is reality.
"It is not just a speaking with the tongues of men and of angels or the sounding of brass or the tinkling of cymbals. It is not even the gift of prophecy that understands all the mysteries and all the knowledge which it may well be. It is not the removing of mountains or the moving of earth. It is not the giving of one's goods to feed the poor or one's body to be burned.
"It is becoming a man and putting away childish things; it is seeing through a glass darkly but then, face-to-face; it is knowing in part since we can only know in part and prophesy in part; it is knowing even as also we are known.
"That is the pride of fiction — and it is that that jet-propels the fiction writer."
Hail, Franz!