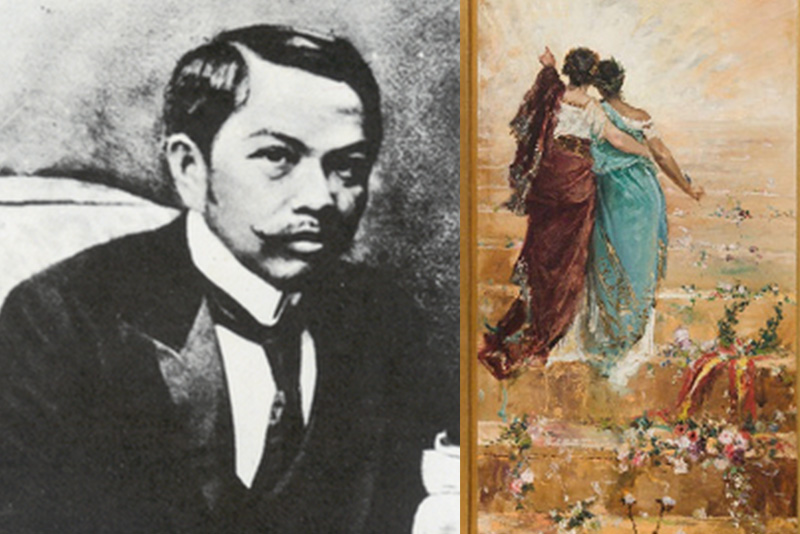 Left: Juan Luna circa 1899 (photo courtesy of Lopez Museum & Library). Right: "España y Filipinas" (Spain and the Philippines), 1884, Juan Luna. This painting is an allegory of the relationship between Spain and the Philippines. The figure representing Spain guides the Filipina figure toward a radiant dawn. The staircase is a symbol of progress, suggesting the benevolence of Spanish colonialism. In contrast, "Spoliarium," Luna's most famous painting (also of 1884), is understood as an anti-colonial critique. "España y Filipinas" may reflect the views of its original patron rather than those of the artist. The oil on canvas, 229.5 x 79.5 cm painting is part of the permanent collection of National Gallery Singapore.
Filipino artist Juan Luna to be honored in Singapore exhibit
MANILA, Philippines — Filipino art master Juan Luna, which ranks second in National Gallery Singapore's "10 Must-See Artworks," will be honored as one of Southeast Asia's most important artists in an exhibit at the gallery this November.
Tentatively titled "Century of Light," the exhibit will focus on paintings in the 19th century and puts the spotlight on Raden Saleh and Juan Luna, two significant artists from Southeast Asia who were active in Europe during this period and will be the first major survey of their works, drawing from collections around the world. The exhibit has been planned to be curated by a Filipino based in Singapore, Clarissa Chikiamco.
Born in Oct. 23, 1857 in Ilocos Norte, Juan Novicio Luna is one of the first recognized Filipino sculptors and painters. As a political activist of the Philippine Revolution together with National Hero Jose Rizal, Luna was a member of the Propaganda Movement and the Ilustrados, a group of well-to-do Filipino intellectuals that lobbied for the country's freedom from Spanish occupation.
Juan obtained his Bachelor of Arts degree from Ateneo Municipal de Manila in 1861, and also enrolled at Escuela Nautica de Manila, the forerunner of Philippine Merchant Marine Academy, to become a sailor.
He took drawing lessons under Lorenzo Guerrero of Ermita in Manila. His other influences include his teacher at the Academy of Fine Arts in Manila, Spanish artist Agustin Saez; as well as his good friend, Don Alejo Vera, who he met at the Escuela de Bellas Artes de San Fernando in Europe.
In Rome, Luna was exposed to Renaissance painters. In 1878, in Madrid, the opening of the first art exposition, Exposicion Nacional de Bellas Artes, made Luna engrossed in doing paintings he would later show at the 1881 Exposition.
In 1881, his painting "La Muerte de Cleopatra" or "The Death of Cleopatra" came in second place and won him a silver medal that added to his growing reputation as an artist. The Ayuntamiento of Manila later granted him a pension of 600 pesos annually with the condition that he would develop a painting that captures the essence of Philippine history.
In May 1884, he shipped the giant canvas of his best-known work, "Spoliarium," to Madrid's Exposicion Nacional de Bellas Artes. "Spoliarium" then made Luna the first artist in the exposition to receive three gold medals. Through this, he has developed friendship with the King of Spain, so the Spanish senate later commissioned Luna to paint "La Batalla de Lepanto" (The Battle of Lepanto).
In 1885, he moved to Paris and opened his studio. A year after, he made another opus now displayed at the Malacanan Palace, "Ed Pacto de Sangre" (The Bloof Compact), which details the blood compact ceremony between Datu Sikatuna of Bohol and Spanish conquistador Miguel Lopez de Legazpi.
In 1887, Luna's "La Batalla de Lepanto" and "Rendicion de Granada" (Surrender of Granada) won in the Exposition in Spain.
Luna's friends, Rizal and Graciano Lopez-Jaena, often described his paintings as dramatic and vigorous, with elements of Romanticism and influenced by Rembrandt, Daumier, and Delacroix.
In 1894, Luna returned to the Philippines in time for the Cry of Balintawak. Two years later, he and brother Gen. Antonio Luna were arrested by the Spaniards for being allegedly involved with the Katipunan.
The following year, he was pardoned and released from prison, so he went back to Spain. When he moved back to Manila in 1898, he was appointed as a member of the Paris delegation that worked for the recognition of the Republica Filipina or the Philippine Republic. He was also a member of the delegation to Washington, D.C. for the same cause.
In 1899, Antonio was murdered by the Kawit Battalion, which prompted Juan to return to the Philippines. Juan then died in 1899 in Hong Kong from a heart attack. His remains are now at the crypt of the San Agustin Church in Manila.
Five years after his death, his last major work, "Peuple et Rois," won as the best entry to the United States' Saint Louis World's Fair.
Though many of his paintings were destroyed during World War II, the world will again glimpse at his greatness at the upcoming exhibit in Singapore.
Singapore's exhibition of Luna's works would show the world that a century before the Internet and social media, a Filipino can paint a picture of his nation's greatness beyond borders.