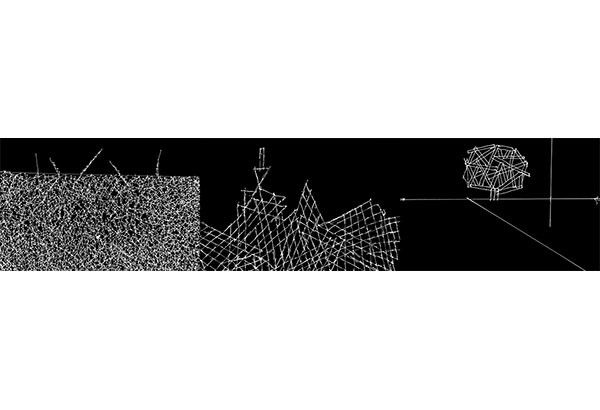 Arturo Luz's surrenders to the line, allowing his hand to freely create with limited control, which has resulted in honest and liberating pieces. Luz presents his transformed art in his series of "Desert Plants," "Desert Trees," and "Temples."
The National Artist like you've never seen him before
Swatch Presents Arturo Luz's Recent Works
After working for more than 60 years in the arts, Arturo Luz (the venerable National Artist for Visual Arts) faced a difficult road bump when he was diagnosed with cancer — and was later confined in the hospital for about 10 months.
This change of pace proved to be difficult for the artist known to make painting his life and his blood, working day in and day out from the studio of his home even at the prime age of 90 years old. But it is during this time of his focused recovery at the hospital, with the countless waiting and biding time that goes with recuperation, that he decided to pick up a pen and start drawing again. His staff gathered his art materials from his studio, and brought them to his hospital room. And, in the fluorescent glow of the institution, he brought to life his latest collection — a detachment from and perhaps a conclusion to Luz's journey as an artist.
In his new work, you will find complete vulnerability: that where once the artist boasted complete command and control over the elements of color, line and space — now it is as if he admits surrender to the medium that built his career. His landscapes and his scenes are no longer constrained, they are not even straight — his impeccable lines are now completely crooked.
But it is in these serpentine lines that one finds beauty and honesty, and it feels like the artist has completely let go: if once upon a time his work reveled in balance and perfection — now there is a deep emotional catharsis in its imperfection. He calls them his "transformations," as though even the artist himself has acknowledged that the works are a complete detachment from himself; he knowingly accepts the fact that these are new pieces, and that he is changed as an artist, just as he changed as a person — and it is this self-awareness that riddles each piece with pure significance.
Now out of the hospital and recovering at home, Luz agrees that they might be his most liberated pieces yet, spurred by a spontaneous inspiration, and an exposure of a vulnerability that the artist has come to discover. He is absolutely delighted with his work, a true artist who finds that his journey is never finished, and that an openness to adopt new styles is still ever present.
His drawings were photographed and transformed into print with the help of photographer Jason Quibilan, and the people in his sculpture workshop known as the Red Barn. Luz commanded that each drawing only be reproduced for one print, and the artist himself signs each one-of-a-kind piece.
Swatch Philippines' president and marketing maven Virgie Ramos spotted the National Artist's prints, and pushed for his new work to be exhibited within the walls of the Swatch Building, which has become home to numerous groundbreaking art shows and collaborations over the past few years. Luz, who is extremely particular about where his work will be exhibited, did not hesitate to agree, finding that the modern industrial interior of the Swatch Building completely complements his work; that the layout of the space was faultless; and that the way the light seeped into the building and cast ideal shadows over his scenes, was simply perfection. There will be only fewer than 20 pieces of Luz's transformations on display at the Swatch Building.
Perhaps it is coincidental that Ayala Museum also features a retrospective of the artist's work in their galleries this month, highlighting some of his earlier pieces in their show "Arturo Luz: First Light," presenting the journey of where he began as an artist in the 1950s.
Both exhibitions show the full circle of the artist's odyssey, full of transformations, self-discovery and success. You will be moved by the dynamic change of style of the maestro whose lines defined a big part of his time in the industry — but also find that his acceptance in veering away from this, and presenting completely new work, is all part and parcel of the manner in which Luz works: a true genius of his time, he proves once again why he remains an authority in the visual arts.
* * *
Catch Arturo Luz's "Recent Works" at the Swatch Building, Arnaiz Road, Makati.