Why Makati is a walkable city you should live in
MANILA, Philippines – One of the most important things that every home buyer considers is location. And it should matter now whether the chosen neighborhood is a walkable one, a quality that people look for and real estate developers aim for these days.
There are a lot of good things about walkable cities. There are health benefits proven by several studies. Walkable cities also help the environment as they omit hazardous automobile use, resulting in less harmful emissions and better air quality. They are also money-saving because people won't always have to take public transportation or spend on gas.
One of the most walkable communities in the country today is the Makati Central Business District (CBD), and here are some reasons why acquiring a home here is highly advantageous:
Green spaces for a healthier lifestyle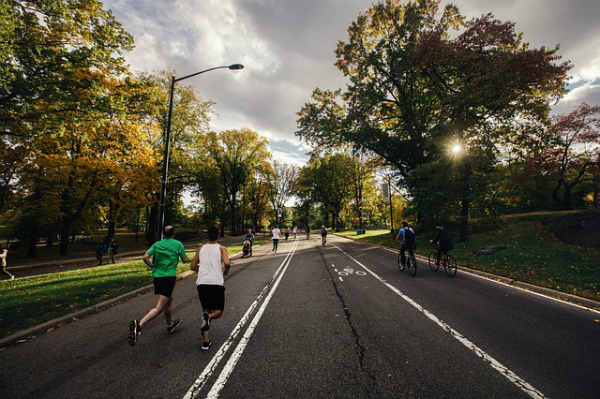 Cities that aim to make walking as the main mode of transportation naturally promote a healthier lifestyle for their residents.
A 2014 study found out that interconnected streets, which make walking convenient, are directly associated with reduced rates of heart disease, obesity, high blood pressure and diabetes. So, if you're a health buff or even an aspiring one, Makati CBD is the place for you.
With well-groomed green spaces, paved sidewalks and safe pedestrian lanes, you won't have any excuse not to go for a morning jog, an evening run or a fun walk with your dog in Makati. Some of the favorite spots here for these activities are the Ayala Triangle Gardens, Salcedo Village's Jaime Velasquez Park and Legaspi Village's own Legazpi Active Park.
Pedestrian-oriented
The transportation system in Makati CBD is one of the most modern in the country. There are shuttle terminals all over the district that can take passengers to different cities in and even outside the metro.
Three MRT lines—Buendia Avenue, Ayala Avenue and Magallanes stations—are also directly connected to Makati where most professionals ride in and out. There are also E-jeepneys, buses and taxis that are easily accessible, not to mention the designated and secure unloading and loading stations.
Aside from keeping efficient transportation hubs, Makati also promotes walking as a means to experience the city. In 2015, it worked with big brands like Nestle, Shell, Security Bank and RCBC to paint murals on selected underpasses in the district.
"Beyond aesthetics, we want to promote Makati as a livable city and to give a more enhancing experience to pedestrians," said Dave Balangue, president of Makati Commercial Estate Association (MaCEA), in a press conference.
These colorful underpasses now make everyday walks for many pedestrians more pleasant.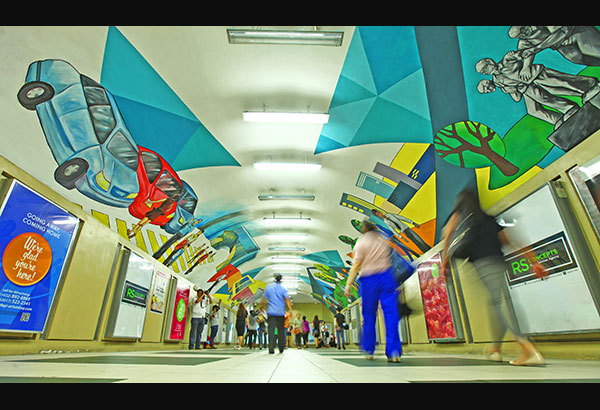 Rise of live-work-play-learn neighborhoods
With the proximity of several offices, learning institutions, restaurants, shopping centers and entertainment hubs to each other in Makati, it's enjoyable to establish a lifestyle where you can conveniently and leisurely live, work, play and learn.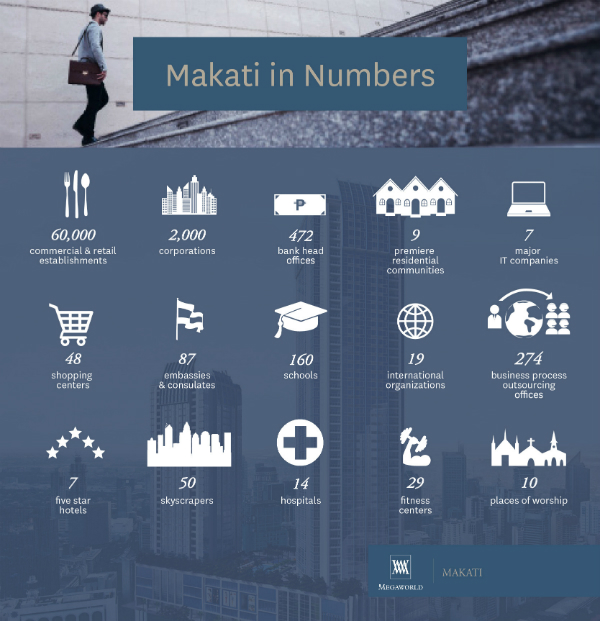 In the last quarter of 2015, real estate services firm C.B. Richard Ellis (CBRE) Philippines said in their Metro Manila Market View report that Makati is one of the top prime locations for condominium investment given its proximity to major commercial districts.
And in its latest report in 2016, CBRE reported that the Philippines is seen to welcome more retail openings in the coming years. It said that a lot of foreign retail brands came in in the first quarter and almost 40 percent of these were in the coffee and restaurants industry. Other brands belong to the fashion and luxury industries.
This is one reason why a lot of real estate developers are building communities in Makati that offer quality residential and commercial amenities.
Megaworld, for example, continue to develop more neighborhoods that promote the live-work-play-learn lifestyle, which they have actually pioneered in the industry. Two of their most recent developments in Makati CBD to date are San Antonio Residence (a 40-storey tower located along Sen. Gil Puyat St.) and Three Central (a 51-storey development along Valero St.).
You can check these projects out by visiting Megaworld Makati CBD's website to discover more the potential of building a home in a walkable community like Makati CBD.