Nick Joaquin the movie
November 15, 2015 | 9:00am
Of course it had to happen.
His classic play in English, A Portrait of the Artist as Filipino, was turned into a black-and-white film in 1965 by Lamberto Avellana, who would also become a National Artist like him. And this year, production started on a second edition, this time as Ang Larawan the Musical, from the translation by another National Artist, Rolando Tinio, turned into a libretto with music by Ryan Cayabyab, and directed by Loy Arcenas.
In the 1960s and 1970s, the most popular of his short stories, "May Day Eve" and "Summer Solstice," became teleplays for the one-hour television series Balintataw directed and produced by Cecile Guidote Alvarez, who also directed the first translation into Filipino of Portrait, the much-acclaimed Larawan which ran for a seeming infinity of weekends at the Rajah Sulaiman Theater in Fort Santiago in the late '60s.
I recall Nick Joaquin himself sitting on the front row night after night, enjoying the acting dynamics between Lolita Rodriguez and Rita Gomez as Candida and Paula, respectively. In the climactic procession scene staged on the rampart above the stage, Nick would join in with a lit candle, as a continuation of his lifelong Marian devotion.
That devotion is deeply explored in Dahling Nick, a three-hour docu-drama directed by Sari Lluch Dalena as a grand and loving tribute to the life and times, and incomparable literature, of our country's greatest writer ever.
The film had its gala screening last Wednesday in TriNoma as part of the Cinema One Originals 2015 Film Festival. Nick's extended family and legion of friends and fans attended the screening, and stayed on, even if it ended almost two hours after midnight.
The homage is a well-structured mélange of interviews with literary writers and relations, archival film and video materials that include priceless footage on Nick as well as sound clips of his characteristically playful needling, even singing, and filmic dramatization of three of his works: "The Legend of the Virgin's Jewel," "May Day Eve," and "The Two Kisses of Eros."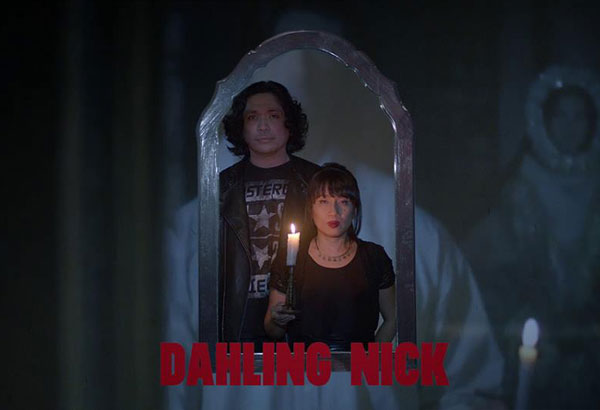 Director Sari Lluch Dalena and researcher-producer Keith Sicat, life partners, try out the famous mirror in Joaquin's classic story, "May Day Eve."
Among the interviewees are National Artists for Literature Frankie Jose and Bien Lumbera, litterateurs and artists Jimmy Abad, Butch Dalisay, this writer, Erwin Castillo, Recah Trinidad, Danny Dalena (these two trios shot in ensemble), Pete Lacaba and Marra PL. Lanot, Greg and Lourdes Brillantes, Nick's niece Charo Joaquin Villegas, late-life companion Elena Roco, and perhaps surprisingly to some, Jose Ma. Sison.
Snippets of the conversations with these 15 interviewees as well as readings are interspersed with the dramatization of stages and episodes in Nick's life, from boyhood to ripe old age, inclusive of his courageous stand against the Marcoses and Martial Law, and eventual acquiescence to receiving the National Artist award from the Marcoses only as quid pro quo for the release from detention of his young friend Pete Lacaba.
At times, the interviewees appear to be contending on certain points with their differing views, but for the most part they buttress one another's assessments of Nick's great worth as writer, person and friend.
Then there are the extended quasi-fantasy interpretations of the literary works that serve to advance the director's and scriptwriters' (Dalena and Kris Lanot Lacaba) theses on Nick's religiosity vis-à-vis his gender predisposition.
These parts offer stylized cinema at its best, with the director's personal vision well-served by exemplary cinematography by Nap Jamir, production efforts, and technical success as with the visual effects, prosthetics and CGI.
The serpent episode that dramatized "Virgin's Jewel" is no less than fascinating. And from the get-go I was much impressed with other mise-en-scenes, such as an early scene showing a man on the ramparts of Intramuros, with pages and books spread out around him as an intriguing, fanciful installation as statement.
Raymond Bagatsing shines steadily in the lead role, growing and ageing as Nick Joaquin. He has the physical and verbal quirks down pat. Dindi Gallardo as Imelda, Lance Raymundo as Marcos, Nick Lizaso as Enrile, and Bernardo Bernardo as Adrian Cristobal provide sufficient tension in what may be the most engrossing part, which also provides a faithful throwback to Nick's moral courage as well as the Marcoses' questionable proclivities.
Someone has lamented certain scenes, also of that period, where the characters of Nick's fellow writers, namely Virgie Moreno and Ninotchka Rosca, appear to be caricatured, likely not intentionally. I tend to agree, but then this comes with hindsight privilege, having known these two formidable ladies of Philippine letters.
Among the interviewees, interestingly, it's Frankie Jose and Joma Sison (not the best of friends), who provide some laughs — Frankie with his characteristic candor, and Joma with his literary geek side.
It's been a dream come true for Sari Llluch Dalena, for whom the project has taken years to mount. Her life partner and fellow filmmaker Keith Sicat relates:
"The journey to bring Dahling Nick into the world has been an adventure in its own right. Sari's first images for one of the dramatized works dates back to the late '90s, rendered by none other than her father Danny. To say that the film has been gestating for over 15 years is not hyperbole.
"I learned a great deal about Ninong Nick while researching for the film. One of the short stories Sari was adamant about dramatizing was 'Legend of the Virgin's Jewel.' I remember loving the imagery, but I couldn't quite get under the surface of as to why he wrote that piece. It wasn't enough that he was a Marian devotee; there must have been something more. And then, during one of the pre-camera interviews, one of the subjects mentioned a detail during his time in the Hong Kong seminary. 'Legend' was written right after he left — it didn't take much to connect the dots and so the reasons behind his writing crystallized.
"Another big surprise to me was his connection to Joma Sison. It's no secret that Sison loved Joaquin's work — his UP thesis was on Joaquin, he was an English major after all — but I did not know that they were actually friends. So close that Joaquin became the godfather to Sison's youngest.
"The question was, how on Earth could we get Joma into the film on our indie budget — Utrecht is no bus trip away. Here is where the stars aligned again. I found myself in Europe on a sudden other engagement and gambled to fly to the Netherlands.
"In addition to getting a lot of archival materials from the kindness of numerous institutions, and many from personal collections, the fact that we got to film in the CCP and use the exact props they use in the National Artists Awards made it feel uncannily real. We were no longer just reenacting, we were time travelling.
"And, of course, the honor to share our love and admiration for Ninong Nick is priceless. I'm sure Ninong Nick was behind some of that aligning of stars."
Keith also commends the work done by the group of VFX Supervisor Dennis Rejoy at Gravitate — for the serpent episode.
"Dennis and his team had conjured up their own system of gathering data (via numerous still photographs) that they could then stitch together and use to 'light' and rebuild the 'set' for the CG serpent in a digital environment. This way, the lighting on the serpent would be exactly the same as the ones used on set. The fact that they figured this out without resorting to a lot of high-tech gadgets you would see in a lot of Hollywood movies was really a testament to their ingenuity.
"Not to be outdone, the prosthetics team led by Jaime del Rosario and Richard Carvajal's group Creature Shop, contributed some stunning work. They executed the practical serpent which they did wonders with given the time constraints, so although it was replaced by Dennis' CG serpent in the final version, their contribution was invaluable for that sequence.
"They were also the team behind Raymond Bagatsing's transformation into the character of Don Badoy in 'May Day Eve' and the elderly Nick Joaquin. This was quite an education, on how to incorporate all of these various tools that most would use in fantastic spectacles for what are really dramatic period stories, and I applaud the efforts of these teams in helping realize what we were only dreaming these last few years."
For her part, Direk Sari confides:
"Bringing Nick Joaquin's prose and poetry to the cinematic medium isn't a walk in the park. For many years, 'May Day Eve,' 'Summer Solstice,' 'Guardia De Honor' and 'Two Kisses of Eros' haunted my formative years as an artist, along with the works of Gabriel Garcia Marquez, Pablo Neruda, Jean Genet, Virginia Woolf, Emily Bronte, Jose Garcia Villa, among others.
"Dahling Nick was finally conceived after years of long wait. We submitted the proposal to various film grants: Cinemalaya, CineFilipino, QCinema, until it found a home in Cinema One. We pitched the film with urgency: Nick Joaquin's birth centenary is fast approaching, the two living National Artists must be interviewed while robust, and while sharp and drinking writer buddies are still in good health.
"Overall, I was over the clouds filming this project — weaving scenes with archival footage from the restored version of Lamberto Avellana's Portrait of the Artist as Filipino and an audio recording interview of Tito Nick's booming voice, singing Cole Porter's You're the Top. By the way, this song is digging a deep hole in my pocket. After getting a rejection from a leading cultural body to fund this film, my meager UP teaching salary will be covering for the prohibited high cost of acquiring the music rights to Tito Nick's favorite Cole Porter song. All for the love of Tito Nick.
"The documentary-drama is a tribute to our Santa Claus, our St. Nick — the man who never missed a birthday and Christmas, who would come to our house bearing gifts and one-hundred peso bills for me and my sisters. He would call us his 'little terrorists' and ask as to get him a bottle of San Miguel beer."
Today, Monday, you can still catch Dahling Nick at 2:45 p.m. at SM Megamall and at 4:40 p.m. at Glorietta. Tomorrow, it'll screen at TriNoma at 12:30 p.m. and at Resorts World at 4:10 p.m. Including the gala screening, that'll only be 10 screenings for this Cinema One fest entry. But wait, a latebreaker says that the rest of the above sked might have been altered, so that it might screen today at Glorietta at 2:30 p.m., and tomorrow at Resorts World at 4 p.m. Whatever. Lovers of literature and Nick Joaquin fans in particular shouldn't miss out on this commendable film.