Kudos to literary awardees
It's that time of year when our writer-friends reap awards, for individual works or lifetime achievement. Allow me to indulge in furthering literary bonding by congratulating some of them in this space, and turning over much of it to excerpts from a couple of speeches relating to literary milestones.
First off, "kongratz y cudoz" as I usually say to all the winners of the 2015 Gawad Pambansang Alagad ni Balagtas handed out by UMPIL or Writers Union of the Philippines to cap its Writers' Congress on Aug. 29 — most especially to certain friends.
These are Susan S. Lara for Fiction in English, Danton Remoto for Poetry in English, Vim Nadera for Tula sa Filipino, Yen Makabenta for Essay in English, and Rody Vera for Dula sa Filipino, as well as Erlinda Kintanar-Alburo for the Gawad Paz Marquez Benitez.
Here's sharing lifelong friend Susan's memorable remarks of gratitude:
"Thank you, UMPIL, for this honor. I deeply appreciate receiving this award, and I humbly accept it. We always say that writing is its own reward, and awards are welcome bonuses. They give affirmations, assurances — to us, but especially to our families — assurances that we chose wisely when we took this road, the one less traveled by.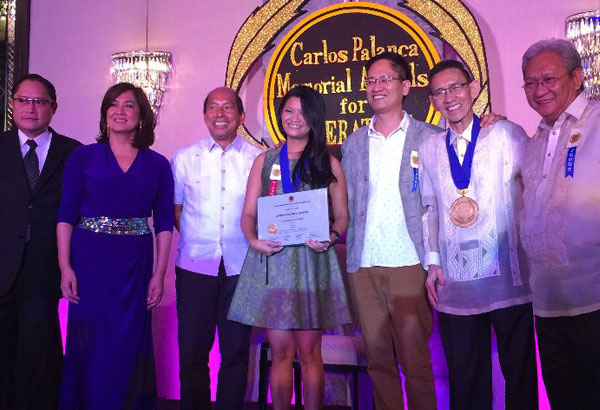 Palace poet Peachy Paderna plucked 1st prize for Poetry. Here shown with (from left) Carl Anthony Palanca, Criselda "Dang" Cecilio-Palanca, Budget Sec. Butch Abad, and the Poetry judges Danton Remoto, Jimmy Abad and Marne Kilates.
"For many years, whenever a relative or family friend asked what I did, my mother consistently said 'journalist.' She said it made things easier. People knew what a journalist was; they knew what a journalist did. She didn't have to say anything more. If she said 'writer,' they would say 'oh, a journalist,' which saved my mother from saying anything further. But if she said 'fiction writer,' they would say 'ah...,' nod slowly and look puzzled, too polite to say 'why would anyone want make a career out of making up stories?'
"Well, my question, exactly. Why indeed do I write fiction?
"I have a favorite writing exercise that I give to writing students, designed to help them create credible villains. The exercise is in two parts, but I don't tell them that. I only tell them to think of the one person in the world who makes their lives miserable. We all have this person in our lives, don't we? Yun bang pag nakasalubong mo sa umaga, sira na buong araw mo. You bump into them on a Monday, and there goes your entire week. Everybody seems to hate them. So I say describe this person, and imagine how much better life would be without him or her. They usually have no difficulty doing that. Even when I say time's up, they would keep writing. When they're done, I give them part two: write a paragraph from the point of view of this person, imagine an incident in the past, that could have made them the way they are, and how they must be feeling right now. At this point I hear groans. Then sighs. Then silence as they start writing. Then sniffles. Invariably, two or three students would linger after session to say 'thank you for that exercise. I now understand my mother a little better.'
"Thus my writing students learned not only how to create a credible villain; they also learned not to let anger and prejudice becloud their thinking and judgment. And to understand, even just a little bit, the most hateful person they know.
"It's very similar to the words that Fred Rogers once heard from a social worker: '... there isn't anyone you couldn't learn to love once you've heard their story.' The words so struck Rogers that he wrote them on a piece of paper that he always carried in his wallet. It's a vignette that Andrew Stanton shared in one of his talks, and he interpreted it as 'probably the greatest story commandment,' which is 'Make me care. Please... just make me care.'
"I like to think that's what I do — make my readers care. I like to think that this award means I must be doing it pretty well. Maraming salamat po."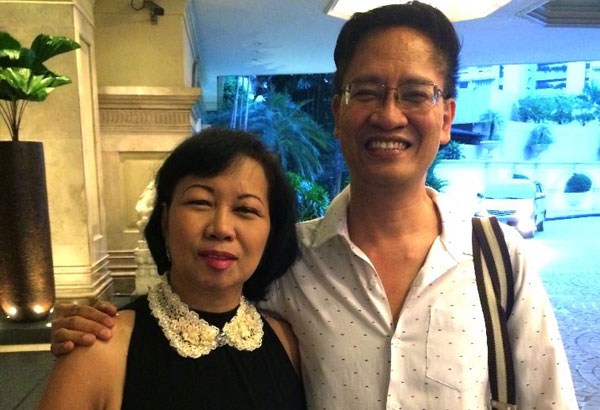 UMPIL's Gawad Balagtas awardees Susan Lara and Danton Remoto
* * *
Three days later, on Sept. 1, the 65th Carlos Palanca Memorial Awards were given to 57 winners spread out over various genres. Among the friends senior and millennial who most enjoyed Palanca Night this year were Dulaang Pampelikula 2nd-placer Brylle Tabora, Dulang Ganap ang Haba 2nd-placer Edgardo Maranan, Maikling Kwento 2nd-placer Lilia Quindoza Santiago, Poetry 1st-placer Charisse-Fuschia "Peachy" Paderna and 2nd-placer Arkaye Kierulf, Poetry Written For Children 1st–placer Peter Solis Nery and 3rd-placer Elyrah Salanga-Torralba, Short Story 1st–placer Exie Abola and 2nd–placer Maria Carmen Aquino Sarmiento, Essay 1st–placer Eli Rueda Guieb III, 2nd-placer Jennifer Dela Rosa Balboa and 3rd-placer Miguel Antonio Lizada, and Kabataan Essay 1st-placer Catherine Regina "Ina" Hanopol Borlaza.
These winners are either my near-contemporaries or once-and-future academic colleagues, or have been students of mine in Ateneo and among National Writers Workshop mentees in Dumaguete's Silliman U.
Special congrats should go to a couple of millennials whose winning works and persons I'm looking forward to befriend. These are the Novel grand prize winner Victorette Joy Campilan, all of 32 years old, and Nobela grand prize winner Charmaine Mercader Lasar, who's only 20 years old!
It speaks of and bodes well for the Palanca Foundation & Awards that of the total of 2,200 authors of 2,278 winning works that have been awarded in its 65 years of existence, this year the 33 new winners outnumbered the 24 previous winners. And that the two Grand Prizes were won by very young ladies.
The biggest awardee this year, however, for lifetime achievement, thus worthy of the Palanca Gawad Dangal ng Lahi, was our BFF Dr. Gémino H. Abad. Excerpts from his keynote address on Palanca Night deserve the rest of this space:
My talk this evening, this short essay, "The Poem Is What You Will," is my humble tribute to Don Carlos Palanca who loved our archipelago of letters, who every year to the very present, with his family, continue to honor our writers and cherish our literary/cultural heritage.
Some people may speak of a "literary establishment" but, as our gathering tonight shows, that is clearly a chimera, whatever writers' associations or groups there are whose views or predilections vary. The community of writers, local and global, is the authentic democracy. For there are only writers and writers with various styles of writing who respect each other's person or work, writers who are better known and more esteemed than others, writers who are not known as yet, and aspiring writers. Every writer is his or her own individual self. No one at all, nor any group or coterie, can impose on the writer any theory, any ideology, any methodology or way of crafting the work. No hegemony, no dictatorship can ever prevail among writers: there isn't, for instance, one way of writing the poem, for there are kinds and kinds of poems, and even the criteria of excellence for any literary work change over time, like any literary taste, fashion, or fad.…
The criteria of excellence are either renewed or created from poem to poem, whatever its genre or kind. As with any of the arts, those criteria have to do with the poet's mastery of his medium and mastery of a particular way or style, the craft and the cunning of a way with language toward the forging of his theme or subject. Likewise, from poem to poem, language is created anew, forged in its triple sense: to make, bring into being, fabricate; to represent, simulate, mime; and to forge ahead, advance, transcend the inherent inadequacies of language to reality.…
I prefer the word "poetry" as the generic term for the literary work because "poetry," understood as a quality of the finest use of language, pervades all kinds of literary work. There is poetry, for instance, in the fiction of Nick Joaquin, Bienvenido Santos, Gregorio Brillantes, Jose Dalisay. "Poetry" as stand-in for "literary work" is an open field where thrive many forms of living species: there are, for instance, what Ricardo de Ungria would call "breaktexts" — "poems dancing on their heads" (see Caracoa 7, May 1985); or there may be "spindrift verses" for lightsomeness of being, as in César Ruiz Aquino and Simeon Dumdum; and many others still, by whatever name or label you please: "proletarian" or "postmodern" or "experimental" or "wala lang" poetry.…
It may be that many people in a given community are unconscious of their being Filipinos in the routine and rout of their daily living. Why? Because, as imaginative construct, one's individual sense of country or nation requires power of abstraction; that sense of country must be consciously made real, realized, by every individual, from generation to generation.
It bears repeating that country or nation is an imaginative construct: that is, one's country is how one imagines her. That it is imagined doesn't make it any less real; as imagined, one's sense of country may well be more feeling than thought, but feeling is deeper and wider than thought, and moves one more powerfully. Likewise, "nation," for instance, or "national language," is a legal fiction, an ideal, a dream, as any country's Constitution makes clear: "nation" or "national language" is an abstraction that people make real in their aspiration and in the very living. Ultimately, country or nation is what your imagination owes its allegiance to.
To conclude: In the "quandaries of the quotidian," as Alfred Yuson puts it, we ask: What is our meaning? How is our life meaningful? Our imagination would insist on faith, spirit, soul, what goes beyond materiality. But isn't that a myth? Dream? Illusion? So be it, what you will. "Our words," says Seamus Heaney, "have to do with the spirit of life that is within us." Without our words, we would only despair.
The poem, the literary work, is a verbal artifact; its soul or inner form is its meaningfulness from reader to reader. Not a fixed meaning but meaningfulness. How many readings are there, for instance, of Jose Garcia Villa's "theology, of, rose, and, tiger"?
… The poet's craft lies in how, through language, the poet endows with form what he has perceived or intuited, whether in his own experience or in dream or fantasy. In the very act of the poem's making is the individual talent which harnesses the infinite possibilities of imagination, which may, when the poem is achieved, renew or enrich a literary/cultural tradition or heritage. The poem is work of language and work of imagination, both. If I may repeat myself, without language, without imagination, we would have no memory, no history, no culture, no civilization."