Dance fever at the Asian Grand Prix
September 4, 2015 | 10:00am
MANILA, Philippines - In the confines of the Y Theatre in Hong Kong, the audience sits hushed in the dark as a lone figure in tutu takes the stage. The dancer proves nimble on her feet — she tiptoes, pirouettes and leaps, a playful smile never leaving her lips. As the music ends, the enthralled viewers reward the ballerina with hearty applause and cheers.
It is a scene repeated many times over throughout the week-long Asian Grand Prix International Ballet Competition (AGP) in August where the best and emerging young talents in classical ballet converged. This year's competition drew more than 300 competitors across various age groups, coming from 13 countries such as the Philippines, Japan, China, Singapore and Russia. The huge number was pared down as the contest progressed from elimination to semi-finals and the finals.
At the end of it all, Ballet Manila proved to be the big winner. Its newly signed company artist, 18-year-old American Katherine Barkman, received the coveted 2015 Asian Grand Prix award.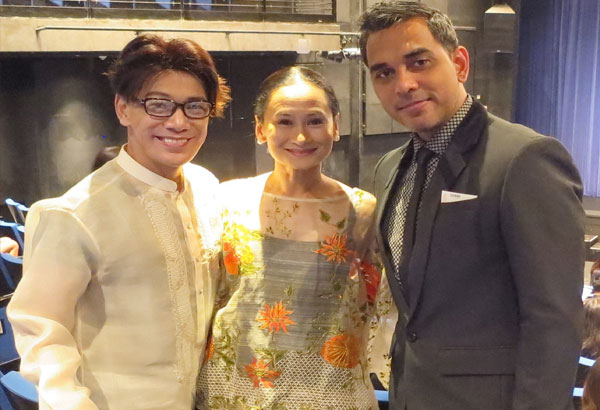 Waiting for Ballet Manila's performance of "Flight" at the Y-Theatre in Hong Kong: Co-artistic directors Osias Barroso and Lisa Macuja and managing director Christopher Mohnani
Aside from winning the competition's top prize, Ballet Manila romped off with the following: Silver in Pas de Deux for Barkman and partner Elpidio Magat; Bronze, Senior Male Category also for Magat; Silver, Senior Female Category for Abigail Oliveiro; Bronze, Senior Female Category for Joan Emery Sia; Bronze in Pas de Deux for Sia and partner Romeo Peralta; and Silver, Junior B Category, for Nicole Barroso.
The company's other finalists also netted citations in their respective categories: Rissa May Camaclang, 5th place, Junior C; Jessa Balote, 4th place, Pre-Senior, and 4th place, Pas De Deux; Brian Sevilla, 5th place, Junior B and Sansha Award; Anselmo Dictado, 4th place, Pas de Deux; Arnulfo Andrade, 5th place, Senior Male; and Robert John Peralta, 6th place, Senior Male.
Garry Trinder, AGP jury president for the past four years and director of the New Zealand School of Dance in Wellington, expressed satisfaction with the overall performance of the Filipino competitors. "I think that the thing about the Filipino candidates is that they're always so committed, energetic and they are greatly entertaining, too. They enjoy performing and it's clear in everything they do."
Ballet Manila co-artistic directors Lisa Macuja-Elizalde and Osias Barroso are happy about the company's good showing at AGP. Their participation this year was bolstered by an invitation from AGP officials to sponsor a two-hour concert gala of Ballet Manila, dubbed "Flight," before the competition opened on Aug. 10.
"When we got this invitation, it was a perfect opportunity to bring our Ballet Manila dancers and students to Hong Kong for both the concerts and the competition. We chose the best students in our school to participate as well."
Macuja-Elizalde adds that exposure to audiences in the Philippine setting was also beneficial to the dancers. "Most of the BM dancers that competed had performance experience. It is important to feel comfortable onstage. If you only go onstage rarely, then it is harder to control nerves and compete well. We were able to hold two performances in Star Theater of "Flight" and the competitors' pieces a week before we left. That helped as well."
For Katherine Barkman, the schedule at AGP — two shows of "Flight," followed by the competition and the concluding AGP gala (and master classes in between) — was quite rigorous. As she advanced into the semis, and then into the finals, the pressure understandably increased yet she had to stay focused and calm. On the day of the finals, she performed the whole Sleeping Beauty pas de deux and then after just a 20-minute break, she was back on stage dancing Kitri variation (Don Quixote) for the solo round.
Barkman was well prepared for the challenge. She entered AGP with a mindset that she was there to share her art with as many people as possible. "For me, competitions have never been about comparing myself to others or striving for a medal. I wasn't there competing but using my time onstage to give the audience the highest quality art I could produce, not just gymnastics and tricks in pointe shoes. I took it as a useful experience and opportunity to grow."
That she took home AGP's top prize is overwhelming, she says, and something she attributes to her mentors — Nadia Pavlenko in the United States, and Macuja-Elizalde and Barroso in the Philippines — and her family who has been supportive of her decision to make dance her career.
Garry Trinder hopes the experience dancers get from AGP will inspire them to improve themselves, not just through the competition alone but in the ballet performances they get to see.
"The wonderful thing about dance is that it has no language barrier. The universality of it is just tremendous! You can see this in the gala performance — it's like the United Nations! So many different people represented, not just in terms of dances but also in the music they played. It was a really global representation of dance they presented. That's really stimulating for all of us because we all take something away with us."