New faces light up Rep's Theater for Young Audiences
First-timers Alana Vicente and Jos Jalbuena play Snow White and the Huntsman/Prince respectively in Rep's Theater for Young Audiences (TYA) production of Snow White and the Seven Dwarfs, which plays at the Onstage Theater in Greenbelt One from until Dec. 15.
This is the first foray into theater for Alana, a second-year student at La Salle. A stunning five-foot-eight, dark-haired, porcelain-faced beauty, she was a shoo-in for the role of Snow White. Although without theater experience, she has had years of training in ballet, voice and piano, belongs to the very artistic Barredo clan, and is a grandniece of theater stalwart and Rep's artistic director Baby Barredo. It was Barredo who encouraged her to try out for the part. Hard work, determination, and an openness to direction has turned this rather shy and hesitant neophyte into a lively and engaging Snow White. She admits that it was exciting but nerve-wracking working with experienced actors, and appreciates the support and encouragement she got from members of the company.
Jos Jalbuena has had a bit more experience having appeared in Marco Polo (alternating for the lead), The Fantastics (as El Gallo), and The Wizard of Oz. He holds a degree in Management of Financial Institutions but decided to put that career on hold to do theater. Besides inheriting the genes of his grandfather, Louie Jalbuena, who was known for his singing talent, he also grew up in an artistic family that encouraged participation in the arts. His voice and striking good looks make him perfect for the dual part of The Hunstman/Prince. He is an eager learner and enjoys working with members of the cast whom he considers warm, helpful, and imbibed with great team spirit.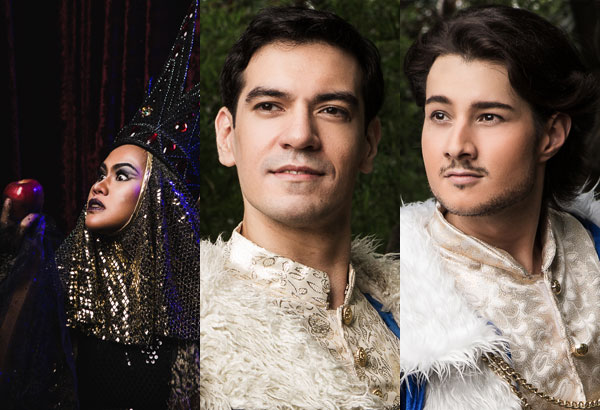 Bituin Escalante as Queen, Jos Jalbuena and Hans Eckstein alternate as the Prince.
Rep's TYA has been a stepping stone for many actors who have gone on to establish a career on the stage here and abroad: Liza Infante, Gia Macuja, Maya Barredo, Red Concepcion, Liesl Batucan, Jenny Jamora, Ring Antonio, Carla Guevarra, Christine Flores, Chris Villongco, Shiela Valderrama, Patty Manahan, Lourdes Faberes, the Briones brothers, Ayam Barredo, Becca Coates (also playing Snow White) Hans Ekstein and Jef Flores (who also play at the Huntsman/Prince) are alumni and current members of the Children' Theater (now known as the Rep TYA). The TYA has also attracted the likes of theater stalwarts Bituin Escalante (who alternates with Ms.Antonio as the Queen in this production) Rem Zamora, and Pinky Marquez, who have found deep personal fulfillment in performing for children.
Twenty five actors — a combination of youngsters (some on stage for the first time and others with theater credits), newcomers and veteran professional actors — take on the roles of the seven dwarfs in three alternating casts. Veteran actors Oliver Usison, Miguel Faustmann, and Raul Montesa play the famous mirror on the wall.
The fairy-tale set is designed by Miguel Faustmann, costumes supervised by Ogie Reonal based on the original design by Liz Batoctoy, lighting design by John Batalla, musical arrangements by Jay Pangilinan, choreography by Jason Zamora, music coaching by Joseph Tolentino, sound design by Gidget Tolentino and technical direction by Jamie Wilson.
The show is directed by yours truly and assisted by Naths Everrett with Baby Barredo as acting coach. And this original adaptation of Snow White and the Seven Dwarfs, based on the classic story by the Brothers Grimm, was written by Elsa Rael (lyrics) and Michael Valenti (music).
* * *
Snow White and the Seven Dwarfs will run up to Dec. 15. The schedule of shows is available on www.ticketworld.com.ph. Call 891-9999 for details. Shows are still available for sale for fund-raising or as a school activity. Tickets, show reservations and information call Repertory Philippines at 843-3570 or email Rep inquiry@repertoryphilippines.com. Visit www/repertoryphllppines.ph.