Lisa Macuja counts her blessings at age 50
MANILA, Philippines - Prima ballerina Lisa Macuja-Elizalde has a birthday "tradition" she has staunchly adhered to for several years. Instead of kicking back and relaxing, she indulges in the one thing she is most passionate about: dancing.
"Because it is the best birthday present I can give myself, really," she smiles. This year will only be slightly different. Since it's going to be her golden year, she has decided to spend her birthday, Oct. 3, with her family. But the following day, Oct. 4, she's back to dancing in her 50th birthday show aptly dubbed "Gold: Lisa Macuja — A Truly Classical Concert" at Aliw Theater in Pasay City.
"Gold" actually marks two milestones in her life: her 50th birthday and her 30th anniversary as a professional ballerina. For her, it was a dual event too good not to celebrate through dance. "It is such an auspicious birthday and I am also enjoying the extended twilight of my career. Three decades of an active dancing career is no joke. In fact, it is unusually long especially for classical ballet. And for this, I am truly grateful."
The one-night-only concert will thus be a nod to her classical roots. For one, Macuja-Elizalde will perform in Marius Petipa's Sleeping Beauty Divertissement opposite Kremlin Ballet principal danseur Mikhail Martynyuk as Prince Desire.
"There's a famous bit of choreography in the ballet known as the Rose Adagio, in which the Princess Aurora stands en attitude and is turned around by four princes. It requires the utmost balance and control. And it's the only ballet where the prince and princess have only one dance together, in the Wedding Pas de Deux," Macuja-Elizalde shares.
The other number she has chosen to dance is Sergey Vikulov's Fantasy Overture from Romeo and Juliet, opposite Ballet Manila principal dancer Rudy De Dios. "Juliet has always been one of my favorite roles. I've danced four versions of Romeo and Juliet throughout my career. This one is special because the choreographer, a People's Artist of Russia, is like a second father to me. Also, because I danced this piece during the first year of Ballet Manila and I thought it's appropriate to do now that we're about to mark our 20th anniversary," she notes.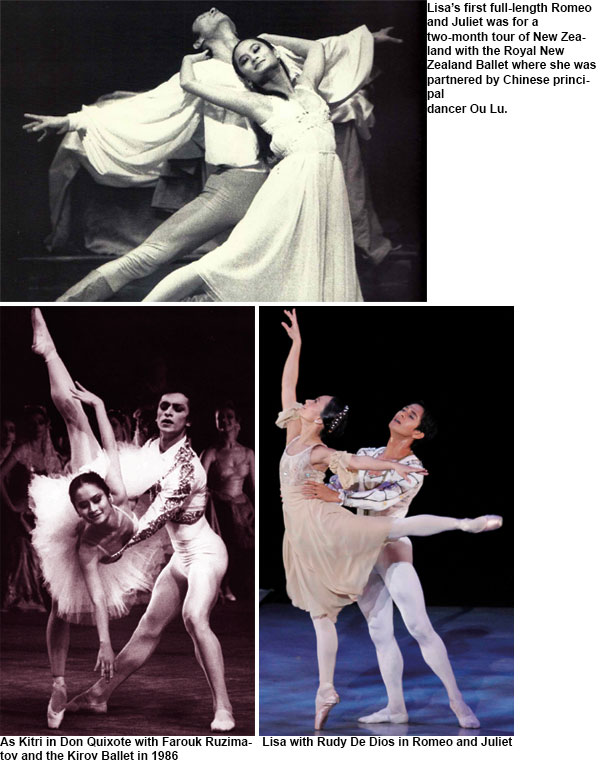 In keeping with the classical theme of the concert, "Gold" will also have as guest artists Ballet Manila, Philippine Madrigal Singers and ABS-CBN Philharmonic Orchestra under the baton of Maestro Gerard Salonga who is also the show's musical director.
Entering one's golden years can be full of trepidation, but Macuja-Elizalde chooses to dwell on the positives. "I am most thankful for the fact that I am still dancing — in a limited capacity, but still able to dance. I have a ballet company and school and a scholarship program that I can continue to direct, support, teach in and mentor in. Thankful that I have a family that continues to support my art and profession and a daughter that wants to go into the same profession as myself. Thankful for every morning that I wake up and enjoy health, happiness and peace."
Indeed, the ballerina feels so much gratitude for the many blessings she has. She continues ticking off her list: "Both my parents are healthy and still able to come and watch me dance. My family is around me. I have a grandson (from daughter Sasha Elizalde). I have two teenagers at home, Missy and Manuel, and (my husband) Fred who supports me fully in every endeavor.
"I feel strong enough to still keep on dancing and handle a full schedule of teaching. I can go into choreography, I am blessed with a great team of hard workers, very talented dancers and a staff of great people committed to the same goals. As I said, I cannot ask for anything more except for more years of being able to dance, which is still my first love."
And so, while Macuja-Elizalde sees herself traveling more for pleasure in the coming years, her heart will never really be away from her beloved ballet, even if it's not on stage. "I look forward to teaching more and handling all classes in different levels, conceptualizing and working on the administrative side and management side of Ballet Manila. I want to keep working for our mission of bringing ballet to the people and people to the ballet, to continue being a company run by dancers, for the dancers."
Presented by Ballet Manila, Manila Broadcasting Company, Aliw Theater, Island Rose, Ralph's Wines and Spirits, Magnolia Purewater, The Official Water of the PBA, "Gold: Lisa Macuja — A Truly Classical Concert" goes onstage on Oct. 4, 7:30 p.m., at Aliw Theater, CCP Complex, Pasay City. Roxanne Lapus directs. Tickets are available at Ticketworld (891-9999 or www.ticketworld.com.ph. Meanwhile, the prima ballerina is chronicling the highlights of her 30-year career in "The Road to Gold" series, which appears on www.lisamacuja.com. For inquiries, call Ballet Manila at 525-5967 or 708-4922.