'Fundamentals: Drawings from Modernist and Contemporary Masters' at Galerie Stephanie
(The Philippine Star) - April 21, 2014 - 12:00am
MANILA, Philippines - Drawing is used to express an artist's range and imagination. Therefore, its practice has been prominent in the history of art — often regarded as the foundation for artistic practice. In recognition of its prominence, Galerie Stephanie in Libis has arranged a special exhibition of drawings culled from its collection from some of the most important artists. The drawings, on
paper and in a variety of media, including ink, acrylic, graphite, and charcoal, showcase the immense talents of their artists — which include a smattering of modernist masters alongside the leading lights in contemporary visual art.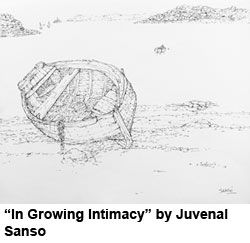 "Fundamentals: Drawings from Modernist and Contemporary Masters" will showcase drawings from masters such as Presidential Medal of Merit Awardee Juvenal Sanso, National Artists BenCab and Federico Aguilar Alcuaz, and renowned contemporary artists such as Ronald Ventura, and Andres Barrioquinto. Joining these artists are other Modernists such as Angelito Antonio, Raul Lebajo and Mauro "Malang" Santos, along with contemporary artists Rom Villaseran, Francis Nacion, Vincent de Pio, Aileen Lanuza, Carlo Ongchangco and more. The exhibition showcases another side of these artists through one-of-a-kind works that demonstrate their immense talent, skill and range.
The exhibition opens on April 25 at Galerie Stephanie in Libis. Galerie Stephanie is located at Unit 1B, Parc Plaza Bldg, 183 E.Rodriguez Jr. Ave, Libis, Quezon City, tel. no. (632) 709-1488. For information, email info@galeriestephanie.com or www.galeriestephanie.com.