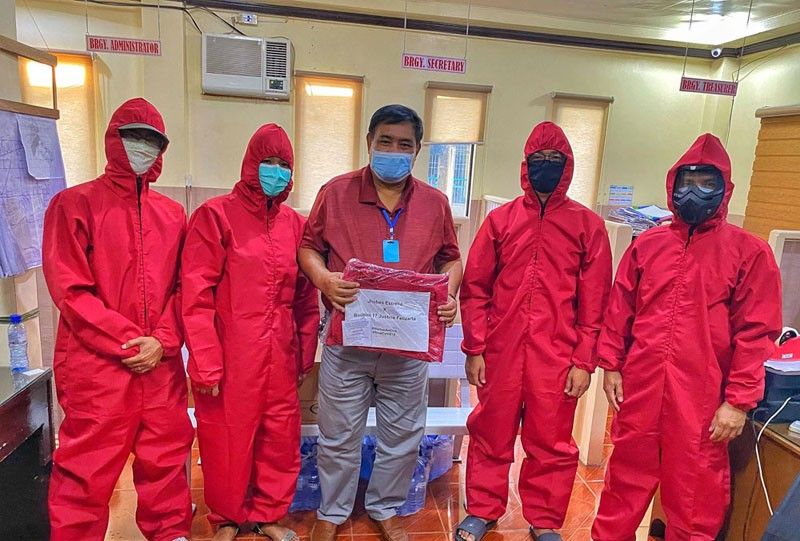 Ambulance drivers and barangay officials from Marinig, Cabuyao, Laguna wearing the hazmat suits made by Estrella.
Kindness in the time of COVID-19
The world may be in danger because of coronavirus but it never runs out of kindhearted people. Where COVID-19 is ruthless, kindness is relentless.
When Jhobes Lazanas Estrella, a budding designer from Gulod, Cabuyao, Laguna, heard about that personal protective equipment (PPEs) in many hospitals were running out a few days after the lockdown, he did not think twice of withdrawing his savings from the bank and sourcing microfiber materials in Biñan City for hazmat suits.
After three days, he and his team were able to finish 200 hazmat suits, which were all approved by the Department of Health for they followed the standard PPE safety requirements. The succeeding days saw him and his friends distributing the hazmat suits for free to medical frontliners in different hospitals in Cabuyao and Santa Rosa City.
"The frontliners have sacrificed a lot to protect us. This is my way of helping them protect themselves in the battle line," says the 28-year-old Jhobes in the vernacular.
Word got around and more hospitals reached out to him for his donations. But he had already given his all. "I wish I had more so I could give more," he says.
He prayed and his friends, including this year's Binibining Pilipinas contestant Justine Felizarta from Padada, Davao del Sur, sent help for Jhobes to produce up to 300 more hazmat suits. Those who helped him in making and distributing the suits (including to some hospitals in Calamba City) also did not ask for compensation. They all willingly gave their services for free.
"The time to help is now. And many people are also willing to help," adds Jhobes, who won Top Young Artist of the Year in 2012 at the StyleBible.Ph and Preview Magazine competition. He wanted to become a chef so he finished a degree in HRM at the University of Perpetual Help System in Biñan. Always with a curious mind, Jhobes also went to study fashion and styling at the Fashion Institute of the Philippines in Ortigas. In time, he dropped his dream to wear a toque and picked up his sketch pad, scissors and measuring tape to become a designer.
Jhobes has distributed 500 hazmat suits in the following hospitals: Ospital ng Cabuyao, First Cabuyao Hospital, Holy Rosary Hospital, and Global Hospital in Cabuyao City; St. James Hospital and New Sinai Hospital in Santa Rosa City; Biñan Doctors Hospital in Biñan City; and Calamba Doctors Hospital and Calamba Medical Center in Calamba City. He also donated a few pieces to the police and military manning the checkpoints in Cabuyao.
The young designer has discovered all the more the virtue of bayanihan in the time of COVID-19. When supply of materials ran out in Biñan, he turned to his friends in Manila to source for him in Metro Manila. Because his quarantine pass could only be used in Laguna, he would meet up with his Manila friends in San Pedro, the border between Metro Manila and Laguna, to get the textile.
"The minute I received the goods, I sprayed Lysol onto them right away. So, I always joke, my tools at the shop when I make hazmat suits are a pair of scissors and a can of Lysol," he says.
Jhobes learned kindness at home and also "from my devotion to Our Lady of Manaog."
Jhobes, the eldest of three siblings, says: "My parents taught me to work hard (his father is an OFW). From them I also learned to be loving and caring."
He says gowns and dresses are not the concern of people now. But he believes that business will be back in time.
"Times are hard, yes. But we get by. God is good. Business will be back one day. There will be clients again one day. I can only wait for them. For now, my friends and I are here to help," Jhobes concludes.
COVID-19, fatal as it is, can never stop the spirit of Jhobes Lazanas Estrella from shining.
(For your new beginnings, e-mail me at bumbaki@yahoo.com. I am also on Instagram @bumtenorio and Twitter @bum_tenorio. Have a blessed Sunday!)