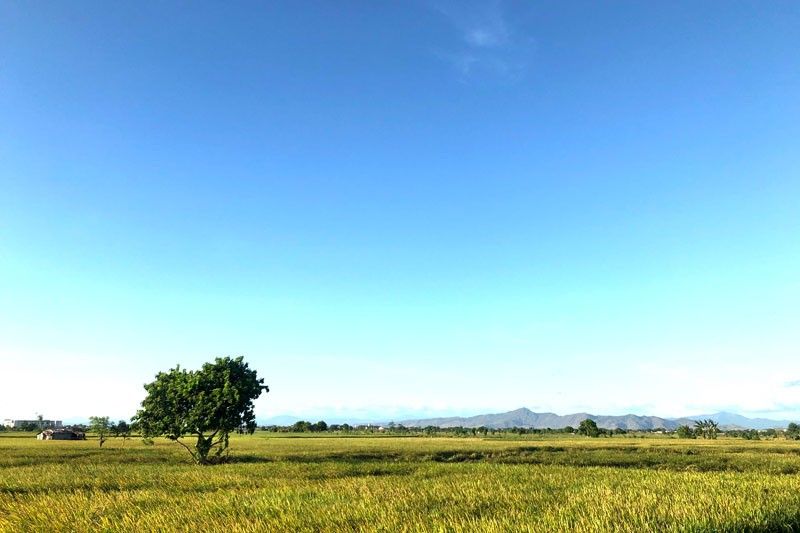 After 51 days of being quarantined in Makati, the author is back to his beloved Gulod again.
Büm D. Tenorio Jr.
The day a pale moon, blue skies, green grass & a loving heart escorted an 'alien' home
The moon was white and clung to the vast blue sky when I arrived in Gulod late in the afternoon last Monday. I wanted to believe, in my selfish attempt to romanticize the scene, the paleness of the moon was caused by the 51 days that it waited for me to be back home.
I'm home. I'm back in my mother's arms. I'm home.
My mother is my home. Her concerns are paramount to me. When the lockdown of Luzon due to the COVID-19 pandemic was announced, I had the conscious effort to quarantine in Makati.
The last time I was home (March 14) was the shortest time I spent with my mother — two minutes. I went home to Cabuyao just to say hi and goodbye to her. In a jiffy I zoomed back to Manila. The virus is ruthless — in its invisibility, it kills people. It also has the capacity to divide family members who fear they might transfer the virus from one to the other.
I maintained a two-meter distance from my mother when I saw her that time. It broke our hearts that I decided to weather the lockdown in Manila because, my thinking at that time, was that I was already a carrier of the virus having exposed myself to a myriad of people in the city. It was better to be safe than sorry. My mother is 75 and like all senior citizens, she's already immunocompromised.
When I left Gulod, there was no confirmed case of COVID-19 yet in Cabuyao and the total number of patients in the entire Philippines was 98.
As of this writing, there are 10, 463 confirmed COVID-19 cases in the country and 21 of them came from Cabuyao. Gulod, one of the 18 barangays in Cabuyao, is still COVID free.
Last Monday, after almost living a life of a monk or a bird in a cage, I broke free. For the first time, I was stepping out of the house where I live in Makati. There was a jamboree in my heart when I set foot outside the gate. My first time. I had never seen the "world" for 51 days.
Crisis makes us stronger in faith. When fear is at hand, we wash it off with faith. For 51 days of only seeing my mother on Messenger video call, we relied on faith that there would come a time that we would see each other.
The time came for me to be home albeit due to an emergency caused by my mother's debilitating rotator cuff tendinitis. It was a bad case of pain that emanated from her back and traveled all the way to her chest. She didn't want to be rushed to the hospital for fear of contracting the virus. I coordinated with her doctor who added a pain reliever to her medication. She and my brothers wanted me to be home. I came home.
Many times I wanted to come home. In this time of pandemic where most Filipino families battle the virus together at home, I am the only member of my clan who was not home. My movements in Makati, however, were restricted. One, I didn't have a quarantine pass. Only one pass was given to each household and it went to the person in charge of procuring our essential needs.
In this time of COVID-19 lockdown, there are realities that have become today's normal. The prospect of going home to Gulod uninterrupted is one. What used to be a weekly occurrence of being home every weekend became impossible for me.
But with my mother's life on the line, I needed to be home. My dearest friend from Cabuyao who had a national pass (because her company is involved in food manufacturing) picked me up in Makati. She got me my own quarantine pass from my own barangay and I made sure I had my Voter's ID with me that had my complete address in Cabuyao. I needed them just in case the military men at the checkpoints (three on SLEX and three more in Cabuyao) would verify my persona. Inside the car, we observed social distancing — the usual beso-beso was gone. Not even flying kisses. I was on the passenger's seat yet I felt far from her because, aside from the face masks we wore, I also had my face shield on. But our joy to see each other again pierced through our masks. Our joint laughter was already a celebration.
In all the checkpoints, the armed, blue-masked officers were cordial. The blue skies were reflected on their faces now burnt by the sun. Their tired eyes seemed to beg the virus to go away at once. But they knew the fight was far from over, especially when they bid us "Ingat ho" when they let us pass. The wide roads on either side of SLEX were almost clear of traffic, save for some cars and trucks that bore the sign "Perishable Goods."
As we neared the Cabuyao toll exit, my heart was doing a cartwheel. I was screaming in the car. My friend shook her head in joyful disbelief of my action. Was that how a prisoner felt when he was finally set free? Was that how an OFW felt when he would finally come home from a 10-year contract abroad? I had been far away from home for 51 days and already I felt there was so much time taken away from me.
I was excited and worried when we traversed the rice field leading to Gulod. I was still praying for my mother. I wanted to tell my friend to step on the gas a little bit more so we could hurry home. Perhaps beguiled by the beauty of the scenery, she slowly drove on the potholed road.
There, I was entranced, too. The place was all too familiar to me yet, on that day, it seemed that I was seeing it for the first time. We were heading to a barrio sandwiched by Bundok ng Susong Dalaga overlooking Laguna de Bay in the east and the rice field in the west. To our right was Mount Makiling, veiled by rolling and immaculate cotton-like clouds. To our left were mango trees, coconut trees, taro with broad leaves and bandera Español in yellow, tangerine and Indian red profusions. Behind us was the ridge of Tagaytay where the sun was about to set. Above us was the pale moon. Around us was a picture of bliss, of purity. Even the grass was so green and happy it did not know that a pandemic was plaguing the world.
Finally, I arrived home. When our gate at home opened, I saw my mother standing at our back door in a floral green duster and navy blue face mask. She looked weak but she stood up from bed that moment to welcome me home. We waved at each other. With my face mask and face shield on, I shrieked. I cried. After 51 days, I saw my mother again in flesh and blood. I couldn't hug her yet but the first instance of seeing her was a moment of serenity in a silently chaotic COVID-19 world. Even from afar, I could see the mist in her eyes. That joy that embraced us that moment was surreal, soulful and spiritual.
"Mukha kang alien sa itsura mo. Para kang taga ibang planeta (You look like an alien. You look like you came from another planet)," she said, with her eyes smiling, trying to trace my face beyond the facial mask and facial shield I was wearing. I laughed my way to the makeshift shower room in our backyard. Feeling fresh and clean, I went inside our house to kiss my mother's hand. Heaven.
The alien is home. And never will I be an alien again.
I am home.
(For your new beginnings, e-mail me at bumbaki@yahoo.com. I'm also on Instagram @bumtenorio and Twitter @bum_tenorio. Keep safe and have a blessed Sunday. Happy Mother's Day!)