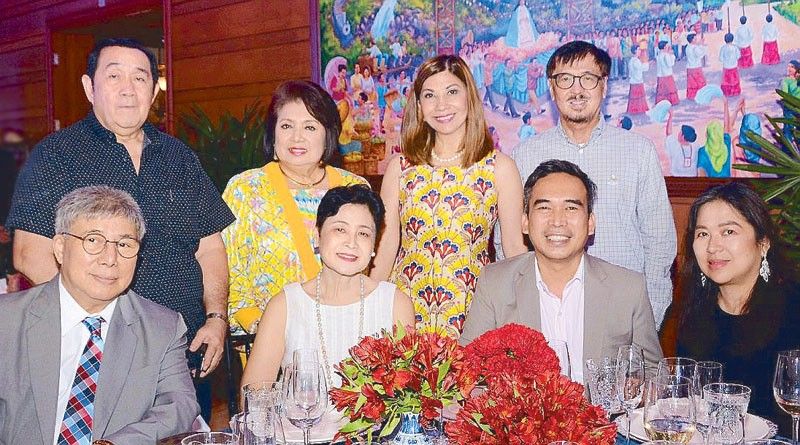 (Seated, from left) Boysie Villavicencio and Sylvia Vazquez with STAR's Büm Tenorio and Christine Dayrit; (standing, from left) Gary Vazquez and Thelma Gana with PeopleAsia editor-in-chief and Allure editor Joanne Rae Ramirez and Ed Ramirez.
When love sparkles like a diamond
The industrialist Ronnie Concepcion and his wife, the stunning Menchu Concepcion, celebrated an incredible milestone — 60 years of wedded bliss — through a touching renewal of vows at San Pedro Calungsod Parish followed by an elegant reception at La Veranda in Antipolo City.
Guests were treated to a sumptuous buffet dinner set against the backdrop of the gorgeous plantation-type estate that Ronnie built for his beautiful wife and their wonderful family.
It was truly the perfect way to celebrate a most enduring love, one that has stood the test of time and trials.
Congratulations, Ronnie and Menchu!
Luster for the season
International luxury brand Jewelmer welcomes the New Year with elegance and luster with its three glamorous collections.
The Zen collection is an ode to the fortune and fortitude of the bamboo, conjuring a touch of transcendent elegance to any look. The Iridescence necklace has a breathtaking glimmer that bounces off its radiant surface and exalts every woman's captivating spirit. The La Mer en Majesté necklace is inspired by the play of water as the waves reach the shore, with golden South Sea pearls set amidst the interplay of delicate textures. These stunning pieces will surely make for one lustrous year ahead.
Kudos to Jewelmer for creating jewelry that pearl lovers will never forget!