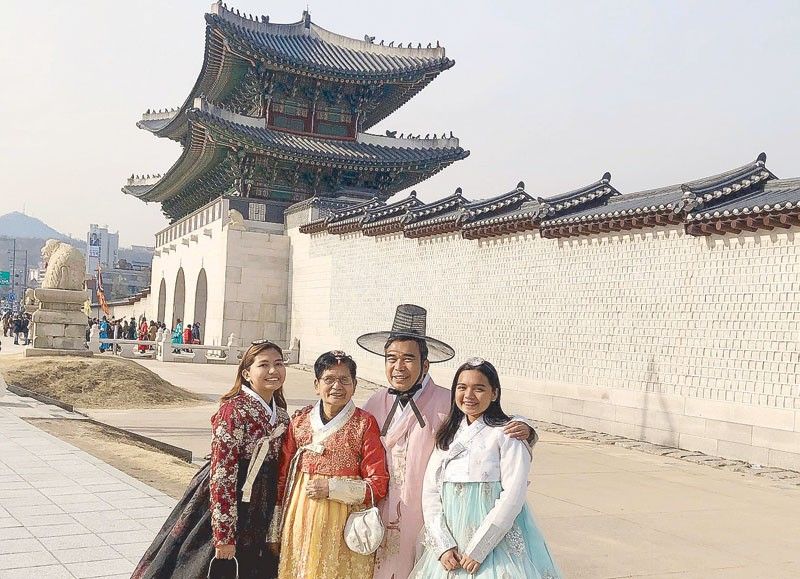 The author with his mother, Candida Tenorio and nieces Gabby and Alex Tenorio at the Gyeongbokgung Palace in Seoul.
Seoul in the eyes of Candida
It all started with me winning a ticket for two to South Korea from AirAsia. The minute my mother learned about my luck, she also felt lucky. She knew I would bring her with me. "Handa na ang maleta kong silver (My silver suitcase is ready)," she said, laughing on the other end of the line. I don't say no to my mother. She's my life.
Next thing I knew, she and my two nieces Gabby and Alex, certified K-Pop and K-drama fans, were with me first week of November at the office of Rakso Travel in Makati to book our trip and to help us get the visa.
The day after Christmas, our visa was granted. My mother brought out her silver suitcase, a golden smile escaped from her lips. She started packing her clothes. Then she counted the days to Jan. 2 for our four-day holiday.
Her excitable spirit became all the more excited on the day of our departure. She invited all her children and apos to bring us to the airport from Gulod for our 7 a.m. flight.
When we entered the airport terminal, she waved at my brothers, sisters-in-law and their children, saying, "Bahala na kayo sa bahay. Susulat ako. Sumulat din kayo." And escorted by her hearty laughter, she pushed her silver suitcase to the check-in counter. AirAsia service was fast and efficient so in a jiffy, my mother was riding the wheelchair provided to her to the departure gate.
Up in the air, she enjoyed her appetizing chicken teriyaki up to the last bite. She even tried my tasty nasi lemak. If Gabby and Alex were seated beside her, I'm sure she would have sampled their delicious beef tapa and chicken inasal.
"Ah, lumanding na ang eloprano (her term for the airplane)? Bakit di ko naramdaman? Korya na ba ito?" she asked after our smooth landing at Incheon Airport 15 minutes ahead of schedule.
After retrieving our suitcases from the carousel, a huge smile crossed her face when she saw the driver holding up a placard with her name: Candida Tenorio and co. "Oh, hi. I'm Candida," she told Mr. Kim in English. The driver started to talk to her. "Ano daw?" she asked Gabby and Alex. She just smiled.
Near the arrival gate was the van that would bring us to our hotel, Ibis Style Ambassador. Mr. Kim walked us to that spot. My mother was basking in the moment. "Walastek, sobrang lamig! Talo pa ang freezer sa lamig. Ang sarap!" We were welcomed by wintry Seoul. My mother accepted the welcome with warmth in her soul.
We arrived at Ibis Style Ambassador in Yongsan-gu area just when my mother finished retouching her lipistik. The high-ceilinged lobby of the hotel amazed her. "Ang ganda!"
When we were whisked to our well-appointed rooms, she exclaimed, "Ang bango!" She looked out the window and was mesmerized by the view, "Wow! Napakatayog na ng kwarto natin. Anong floor ba tayo?" she asked her grandkids. "16th floor po," chorused the two.
To the toilet she went straight. "Nakupo, Bumburuchay, bakit mainit ang upuan ng bowl? Napaigtad ako. Ang galing, may heater!" Then she laughed at herself. Innocence was heard in her septuagenarian spirit. My mother has that gift — she's able to laugh at her own follies. She does not take herself so seriously because she wants to enjoy life. And whatever big or small thing life can offer her, she's always appreciative and grateful. Her childlike wonder continued at the award-winning The Painters show where she clapped and cheered the mime artists who danced and drew on stage and made people laugh. My nanay even stood up at the end of the show and danced with the crowd. She was a child again, in revelry and reverence of her blessed opportunity to see the world one city at a time.
She's only been to Taiwan for her 75th birthday last June and South Korea yet my mother thinks she's already seen so much of the world. At Petite France, a gorgeous make-believe French community in the heart of Seoul, she posed beside the Eiffel Tower with a wish to one day see the real thing. I told her I will save up for it. I can't wait to bring the world at her feet. It is my ultimate joy to make her happy.
At night, the temperature in Seoul dropped at -8 or -10 degrees Celsius yet my mother, all bundled up, was so welcoming of the winter. She loves the cold weather, the same way she loves the air-conditioner in full blast.
I caught a cold for half a day in this trip but my mother was up and about every day. A spring on her feet, err her spirit, was made obvious by her desire to go out the hotel after a hearty breakfast and make new beautiful memories on Nami Island where, for the first time, she held snow in her hands. The joy in her eyes is still vivid in my mind. My heart took a photo of her happiness. It will remain there forever.
My mother never made a demand on this trip. I brought her to the mall and she did not pick up a single thing. When I brought her a black classy wrap-around winter coat that I picked up from the sale in one of the boutiques found in Myeong-dong, I saw disapproval in her eyes. "Ibalik mo 'yan. Di ko kailangang maging sosyal. Komportable ako kung ano ako. Masama pa ba itong 'sweeter' na binili mo sa akin sa SM? Eh ang ganda-ganda na nito."
At Everland Resort, the biggest theme park in the whole of South Korea, she took the rides that her body could handle — cable car, swing that moves like a cable car, train ride in a village mimicking European scenes. Her spirit imagined the thought that she was riding the gigantic roller coaster and other death-defying rides. I could have invited her to ride the Ferris wheel with me but this time of the year, it was not operational. So, while Gabby and Alex were having the time of their lives in the humongous Everland, mother and son were chatting away over coffee and tea at a cafe inside the theme park.
She was introspective many times. "Mahiwaga ang buhay. Yung walang-wala dati, nagkakaroon pagdating ng araw. Basta nagsusumikap," she said, while watching young parents with their children in tow, some were babies in well-protected and dressed up strollers.
"Ni wala nga tayong pambili ng notebook n'yo noon. Kung hindi pa tayo mangutang kay Milang, wala kayong notebook. Binabayaran natin 'yon pagkatapos ng anihan," she told me.
When it was getting cold in the cafe, she egged me to watch the Giant Pandas again in the zoo inside Everland. She even chased butterflies and fed them honey in a heated sanctuary. She chased them with giggles every time one or two winged creatures landed on the tip of her nose or on her palm. She chased them all. She's been a dream chaser all her life after all.
At the Gyeongbokgung Palace, she experienced dressing up in a traditional Korean hanbok. She felt like a queen. Her grandchildren and I were her loyal court as we dressed our parts, too. In that make-believe, her joy was real. Her happiness index was so thick I could scoop it in Seoul's wintry air.
Candida is love. In Seoul, she bared her joy, her soul. *
(Rakso can be reached at 8651-9000 or at www.raksotravel.com. AirAsia flies to Incheon twice daily from Manila; 10 times a week from Cebu; and twice daily from Kalibo. For more information, visit www.airasia.com.)
(For your new beginnings, e-mail me at bumbaki@yahoo.com. I'm also on Twitter @bum_tenorio and Instagram @bumtenorio. Have a blessed Sunday!)