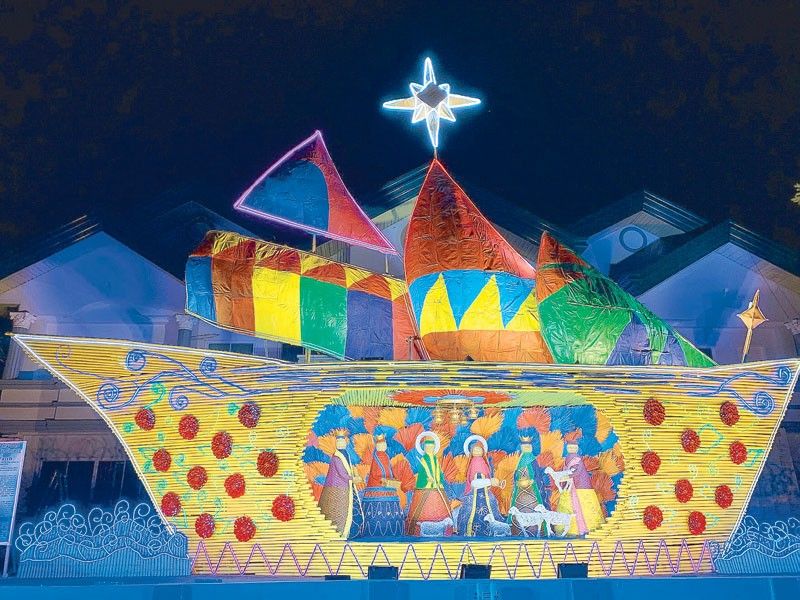 Ark of Faith by the town of San Clemente.
Yvonne Romualdez
Belenismo sa Tarlac 2019: 'For God so loved the world'
The Belenismo sa Tarlac, going strong on its 12th year, continues to celebrate the spirit of Christmas. This is held in the province of Tarlac, now recognized as the belen capital of the Philippines.
The tradition of creating belens using recycled and indigenous materials found in Tarlaqueños' hometowns, designed and executed by various local communities is one that many look forward to year after year. With this tradition, it is heartwarming to see how each community comes together to reflect, create, pray, give thanks and pay homage to the Holy Family.
Among the many beautiful belens that we visited in this year's Belenismo sa Tarlac, I would like to share two that moved me.
'Ark of Faith'
Jesus said, "I am the way and the truth and the life. No one comes to the Father except through me." The town of San Clemente's entry to the Belenismo reminds us that with faith so strong, we can reap our salvation.
To illustrate this prayerful message, the creative design team of the municipality crafted a vinta-like ark, highlighting a clever combination of old sacks and bolo with indigenous materials like kawayan and anahaw found in the rich soils of San Clemente.
The team recalls that in the Old Testament, upon seeing that the world was corrupt and filled with violence, God instructed Noah to build an ark in which he and his sons, their wives, together with a male and female of all living creatures would be saved from the massive floods. Hence, mankind was given another chance to live. However, men again became sinful and separated from his Creator. But because God so loved the world, He rescued humans by giving them His only begotten Son. And Jesus was born for us. He was sent to us as our savior for whoever believes in Him will be saved. His very own name Jesus expresses his mission, "God saves."
This belen, dedicated to our heavenly Father by the people of San Clemente, reminds us that through Jesus, we were given another ark, another chance towards salvation. Jesus is calling us to join Him in His ark, to carry with us our strong faith and good deeds. And together, take the blessed journey with him towards eternal life.
'Crown of Thorns'
"This poignant entry looks like a grand crown richly adorned with royal jewels fit for a king but if you look closely, you will see that underneath it is a painful crown of thorns," says belen designer Ding Mercado. It was made out of recycled materials from previous belens by a strong manpower team consisting of 13 uniformed personnel from the Armor (Pambato) Division of the Philippine Army.
"It features a crown of thorns, which biblically was placed on the head of Jesus in the days leading up to His crucifixion. This so-called crown of thorns was one of the instruments of the Passion, used by the captors of Jesus, to challenge Jesus' claim of authority and cause Him pain," adds Belenismo executive producer Isa Cojuangco Suntay.
A sinless Jesus came to take away our sins and wore our intended crown of thorns to save our souls. By doing so, Jesus removed from mankind the curse of sin, and brought God's blessing to all of humanity.
"The AFP will gladly bear the pain that comes with our campaign in the pursuit of upholding our sovereignty, supporting the constitution, defending our territory, advancing our national aims, interests and policies, and the organizational planning, maintenance, development and deployment of our regular and citizen armed force for national security," Isa says.
May we welcome this blessed Advent season filled with a sense of awe and wonder, as we pause to reflect on all the gifts of love that we have freely received from Jesus. *
(Would love to hear from you at miladayjewels@yahoo.com.)