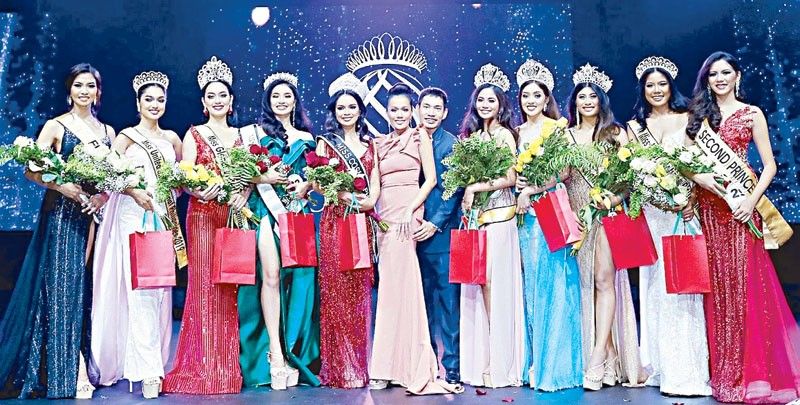 ICSM Infinity Pageants national director Irene Montemayor and managing director Caloy Montemayor are flanked by Philippine Global Queens (PGQ) 2019 winners First Princess Andrea Sulangi of Morong, Bataan; Miss United Nations Philippines 2019 Almas Choudhry of Marikina City; Miss Global United Philippines 2019 May Angelic Emmanuel Marzouk of Balangiga, Eastern Samar; Miss Regency International Philippines 2019 Desiree Justiniane of Santa Rosa, Laguna; Miss Cosmos Philippines 2019 Kylah Sanchez of Liloan, Cebu; Miss Galaxy Philippines 2019 Ma. Andrea Endicio of Candelaria, Quezon; Miss United International Philippines 2019 Princess Pusing of Masbate; Miss Continents Philippines 2019 Alexandra Mae Dalumpines of the Filipino community of Los Angeles, California; Miss Inter-Nations Philippines 2019 Joanna Ricci Alajar of Davao City; and Second Princess Czarina Sucgang of Caloocan City.
Inspiring, empowered queens
ICSM Infinity Pageants, led by its managing director Caloy Montemayor and his wife, national director Irene Montemayor, held the crowning ceremony of Philippine Global Queens 2019 at the Grand Ballroom of Shangri-La at the Fort in Bonifacio Global City, Taguig.
The stunning queens took the audience's breath away with their elegance, grace and natural beauty.
Philippine Global Queens is a pageant for inspiring and empowered women with beauty, purpose and passion. It is a celebration of beauty that inspires.
Congratulations to Caloy and Irene Montemayor for another successful pageant! *