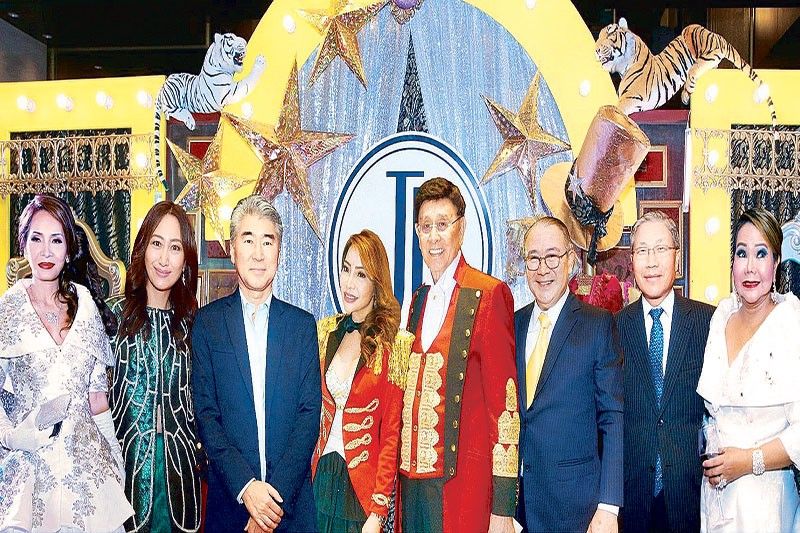 (From left) Eimee Cragun, Tiffany Chua-Copok, US Ambassador Sung Kim, Mhel Pechera, your columnist, Foreign Affairs Secretary Teodoro Locsin Jr., Korean Ambassador Dong-man Han and Marissa Fenton.
All roads led to the Grand Hyatt Manila recently for your columnist's Barnum & Bailey-themed birthday celebration.
A spectacular amalgamation of a show and a social gathering, the event was the perfect way to commemorate the 50th anniversary of my 33rd birthday.
The top-notch five-star luxury hotel is under the remarkable leadership of my friends, the extraordinary Federal Land Inc. chairman Alfred Ty, the bighearted Bonifacio Landmark Realty and Development Corp. president Hans Hauri and the indefatigable Grand Hyatt Manila general manager and area vice president Gottfried Bogensperger.
The event was graced by my friends from the government, diplomatic, business and social sectors, who all came fantastically dressed in their best The Greatest Showman-inspired outfits. Guests enjoyed the refreshing cocktails and the delectable dinner prepared by the skilled chefs of Grand Hyatt Manila, as well as the show-stopping song numbers by the country's brilliant vocalists. My truly wonderful friends also delighted guests with two lovely dance numbers.
It was indeed a night a million dreams were made of. Thank you all so much for coming to my party, and I will see you all in the years to come! *
GREETINGS
Happy birthday to our celebrators today, The Bellevue Hotels and Resorts' Debbie Chan, Maur Lichauco, Mary de Leon Rufino and Jazmine Erica Dy.
Advance birthday greetings to Fritzi Pilar, Sept. 9; Bergamo's Mel Meer, Sept. 10; Philippine Hotel Owners Association Inc. president Arthur Lopez, Teresita Briones, Marixi Prieto and Isabela's Sid del Rosario, Sept. 11; George Yang, Ding Marcelo and Marge Francia, Sept. 12; Amelou Benitez Reyes, Pam Litton, Consul Mina Gabor, Pachot Mapa, former senator Bongbong Marcos and Milagros Cruz, Sept. 13; former senator Santanina Rasul, Sept. 14.
So, how was your week?
(For comments and inquiries, please email me at jjlitton@indanet.com.)