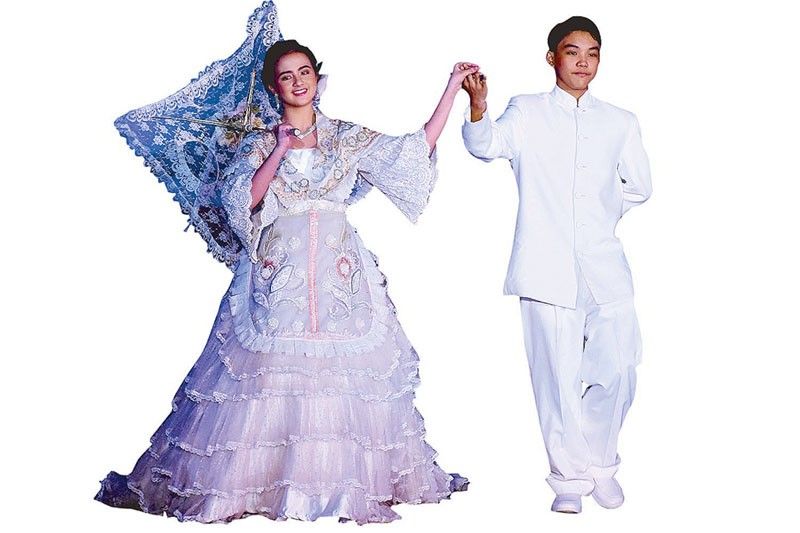 Monique de Guzman and Luke Villanueva dancing the Paseo de Iloilo.
Love comes in many forms. Love of country is one of them.
"Fall in love with your country," said Dr. Preciosa Soliven, founder of OB Montessori Center, at the school's recent celebration of Buwan ng Wika.
For the students and teachers of the school that Soliven founded 53 years ago, falling in love with the Philippines was shown in a 30-minute folk dance presentation titled Hindi Lang Wika...Buhay. The performances, held at the OB Montessori Greenhills Maria Montessori Hall, were directed by Floy Quintos. Dance vignettes chronicled a myriad of dance steps to celebrate the Philippines, to love the country in more ways than one.
If colors were an indicator of their love for their country, the participants, including dancers from the Ramon Obusan Folkloric Group, definitely displayed an outburst of love through the different authentic costumes from Luzon, Visayas and Mindanao. If their smooth and staccato dance steps were a telltale sign of their fervor for their heritage, they succeeded in telling all and sundry how much they were in love with the Philippines.
"Every year, we would celebrate Buwan ng Wika the traditional way where we asked students to wear any Filipino costume, bring local food, sing Filipino songs, recite Filipino poetry, do some Balagtasan and the likes— usually only focusing on Filipino as the national language and ignoring the other languages and dialects in the country. I felt something was lacking; I'm not educating the Filipino youth the right way. So I called Floy Quintos and he had the exact sentiments I had—thus we said, 'Let's make it different and make it a platform for future Buwan Ng Wika presentations.' This show has opened many possibilities to future learning experiences," said Sara Soliven de Guzman, chief operating officer of OB Montessori.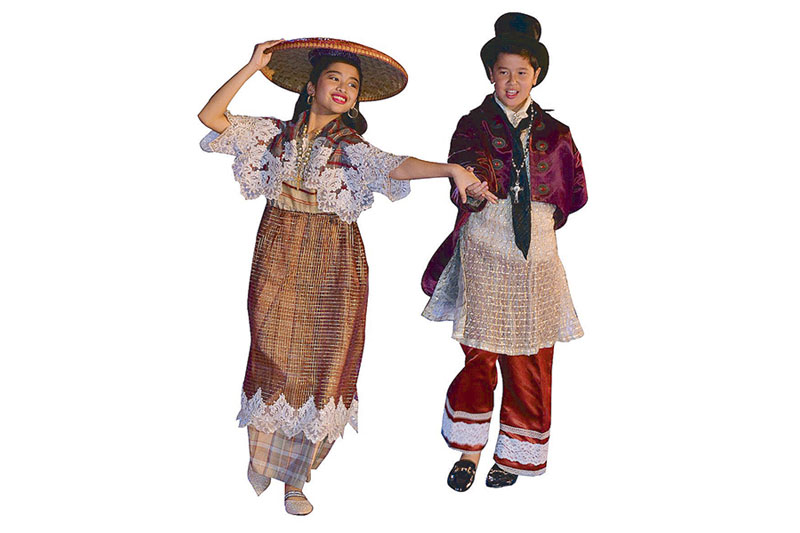 Students perform Jota Cagayano, a folk dance in the Cagayan region.
The show that was conceptualized in five months and rehearsed in three weeks resulted in a world-class performance replete with a kaleidoscope of colors and emotions. Dancers descended from the stage to the dance floor below as they were serenaded by a rondalla. And what a sight to see them dancing on the dance floor that was covered with a gigantic map of the Philippines! Dig that.
Sara, in her opening remarks, said, "The Philippines is now made up of 7,641 island with people speaking 128 languages and dialects." In the spirit of inclusivity, dances from the three major islands of the Philippines were performed.
Dances from Luzon were executed with precision and fluidity, including Jota Cagayano from Cagayan region, Rigodon (the Pampanga version), Sakuting from Pangasinan, Nasudi from Ilocos Norte, and Cariñosa from Bicol.
A grand entrance for the participants of the dances from the Visayas region came next. Verve and vibrancy took center stage as dancers performed Sinulog, a festival in Cebu. Spectators were tickled as they watched the dancers of Kuratsa, a Waray folk dance. When dancers clad in Maria Clara arrived for Paseo de Iloilo number, elegance was spelled and splayed on the dance floor.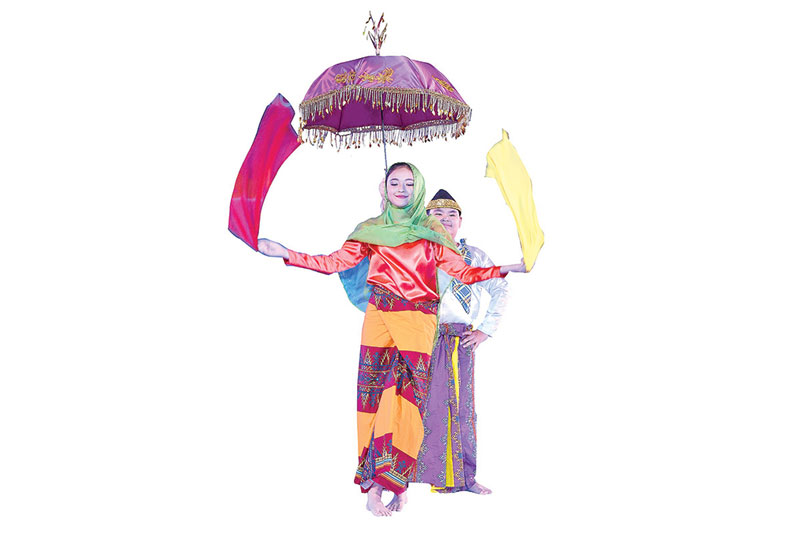 A Lanao folk dance called Kinakulangan.
The colors of Mindanao made a spellbinding appearance when Kinakulangan, a Lanao dance, was performed by dancers in malong. The culture of Lake Sebu was also apparent in the T'boli dance.
A hip ending ensued when all the participants gathered on the dance floor as two male students performed a rap song titled Buwan ng Wika composed by Chino Joaquin Pineda. Also played at the end of the show was Di Lang Wika…Buhay!, based on the lyrics of Floy Quintos and music by Krina Cayabyab.
The dance performances were presented not just at the OB Montessori Greenhills campus, but also in the school's campuses in Las Piñas City, Sta. Ana in Manila, Fairview in Quezon City, and Angeles in Pampanga.
The second part of Hindi Lang Wika...Buhay was a Ted Talk-like symposium on the progress of the Filipino and the Philippine culture. Speakers for this activity were Claude Tayag, Len Cabili, Gian Javelona and Alaric Yuson.
"We must celebrate the lives, the cultures and the language of our people that make the Philippines unique from the rest of the world. We should teach our youth to love our country and with that love they will take more care of her and protect her in all aspects especially when they become our future change makers and warriors," said Sara, adding that it was her father, the late STAR founding publisher Max Soliven, who made her realize "the beauty of our people and land."
"In my work as a teacher, I'm trying my best to ignite that flame within each child, each teacher and each parent—para sama-sama tayo para sa bayan," Sara concluded.
Given the beauty and success of the performances that highlight love for country, Hindi Lang Wika…Buhay ought to be staged in different schools aside from OB Montessori. That way, more students and teachers will fall in love with the Philippines. *
(E-mail me at bumbaki@yahoo.com. I'm also on Twitter @bum_tenorio and Instagram @bumtenorio. Have a blessed Sunday!)